We've all heard stories about people tweeting something embarrassing and then immediately deleting it, hoping nobody has seen it. Alas, the internet has a long memory and some people possess unbelievable skills in taking screenshots of quickly-disappearing content.
Don't be a victim of the following mistakes, suffering embarrassment before your brand even takes off. Take a look at some of the most embarrassing tweets on the platform and find out how you can avoid making them yourself.
Also, if you're serious about getting your brand noticed, weigh up the benefits of buying Twitter Followers. Buying Twitter Followers and other forms of engagement can get your name out there faster because it can boost your organic marketing strategies, adding a little extra fuel to the fire.
Here are 5 of the most embarrassing tweets by brands on Twitter. Let's gather them together not to laugh at them (much), but to learn from their mistakes.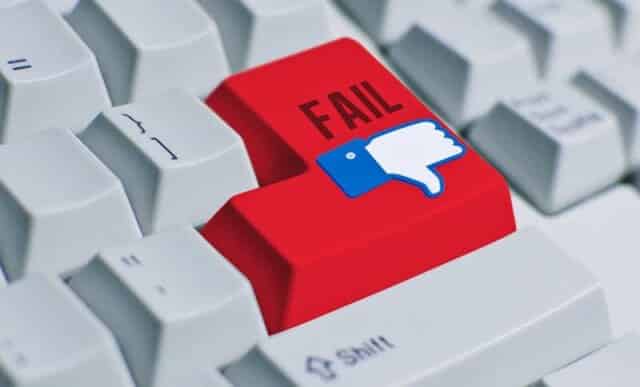 Image credit: RingCentral
KitchenAid Trashes Obama
When people who are responsible for your Twitter updates happen to have personal accounts that they might forget to log into before posting, your company's reputation may be at risk.
Consider what happened to KitchenAid.
Image credit: SocialMediaToday
Kitchen Aid, a home appliance company, surprised the Twitterverse during one of the presidential debates in the 2012 election with a very political and quite offensive tweet. That they had something political to say was less of a shock than what the tweet itself says.
The language was obviously unprofessional, and it turned out the offending statement was solely the opinion of their staff. They apologized and did some major damage control but the sentiments of the people on Twitter and around the internet remained divided.
There are those who forgave them and who believed that mistakes can happen. Unfortunately, there are also those who weren't so forgiving and who lashed out at the company before they trashed the Kitchen Aid mixer they just bought.
What you can do
Make the account accessible from the company's phone or gadget only, if one exists. Don't give out your password and just maintain one phone for all social media postings and communications.
And if you can't do that, be vigilant! Remember that even seemingly small things, like logging out of an app, can be very important when you're on the front-facing side of a business.
Bing Exploits Quake Victims
Whoever thought that using a natural disaster as the focus of a marketing strategy was a good idea must be either lacking in perception or plain callous, or both. Or maybe they're just a politician.
But when Japan was hit by an earthquake in 2011, Microsoft's Bing tweeted this: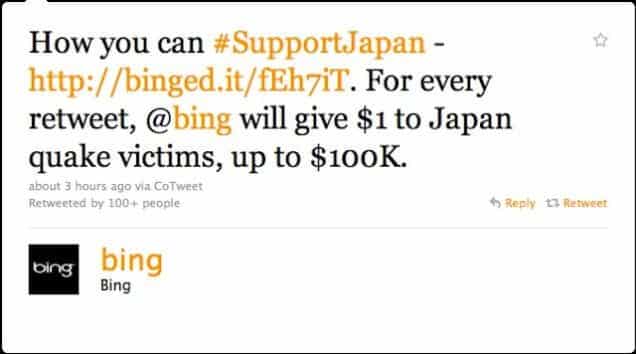 Image credit: Gawker
While the intent to help was apparently sincere, the public saw it as Bing's evil way of turning a tragedy into a marketing opportunity. Before Bing could react, the hashtag "#fuckyoubing" was already being used in response to their tweet.
Even when Bing tweeted an apology and a statement that they have already donated the $100K, the apology just fueled more hate tweets from users.
What you can do
Avoid major tragedies as a starting point of any marketing campaign. Also, if you are going to donate or made a donation, let others spread the word for you as much as possible if you must raise publicity about it.
Let's face it, any kind of self-promotion can potentially be perceived negatively, unless it's done with the utmost sensitivity. Couple self-promotion with a tragedy and you have a perfect recipe for a PR disaster.
DiGiorno Pizza Makes Light of Domestic Abuse
DiGiorno Pizza's social voice on Twitter is cheery, hip and funny. They have a knack for tying pizza hilariously to the content of a current show or event and live-tweeting it on Twitter.
They have been fairly successful at jumping in on trending hashtags, until one careless tweet forever changed their social media footprint.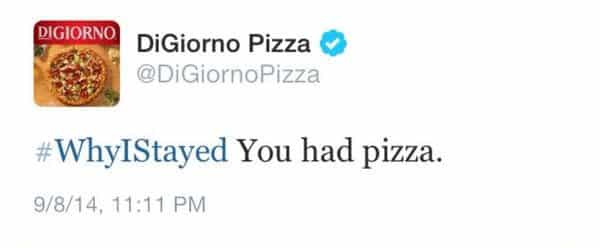 Image credit: BuzzFeed
The #WhyIStayed hashtag was spurred by the news of NFL player Ray Rice beating his wife, and was supposed to be about shedding light on why people stay in abusive relationships. DiGiorno's tweet was clearly out of context and the tongue-lashing they got from Twitter was swift and on-point.
Their reputation suffered from the faux pas but they managed to bounce back after several weeks. Unfortunately, the #WhyIStayed hashtag will always be a part of their social media identity, especially since people continue to talk about #WhyIStayed and DiGiorno in one breath, offering their mistake as a prime example of what not to do on social media. Like us right here!
What you can do
There's value in researching a topic before jumping in on it. Check where the hashtag originated and make sure it reflects your brand values before using it.
There are rules to trend-jacking and you can't just jump on a trending hashtag because you see an opportunity.
Oprah Winfrey's Actions Speak Louder than Words
With a multitude of fans worldwide and a show with incredibly high viewership, Oprah Winfrey is a powerful endorser for any company – perhaps one of the most powerful in the world. As a brand in and of herself, Oprah Winfrey can freely choose who and what company or product to associate herself with.
Thus, it makes one wonder why she chose to vouch for a product she obviously does not even use – unless the product doesn't really meet her approval and her glowing reviews are nothing but a sham.
Why else would she profess her love for Microsoft's Surface on Twitter for everyone to see, all while using Apple's iPad?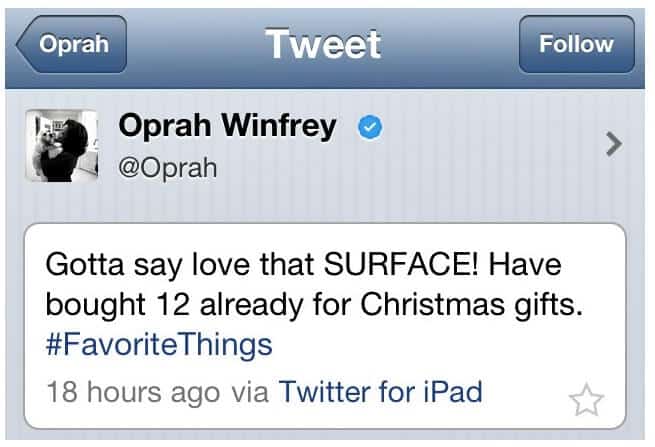 Image credit: CNN
Perhaps she almost always uses the Surface but just happened to be on an iPad for a moment, though that seems unlikely. In any case, the damage was done.
What you can do
There are many ways this embarrassment could have been avoided and they are obvious ones. Perhaps, though, she shouldn't have just accepted the endorsement of the product.
In 2010, she declared the iPad to be one of her "Ultimate Favorite Things."  Then in 2012, she said the Surface is one of her "Favorite Things." Somewhere in between, the issue of conflict of interest should have come to light. It's ok to have multiple favorite gadgets, of course, but as a brand and endorser you need to be more careful than the average person.
Make sure you remain vigilant not just for something that represents a conflict of interest but also for all conflicts in general. Are you issuing conflicting statements on your channels? Are your values aligned with whatever or whoever you publicly associate with?
Because Oprah is massively popular, the incident probably didn't even make a dent in her big following. But if you did the same thing, you might easily lose some Followers. If you're having difficulty building a solid following and are looking for a boost, consider buying Twitter Followers.
You can kickstart your popularity on Twitter by purchasing thousands of Followers which tell the world you are respected in your field. Though they are bought, they can be an effective marketing tool in convincing people that others have already found you important. They present a way to directly improve your social proof.
Anthony Noto Doesn't Understand DMs
In 2014 he was only four months into the company, and Anthony Noto was already the talk of the town. Unfortunately, it wasn't because of his brilliant strategizing as Twitter's new CFO, but because he sent out what was supposed to be a private direct message, as a public Reply to presumably another Twitter executive.

Image credit: Telegraph
Thanks to his Tweet, the world was brought up to speed with Twitter's acquisition plans. Anthony Noto proved that even top executives of Twitter can get confused with the platform's features
What you can do
There's nothing more embarrassing than not knowing your own products and services! So, use and understand your product.
Being an expert on using your own service should be your first goal. If you are selling software, for example, find ways to demonstrate your product's strengths through your posts.
Pobody is Nerfect!
Embarrassing tweets are not exclusive to celebrities and politicians. Brands are not immune to Twitter embarrassment, and it is very funny, for sure. Until it happens to us, too.
Nobody is perfect and thinking we could not make mistakes on Twitter and other social media channels would be foolish.
Thankfully, these brands have braved through the insults, criticisms, and embarrassment on social media so we can all learn from their mistakes and avoid repeating them. We hope you all learn something from them and that you'll never have to take the same heat from your audience.12
In the future, however, if you do make a mistake of the same embarrassing proportion, our message for you is this: admit your mistake and then stand up again.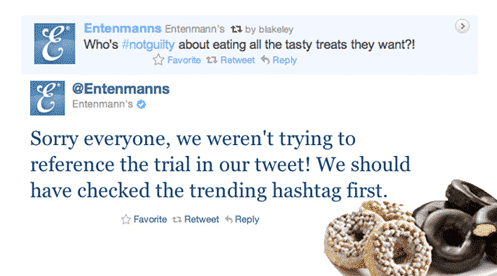 Image credit: Business2Community