AgoraPulse Review
AgoraPulse Review: Short and Sweet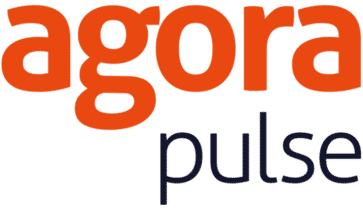 AgoraPulse is one of the popular names when it comes to social media management suites. It provides you with different tools for publishing content on different platforms and tracking the mentions and engagements you receive. Developers say that these tools make AgoraPulse ideal for different applications.
The biggest draw for AgoraPulse is the different plans it offers. They cover anything that might be needed by individual users to large companies. The plans give you the option for monthly or annual billing, adding flexibility for your choices.
Getting customer assistance can be a bit cumbersome since AgoraPulse only has support tickets and email. The prices of its plans are also a bit higher than the others. Even with these drawbacks, it is still a good recommendation for any social media management needs.
About AgoraPulse
AgoraPulse is a social community and moderation tool that was first launched in 2011. The platform's developers claim that it can help businesses easily curate all the messages they get from different social media sites. The tool also allows them to monitor their prominence on the top social media platforms.
AgoraPulse includes a variety of tools for different applications, like:
Unified inboxes
Custom publishing options
Twitter keyword listening
Instagram hashtag monitoring
Facebook quiz application
Community management metrics
This varied set of tools make the platform useful for different campaign applications. Developers also said that AgoraPulse's analytics tools will give you clearer insights about your campaigns' performance.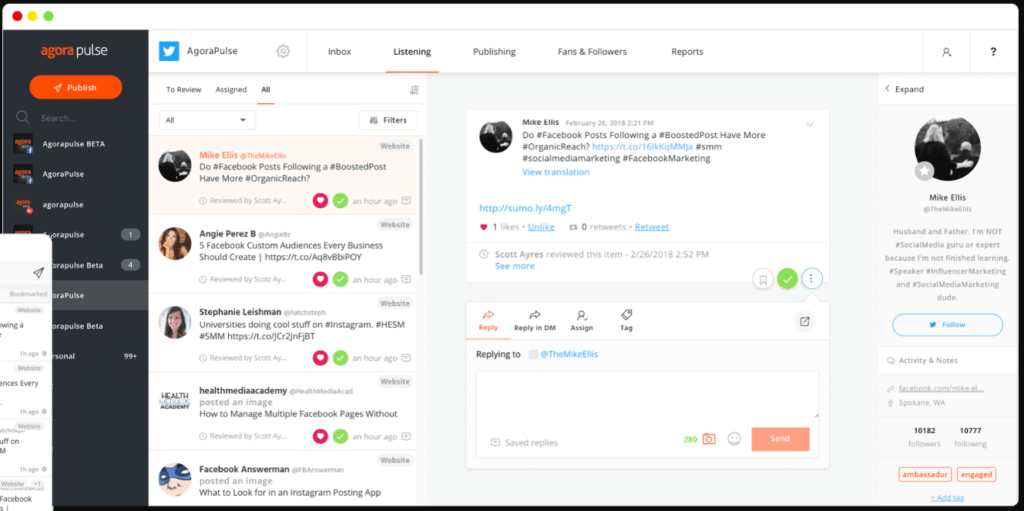 Service Plans
AgoraPulse offers four different plans based on the size of the business or organization:
Small: $49/monthly or $39/monthly (billed annually), three social media profiles, and one team member.
Medium: $99/month or $79/month (billed annually), 10 social media profiles, and three team members.
Large: $199/month or $150/month (billed annually), 25 social media profiles, and six team members.
Enterprise: $299/month or $239/month (billed annually), 40 social media profiles, and 12 team members.
All the plans let you do unlimited scheduled posts per profile and automated moderation. Each plan is available on either monthly or annual billing. You also get a 28-day free trial for the one plan you are interested in.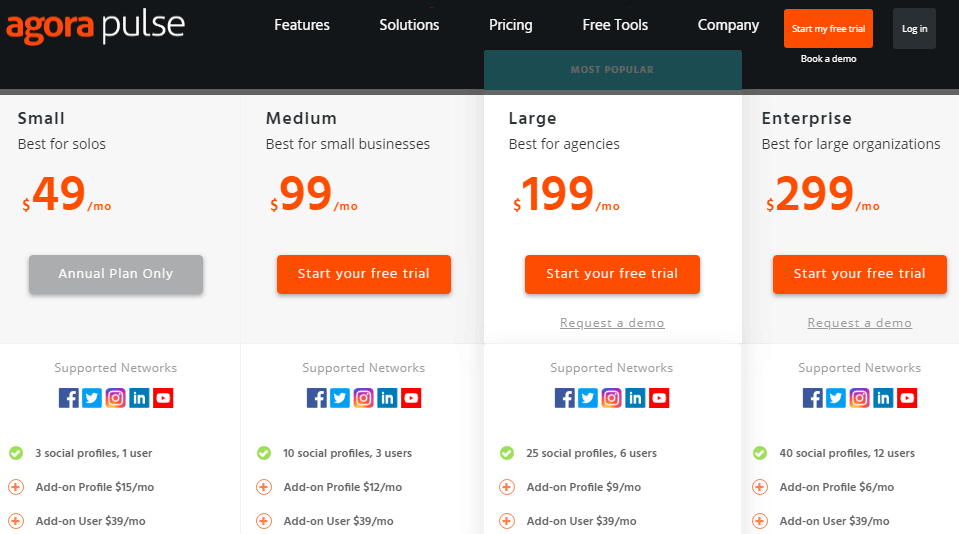 Terms and Guarantees
Terms of service
AgoraPulse has a standard Terms of Service, covering the scope and limitations of its services. The site's TOS page states that if you are using AgoraPulse's service on behalf of a legal entity, you need to name that legal entity in your registration information. You are also required to inform AgoraPulse in case you are no longer associated with them during the subscription period.
If you intended to terminate your contract with the site, it requires you to inform them three business days before the end of your current billing period. To cancel, you can send them an email request at support@agorapulse.com or use the "Cancel Subscription" option if you are subscribed to the self-service feature.
Privacy
AgoraPulse's Privacy Policy states that it collects a variety of customer information about you from the time you register, up to when you are using the service. AgoraPulse uses this information to:
Identify you as a customer, and verify your transactions.
Analyze your preferences, and use the information to improve services.
Do a general study of its customer demographics, and identify trends.
Send you promotional materials.
The site states that AgoraPulse does not sell your provided information to anyone, and that it handles your information in compliance with relevant European privacy laws.
Refund Policy
AgoraPulse claims to offer a 100% double guarantee for its services. The refund is applicable for both monthly and yearly subscriptions. If you are canceling your initial subscription, you need to inform the customer support staff within 14 days after your subscription starts.
If you want to unsubscribe after your initial contract, you need to send your cancellation and refund request within 14 days after the start of your subscription renewal.
In the case of a monthly subscription, you will receive an amount equivalent to your last monthly payment. If you are on a yearly subscription, you will receive an amount equivalent to your total subscription minus a 10% fee for PayPal and credit card charges.
Customer Support
AgoraPulse mainly uses support tickets to provide customer assistance. The process though is a bit cumbersome since you are required to go through the knowledge base first to find a relevant article before you can fill a ticket.
You can also email your questions to support@agorapulse.com, or use their chat bot to get in touch with someone after answering general questions about your issue.

Order Recommendations
AgoraPulse' selection of plans makes it great for different sizes of businesses. The option to go with either a monthly or annual plan gives you additional flexibility when choosing your plans. The plans are a bit on the pricier side, but the number of features offered for different purposes makes AgoraPulse a good option.
AgoraPulse Review: Conclusion
The biggest thing we liked about AgoraPulse is its diverse packages. You get to choose one based on the size of your operations. It also gives you a nice option to choose between monthly and annual subscriptions.
AgoraPulse also carries a large variety of tools for different platforms like Facebook and Twitter, making it useful for doing multi-platform campaigns. The only thing that we were disappointed with it is the lack of real-time customer support and the cumbersome way of sending support tickets. This tool is still a great option if you are looking for a social media management suite, and that's our summary of our AgoraPulse Review.