Brandwatch Review
Brandwatch Review: Short and Sweet

Brandwatch dubs itself as the "new kind of intelligence," influencing and shaping marketing and business decisions of brands and agencies on a daily basis. It is based in London, but has several offices all over the world, including New York, Berlin, and Singapore.
Brandwatch boasts of a clientele that includes British Airways, Dell, Unilever, Walmart, and Whirlpool. These companies are able to gather and make sense of all the social media discussions about their brands through Brandwatch since the platform can crawl 90 million Internet sources in 27 languages.
Support can only be reached by calling an office, or by filling out a contact form. There is no live chat, and no FAQs or online resources. This is perhaps the only weakness of this top-notch social media automating program, which we recommend highly.
About Brandwatch
Brandwatch is a social intelligence company that started in 2005 under its parent company, Runtime Collective Limited. It has offices in Brighton, New York, San Francisco, Berlin, Stuttgart, Paris, and Singapore.

Brandwatch currently offers these four services:
Analytics
ForSight/HelioSight
Audiences
Vizia
These services enable companies to listen to social trends and business conversations all over the world for detailed, accurate reporting and analytics. Brandwatch has made a number of acquisitions over the years such as PeerIndex, BuzzSumo, and Qriously. In 2018 it merged Crimson Hexagon, an AI-powered consumer insights platform.
Service Plans Section
Brandwatch service packages include:

Brandwatch Pro: At £500/month, this package is suitable for small to medium businesses who are doing social analysis.
Enterprise M: This plan is for large brands and agencies doing advanced analysis. This costs £2,000/month
Enterprise Q: This plan is priced the same as the previous plan, but is more focused on advanced analysis with high-volume queries.
There's also Brandwatch Vizia, an add-on reporting tool for agencies, available under the two Enterprise plans. Pricing is based on the number of licenses though, so you need to contact customer support for the exact price details. Here's a video further explaining Vizia:
Terms and Guarantees
Terms and Conditions
Users are not allowed to sell, resell, sublicense, or distribute the tool. They are also not allowed to make Brandwatch's services and the results of its services available to non-users; the data is for the users' internal use only. Reports are still owned by the customers, but Brandwatch data within the reports are "granted to the customer under a worldwide, non-exclusive, non-transferable, royalty-free license to use."
In case of disputes, cases, claims, and any legal proceedings, the governing law is the English law, except when the customer is domiciled in the countries with a nearby Brandwatch office.
Privacy Policy
The data collected by Brandwatch depends on your user role. Generally, this is the personal information gathered by Brandwatch:
Name
Email address
Telephone number
Address
Username and password
The company you work for
Brandwatch may collect more information if you have an administrative role. It also collects payment data, and usage history and patterns.
Refund Policy
Brandwatch provides service credits if its services fall below the 99.5% "availability" in a given month. The service credit will depend on the percentage of availability as determined by Brandwatch. The maximum is 100% of the monthly fee if service availability is below 90%.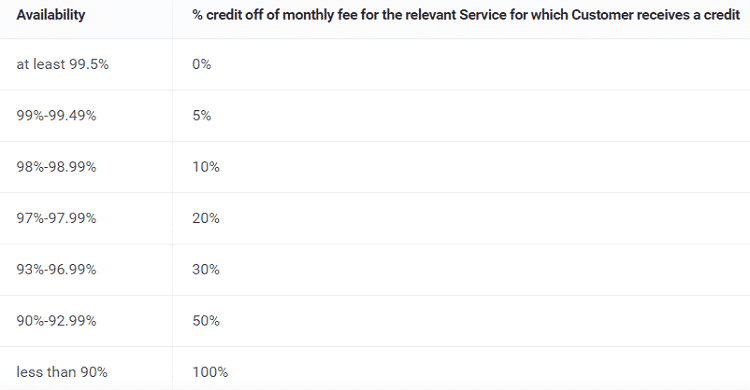 Brandwatch doesn't provide a refund, except when the customer has already paid all outstanding invoices and is entitled to a service credit.
Customer Support
Under the site's Resources tab, you'll find three categories: Case Studies, Reports, and Guides. You'd expect these resources to be full of information so that a user won't need to contact customer support, but this isn't the case—you have to fill out a form first before you can access such resources.
To reach out to the customer support team, you have to fill out the contact form or call the company's offices.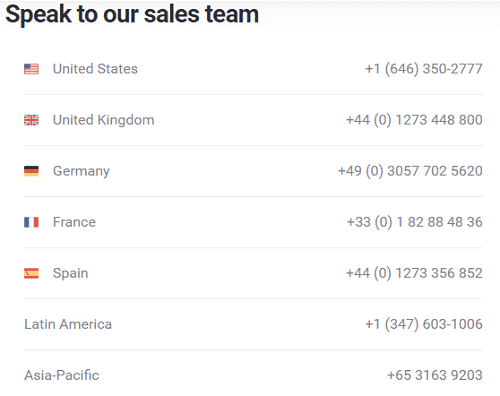 When you choose to fill out the contact form, response times depend on the priority level of the issue, detailed as follows:
P1 response time is one business hour, and resolution time is one business day: When services are unavailable (causing significant loss of data) or when data security is severely compromised, the issue is considered as priority level one.
P2 response time is two business hours, and resolution time is 10 business days: Issues considered in this level include severe malfunction of any service's major feature and when the service is accessible and usable but some portions of the app are unavailable.
P3 response time is four business hours, and resolution time is 22 (or more) business days: This covers situations when any of the services has problems but doesn't necessarily impact business operations.
P4 response time is six business hours: Account-related inquiries or general questions about the app and its features are under this priority level.
These details are outlined in the Service Level Agreement. Brandwatch ensures to respond in accordance with these given time frames.
Order Recommendations
Brandwatch definitely impresses with its user interface, AI technology, and clientele. If you are a growing agency or company, Brandwatch can help you better understand your market and develop strategies around the data gathered by Brandwatch.
Brandwatch can be costly though for startups or companies with a limited budget. There is no free trial that can help get a good feel of Brandwatch's services before deciding to buy a plan. We recommend Brandwatch only if you have the financial resources to do so, though you might be better off with less expensive reporting and analytics platforms reviewed on this site.
Brandwatch Review: Conclusion
Brandwatch enables agencies and companies to gather all media chatter about their brands in one place. It also helps create useful, comprehensive reports based on data collected from over 90 million sources.
The company has acquired and merged with several market leaders in the social media marketing software industry, making Brandwatch an established and important tool for any brand, according to our honest Brandwatch Review.
Brandwatch enables its clients to make well-informed, statistics-based business decisions. Startups, and small-time businesses and agencies may find the service expensive, but those who can allocate the budget for a Brandwatch plan will definitely reap the desired investment returns.