Buy Retweet Review
Buy Retweet Review from Experts and Customers
Buy Retweet Review
Company: Buy Retweet (UK)
Website: www.buyretweet.com
Founded: 2012
Service Reviewed: Twitter Retweets
Methods: Internal Network
Price: $9.95 and up
Editors' Rating:

Review Summary (Short & Sweet)
Buy Retweet is a UK based company that offers only retweet services. They do not offer followers, just retweets and favorites. Their delivery time is almost immediate and the pricing is generally in line with the rest of the industry, although the lowest package is priced higher than other reviewed providers. If you are looking for only retweets and favorites, you can definitely do worse
---

About Buy Retweet
Buy Retweet is one of the few Twitter specific marketing companies, and even fewer that supply just one aspect of Twitter marketing: Retweets. They're a UK-based Company operating from The Isle of Man, with a three year history. Their packages start at $9.95 for 50 retweets and 15 favorites, which is significantly higher than our other providers. We have given buy retweets a 3 star rating because they do not offer the full twitter marketing package as well as their lowest package being so out of line in pricing.
Buy Retweet – Our Detailed Review
We have purchased several rewteet packages from Buy Retweet
BuyRetweet offers four Twitter retweet packages: Bronze, Silver, Gold and Platinum. They all include both retweets and favorites. BuyRetweet also offers a customization page that lets you choose the amount of retweets from 50 – 30,000. The amount of favorites that are included with those retweets varies depending on the amount of retweets, but they are in the 40-50% range. If you order 30,000 retweets they will also attach 15,000 favorites for example.
The Order Process
The ordering process is straight forward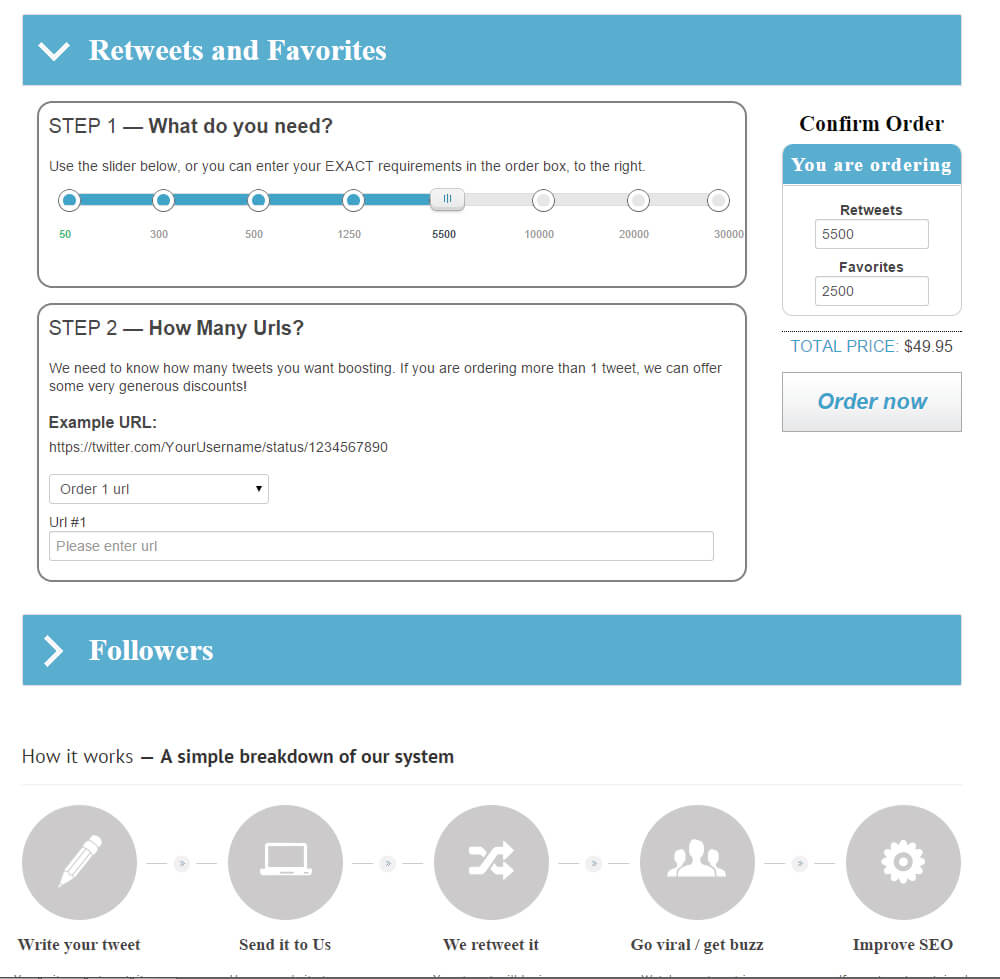 1. Their pricing page displays all of their Twitter retweets options. You select how many retweets you want and how many URLS. (They give up to a 40% discount for multiple tweets) The most popular is their gold option, which is 1250 retweets and 600 favorites for $29.95.
2. You paste your twitter link into the form and click order now.
3. You will be brought to a secure payment form on paypal, checkout using a paypal or credit card and you are done.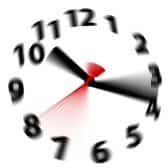 Turnaround Time
They begin to deliver their retweets and favorites almost immediately after successfully ordering from their website. The longest we have ever seen was 30,000 retweets and 15,000 favorites took 48 hours to completely finish. They are lightning fast at delivery.
Retweet Quality
We received decent quality Twitter retweets from Buyretweet. Decent quality retweets means that these accounts that are retweeting our tweets are real and active, they have followers of their own and they are more than just 'bots' that retweet whatever their master tells them to. They obviously are being compensated somehow and they are definitely not targeted in any way, but they are better than fake accounts tweeting to nowhere.
Overall
If you are looking for Retweets and followers only than Buyretweet is not a bad choice. We would recommend that you look at some of the other companies before deciding to go with them, however as you can also get followers in the packages for around the same price as Buyretweet.
Have you tried buyretweet? We want to hear your Reviews!
Average rating:
6 reviews
Aug 13, 2018
Interesting process
My experience was one I loved when requesting for retweets via their website. It's not something as complicated as one would randomly think. I did via their site, filled out my preference and after I was done, they swung into action and did exactly what I longed for. I think anyone in need of retweets can easily access the service as it doesn't involve unnecessary bottlenecks to process an order for retweets and have it delivered.
Jul 17, 2018
Straightforward
The retweets and likes as outlined on their website are just like they have detailed them. Quite encouraging and I'll choose them anytime.
Jul 11, 2018
Desired results
Their retweets service gave me what I needed- THE NUMBERS! This further got me a lot more real retweets and the job had been well done.
Jul 9, 2018
Well done retweets
I got referred to their retweet services and no doubt, it was a good choice. I recommend.
Jul 5, 2018
Good for likes
I wanted some retweets and likes on a series of tweets for a campaign I was running. They delivered as I had ordered and a lot more on the tweet likes during the campaign. If only the retweets could come at a specific scheduled time.
Jul 4, 2018
Good engagement
Their retweets and likes service on Twitter got me excited. If you're looking for the same, you can try them out. You shouldn't have so many expectations though, it's just retweets and likes and the engagement doesn't build much of the organic effect.