BuySCPlays Review
Short and Sweet
BuySCPlays' website states that they can deliver high-quality Twitter Followers fast, though we didn't start getting followers until 2 days after the order was placed and it took a while for the order to finish.
Many of the followers are also not high-quality, with eggs instead of profile pics and incomplete bios. Customer support was responsive, though we didn't end up seeing the quality of followers we thought they would get.
BUYSCPLAYS
Founded
2015
Service Reviewed
1000 Twitter Followers
Methods
Unknown
PRICES
STARTING FROM
(for 500 followers)
$5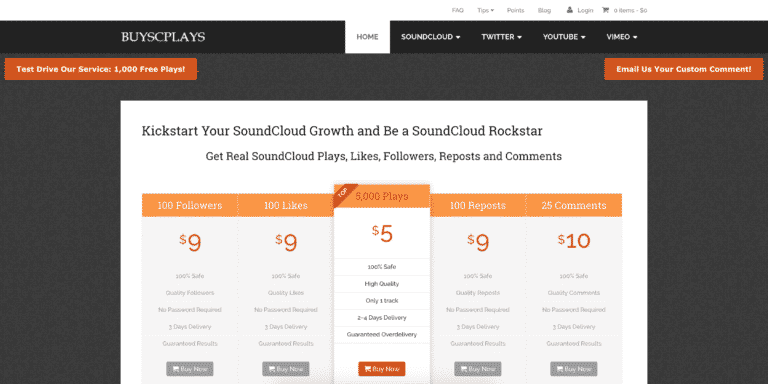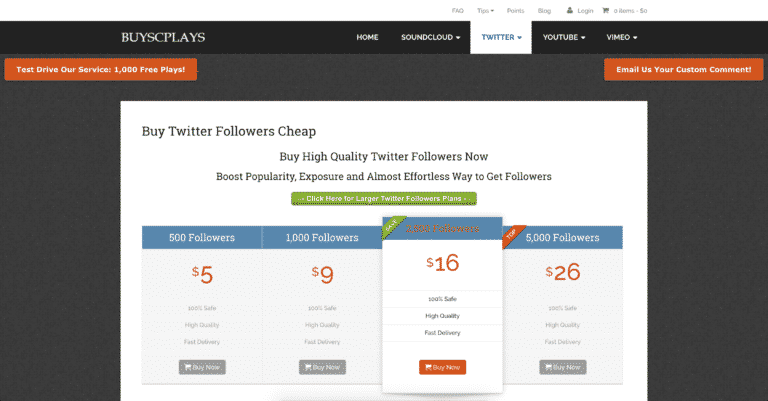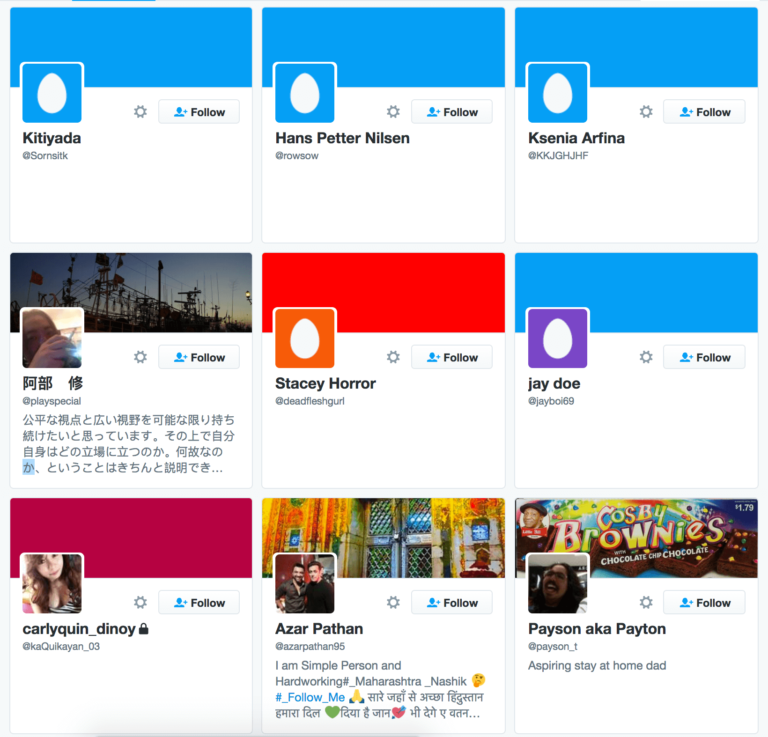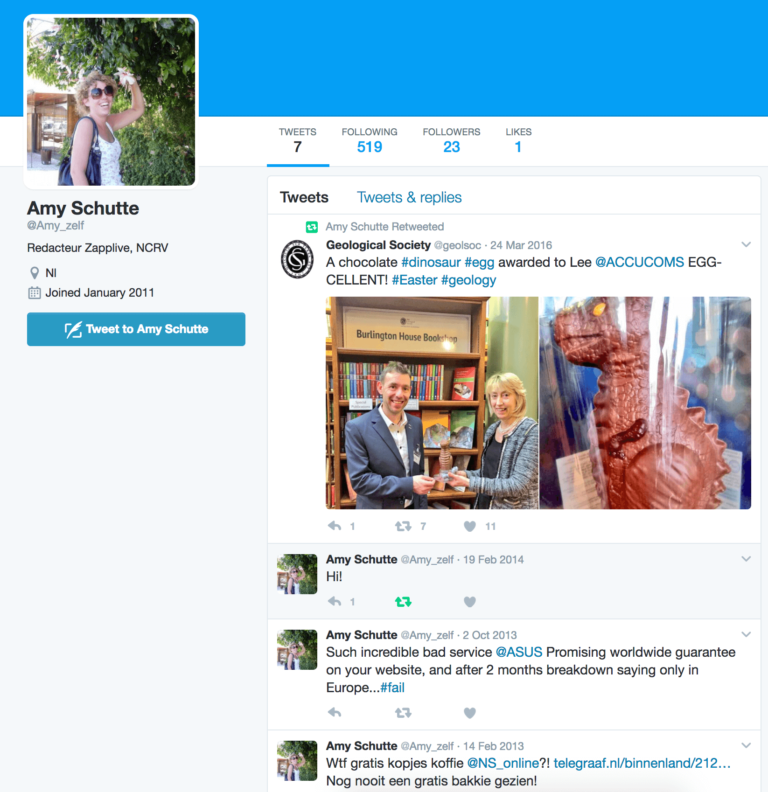 – Before You Buy –
Let our review help you make an informed decision
About Buy SC Plays
Registered in the Bahamas and in business since at least 2015, BuySCPlays specializes in SoundCloud social media boosting services. They also offer services for Twitter, YouTube and Vimeo.
BuySCPlays has solid customer support and protections for customers, like a money-back guarantee and a retention guarantee. This shows that they care about your reputation online, and will take steps to help you protect it.
Service Plans and Options
BuySCPlays specializes in SoundCloud services, but also offer Twitter followers and retweets. They claim to offer high-quality accounts with their own bios, photos, and followers.
Their plans are slightly below-average priced. They offer no standard for how quickly they will deliver their services, which is not a great sign.
Twitter Followers
| | | |
| --- | --- | --- |
| Followers | TURNAROUND TIME | PRICE |
| 500 | Fast Delivery | $5 |
| 1,000 | Fast Delivery | $9 |
| 2,500 | Fast Delivery | $16 |
| 5,000 | Fast Delivery | $26 |
| 10,000 | Fast Delivery | $46 |
| 25,000 | Fast Delivery | $118 |
| 50,000 | Fast Delivery | $230 |
| 100,000 | Fast Delivery | $379 |
Terms and Guarantees
Terms & Conditions
The company's Terms of Service can be found here.
Nothing stands out in their Terms of Service and the terms are pretty standard, overall.
Privacy
The Company's Privacy Policy is here.
Nothing stands out in their Privacy Policy.
Refunds & Cancellations
BuySCPlays provides a Refund Policy if the customers' needs are not met within 30 days.
They also offer, at their sole discretion, pro-rated refunds for partially completed services.
Retensions & Replacements
The company offers a 1-Year Retention Guarantee.
Their Retention Policy can also be found on their Refund Policy page.
Customers can request for replacement by filling out the form on their Replacement Request page.
Customer Support
The contact page for BuySCPlays was fairly easy to find, with a Contact link at the bottom of the page.
You can contact them through an on-page contact form.
Pre-Order Questions
Before ordering, we sent a few questions to test the response of their customer support.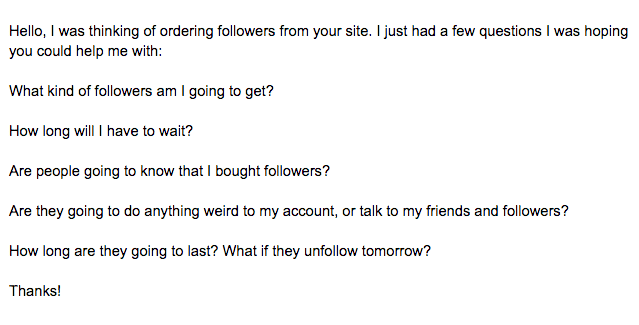 They responded pretty quickly, within around 7 hours. Their response was good, answering our questions thoroughly and providing some example followers.
However, many of the followers we ended up getting did not match that standard of quality, having egg profile pics and no bios. This seemed a bit tricky, as they were promising something they didn't deliver.
Pre-Order Response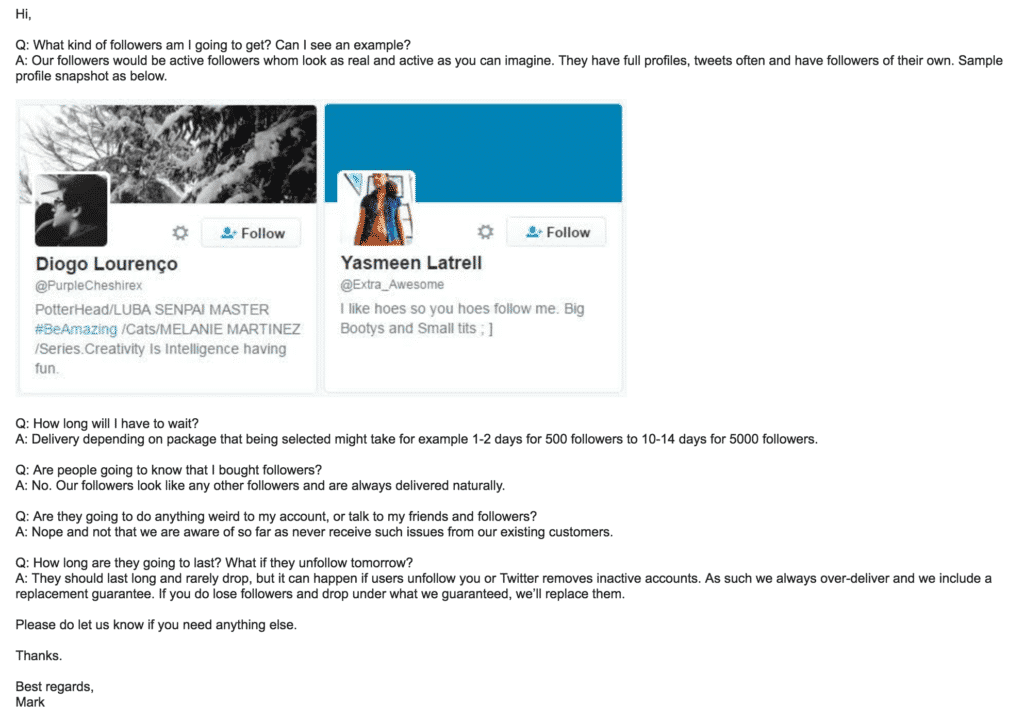 – Planning Your Order –
How to plan your order
Order Recommendations
BuySCPlays' Twitter Followers service can help customers attract attention and look more popular on Twitter. While the followers are Suitable-For-Work, many of them have default profile photos.
They can increase your numbers, but upon closer inspection many of them won't look very good.
Look More Popular
Go Viral
Attract More Attention
Ruin Reputation
Gain Real Followers
Getting Sales & Leads
– After you Order –
What you can expect
Turnaround Time
Our order did not start arriving until two days after we ordered, which is within the time frame stated by BuySCPlays. The company stated that their followers are high-quality, but on the whole they turned out to be of poor quality.
The rate of delivery was pretty natural, coming in at a few hundred per day.
However, the followers did not come in full until 7 days after we placed the order, which is longer than we expected. We contacted BuySCPlays about this, and they sped up the delivery to our account.
Followers Growth Rate
Number of Followers

Number of Days to Achieve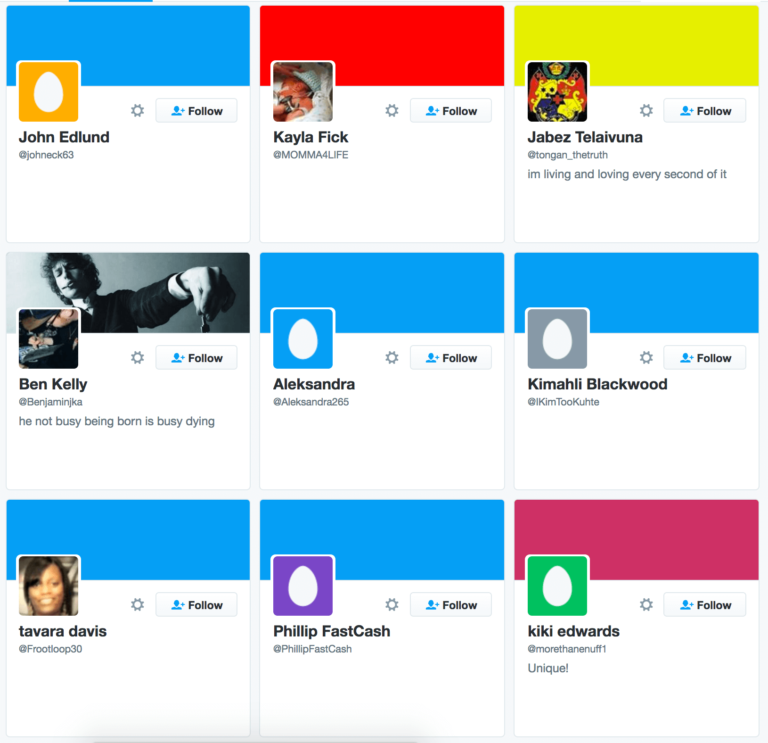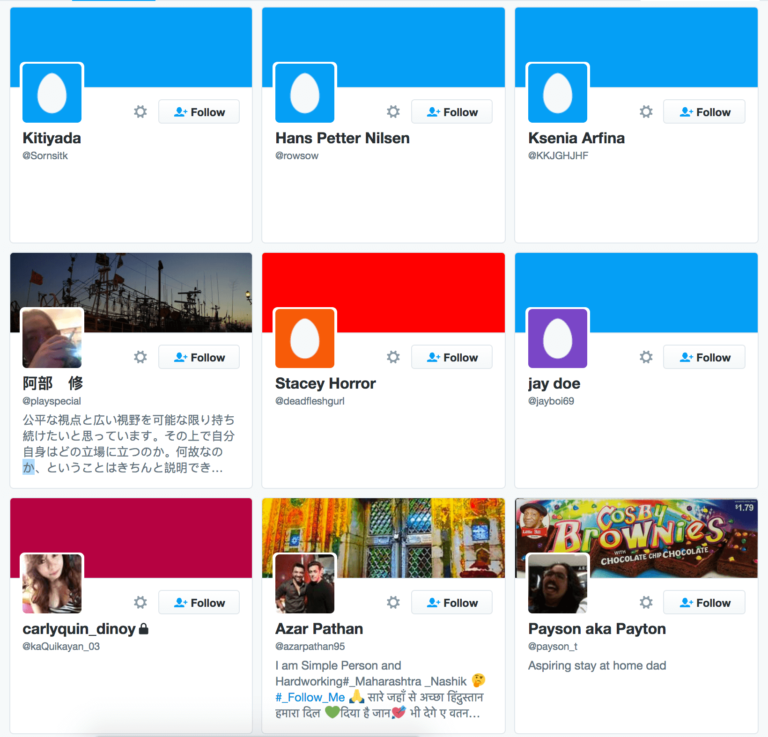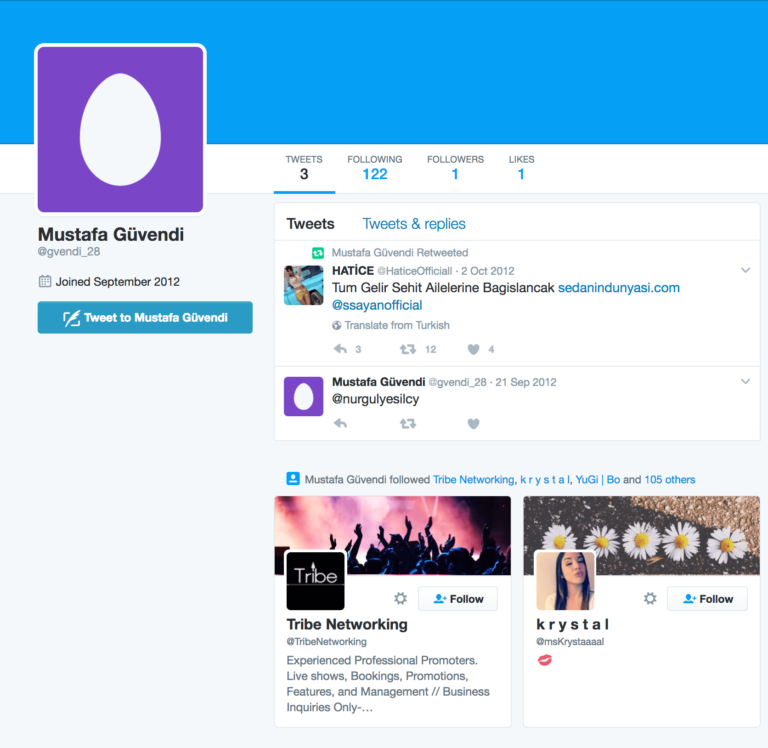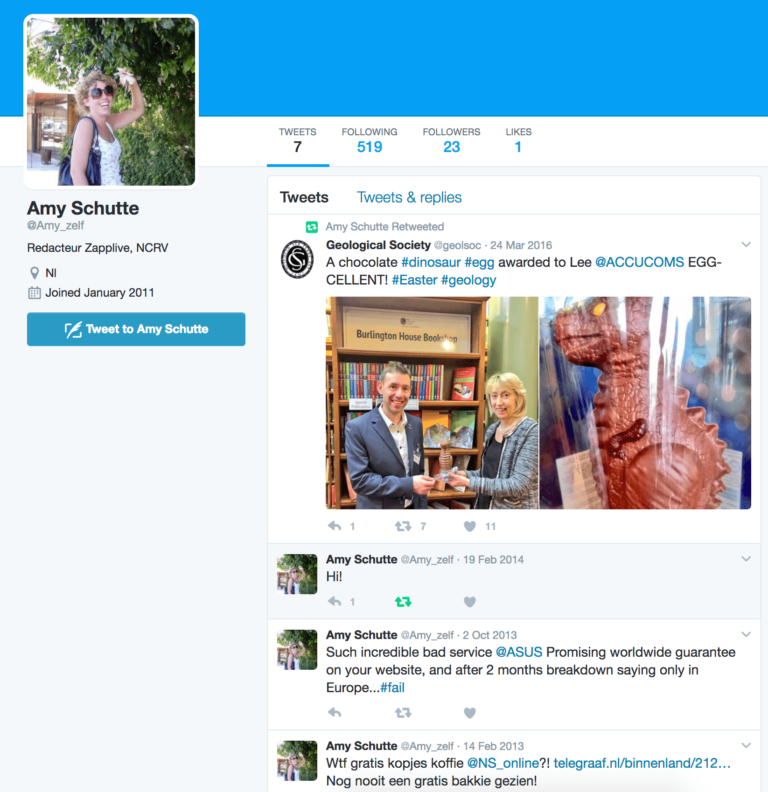 Quality of Followers
The followers are not high-quality as advertised. Many of them do not have profile photos or unique bios. They also do not actively tweet or engage our tweets.
| | | | |
| --- | --- | --- | --- |
| | Profile Photos | | Unique Bios |
| | Good F/F Ratio | | Active Tweeter |
| | Engage Your Tweets | | SFW-Only Followers |
| 64% | TwitterAudit Check | | |
Retention Rate
BuySCPlays states that their Twitter followers will stick with you. However, they also offer a 1-Year Replacement Guarantee if you lose any.
We saw our follower count going up and down for a while, before reaching 1,000.
1 Day
100%
2 Days
85%
7 Days – N/A yet
100%
30 Days – N/A yet
99%
60 Days – N/A yet
99%
90 Days – N/A yet
99%
– Conclusion –
BuySCPlays is a legitimate company that offers social media boosting services.
They claim to offer high-quality Twitter Followers, though the followers we got do not have profile pictures and complete bios, for the most part. Most of them show no recent activity.
The delivery rate was also not as fast as advertised, taking a while and requiring us to send a message to customer support. However, they have retention and money-back guaranties, and are open to refunds.
BuySCPlays offers Twitter Followers that can improve your numbers, but upon closer inspection many of them will be found to be low-quality. If you're looking for higher-quality followers, take a look at our Top 10 List.
– User Reviews –
Buy Twitter Followers Reviews
Average rating:
23 reviews
Jun 5, 2019
Excellent service
The followers came in right on time and were of good quality with a big number having profile pictures and bios. The customer support team did a tremendous job. They were very quick and took their time to explain everything to us. I will certainly come back for more.
May 17, 2019
Awesome work
They have awesome customer support. Each time i reached out to them, i got quick responses. The quality of the followers they delivered was the other thing that impressed me. The followers had everything that you would want in authentic followers.
May 3, 2019
Quick delivery
My followers were delivered fairly quickly and in full. The quality was good as well with most of them having complete profiles. I was happy to see this because I had been keen on what kind of followers I hoped to get during my conversation with one of the customer support agent.
May 3, 2019
Fantastic delivery
One of their customer support informed me that they have retention and money-back guaranties, and that they are open to refunds. I decided to try them out based on this and i am glad i did. The results were fantastic. The quality of followers was incredibly good. The delivery speed was decent with the followers arriving a day before the agreed date.
May 3, 2019
Happy
My followers arrived on the same day that i made the order. The quality of followers was impressive and most would pass for real followers.The customer support team was nice to us.
May 3, 2019
Effective
I've been reading a lot of stuff regarding this services and I was hesitant at first. Good thing I really tried this company. I swear you'll love the results.
May 3, 2019
Superb
We made an order for twitter followers from buyscplays and they delivered all of them on the same day we paid for the order. The quality of the followers was exceptional with a majority of the followers tweeting me. T
May 3, 2019
Delivered
These guys simply delivered according to my expectations and as a result, i am a happy client. The quality of followers is decent and their delivery speed is good.
May 3, 2019
Fantastic
The speed of delivery was what we had hoped for. The entire batch was with us in less than one day. The followers were of high quality with a majority having profile pics and complete bios. The customer support guys that we got in touch with were very friendly and helpful.
May 3, 2019
Super service
My order was delivered quickly just as i had been promised. The quality of the twitter followers i got was exactly what i had requested. Most had pictures and complete bios. I am happy with what i got as i have over time acquired more organic followers.