Last October, Twitter unveiled its new polling feature. This feature lets anyone create polls on the social networking site. While this service is available to anyone, celebrities are currently getting the most traction from it. Take a look at some of the top celebrity polls and then formulate a polling strategy for your brand. If you follow in these celebrities' footsteps, you can engage your audience and harness the power of Twitter.
Kanye West
Kanye West is one of the most polarizing Twitter users out there. From giving his take on the music industry to celebrating his many accomplishments, he always has something to say on the site. Love him or hate him, you can't deny that he knows how to entertain people on Twitter.
He doesn't just have one-sided conversations, though. He uses polls to find out what his followers think. This has made his page one of the most engaging feeds on Twitter.
One of his best Twitter moments came when he polled his fans about a mock Rolling Stone cover.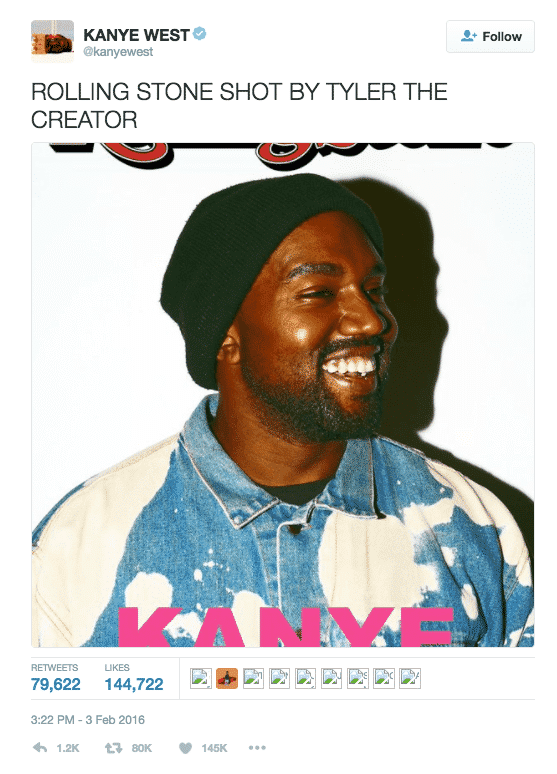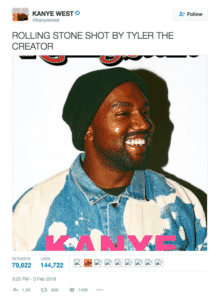 With over 100,000 votes, his fans overwhelming approved of the cover, with 59 percent saying that Rolling Stone should publish it.
Rolling Stone even got in on the conversation, acknowledging the cover and sharing it.
While we love Kanye, and have many mustard-related questions for him, this is not an actual cover of Rolling Stone https://t.co/2c3ZWpaorN

— Rolling Stone (@RollingStone) February 4, 2016
The Takeaway
Your brand might not be worthy of a Rolling Stone cover, but you can still use this as an example of how to create polls on Twitter. Think outside the box and find ways to blend your brand with other popular brands or ideas out there. This will get people talking. It will also help them see your brand in a new light.
Kim Kardashian West
Twitter polls run in the West family, as Kanye's wife, Kim Kardashian West, has used the feature to promote her husband's new album. She took to her Twitter followers to ask them which album title they liked the best.
WAIT new poll. Which album title do you like best? @kanyewest

— Kim Kardashian West (@KimKardashian) February 1, 2016
She got more responses than her husband did, with over 439,000 votes coming in on this poll.
This was a fun way to get people involved in the new album. It made people feel as if they were a part of the album, even though they were just choosing from predetermined options.
The Takeaway
If you are having trouble choosing an idea for you brand, turn to Twitter get your fans involved so they will feel as if they are a part of the process. This will get them excited about upcoming ideas and it will make your fans more likely to become brand advocates.
Just make sure you are willing to use whatever the fans vote on. Don't go with your own idea after asking the fans or they will think you are a fraud. That is why it is important to do your research before creating the poll.
Chris Hardwick
Television host and comedian Chris Hardwick took to Twitter to poll his followers on whether or not he should use the new poll feature.
I've just acquired the "poll" function on @twitter. Should I use it?

— Chris Hardwick (@hardwick) November 3, 2015
With over 14,000 votes, the response was an overwhelming "yes." Sixty-four percent of Hardwick's followers want to see more polls come from the Talking Dead star.
The Takeaway
While it's easy to dismiss Hardwick's poll as a joke, you can actually learn from it. You should always know what your followers want from you. Instead of guessing, ask them. All of the research in the world cannot compete with getting the answer directly from your followers. When you have a question, create a poll and then analyze the results.
Donald Trump
Donald Trump is possibly the most visible Twitter user of the moment. He has used Twitter to stay in the public eye during a fiery campaign. Part of his appeal is the way he uses social media to make his followers feel as if they are a part of a grassroots movement. He does this with a lot of success when it comes to Twitter polls.
For instance, Trump used Twitter to ask his fans if he should attend the GOP debate.
Should I do the #GOPdebate? https://t.co/cjTywwIl85

— Donald J. Trump (@realDonaldTrump) January 26, 2016
With over 150,000 votes, he proved he can engage his followers.
The Takeaway
Use Trump's poll as a guide when making big decisions for your brand. You do not want to leave your fans out of the loop when you are about to do something major that will affect them. Engage with them first to makes sure that they will still be on your side after the change.
If you aren't using Twitter polls, you are missing out on a great feature. It helps you engage your audience, and gets them excited about what you have to offer. It is also a great way to make them feel as if they are a part of your brand. Come up with some ideas and start polling your audience immediately.