EasySocials Review
EasySocials
Short and Sweet
EasySocials has been in the social media marketing business since 2011. They claim to provide high-quality services that will help you quickly build your Twitter account's popularity.

The company's Twitter Followers packages start from 1000 and go up to 15,000 followers. Their packages are some of the smaller offers we have seen. These are also priced right around the industry average.

They provide a money-back guarantee and a retention warranty to back up their packages, but we wish they had longer validity time. Customer service is the site's weakest area as you only have a contact form for communicating with them. They also take some time to respond to questions. Despite these small concerns, we still recommend EasySocials for improving your online presence on Twitter.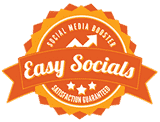 About EasySocials
EasySocials is a social media marketing company established in 2011. They provide both Twitter followers and retweets. Their follower package starts at $14.88 for 1,000 followers. They also offer services for other platforms like YouTube, SoundCloud, and Pinterest.

The company states that they deliver high-quality services at affordable prices. They claim that their methods are 100% safe and can greatly boost the popularity of your Twitter account. The site adds that their customer support team is composed of highly trained professionals that are ready to assist you anytime.
Service Plans Section
EasySocials offers five different Twitter Followers packages, ranging in size from 1000 followers up to 15,000 followers. They claim to begin processing your order within one day after purchase and that your promotional campaign will start immediately. There is no specific time stated for the completion of your orders. To make a purchase, you just need to provide a link to your Twitter profile. EasySocials also lets you leave additional instructions for them on your order form. The site accepts Paypal for order payments.
Terms and Guarantees
Delivery times stated on their product pages are just estimates. They add that they might go beyond the time frame, depending on the products being delivered.
They don't allow order cancellations after they have already sent you a confirmation ticket. This includes situations where you might have entered incorrect information in your order. Refunds will also not be honored for cancellation requests once the initial order period is over.
While they guarantee that their methods are safe for various platforms, EasySocials says there is still the chance that your account might get flagged. They stress that they have no liabilities for such circumstances, and will not offer any refunds.
EasySocials details their privacy policy in the Legal Terms section of their site. They state that all personal information you provide when placing an order is stored securely for processing.
The site assures that they do not store any credit card data after your payment has been processed. They reiterated that this information is used only to process your order and not shared with third parties.
EasySocials provides a refund in case they fail to complete your order. The amount will be proportional to the number of Twitter followers they failed to deliver. They also offer refunds for cancellations provided that they have not yet started delivering your order.
The company states that they will provide refills within ten days after you place your order. You have to contact their customer support staff to get refills. If they are not able to provide replacements for lost followers, they will instead give a refund equivalent to the number of followers or likes you've lost.
Customer Support
EasySocials' only form of customer support is through an on-site contact form. The form lets you direct your message to different departments like pre-sales, general customer support, or bulk client support. Due to the nature of the channel, you can expect some delay in their response time. You can set the priority of your message on the contact form, however, for faster processing.
Order Recommendations
We recommend EasySocials if you want to give your Twitter account a little push and create a more natural account growth. The sizes of their packages fit well with this strategy. If you need more than 15,000 followers, you might want to look at our top 10 list of Twitter Followers providers for options.
Turnaround Times
EasySocials says they will start delivering your Twitter followers within one day after you place your order. They did not specify the completion time for each package. They state that you can ask for a refund if they fail to deliver your order completely.
Number of Days to Achieve
Quality of Followers
According to their website, all their followers are genuine Twitter users. However, they did not provide additional details about the type of followers you will get. They also added that these followers could possibly unfollow later on.
Profile Pics
Unique Bios
Good F/F Ratio
Active Tweeter
Engage Your Tweets
SFW Followers
Retention Rate
Since the followers they provide are claimed to be real Twitter users, EasySocials says they will naturally unfollow over time. In case of followers dropping, you can request refills from the site within ten days after your purchase.
Conclusion
EasySocials offers small packages for Twitter Followers compared with other providers, with their biggest package at only 15,000 followers. They are suitable for those who want smaller packages to boost newer accounts, or those without goals above 15,000 followers. We would like to see them offer larger packages in the future for bigger promotions. The company claims that all their followers are genuine, but our testing has not yet shown this.

Their customer support is a bit wanting since you only have a contact form to use for sending inquiries. On the other hand, their money-back guarantee and replacement warranty are handy fallbacks. We just wish that they had longer validity periods.

EasySocials is still a good recommendation overall for giving your Twitter account some quick boosts. The quality of their services will definitely be worth your money.