Followerwonk Review
Followerwonk Review: Short and Sweet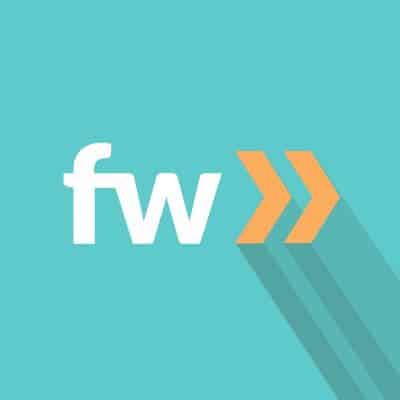 Followerwonk is a web-based application that lets you do analytics on any Twitter account. The tool displays the account's key statistics, such as the number of followers and their relative social ranking. You can also use the app to compare different accounts (including yours) to gauge their performances.
Followerwonk's main draw is its ease of use. You just input the Twitter username you want to analyze, and you will get its data. The site divides the information under different tabs for an organized view. The app is free to use though there are two reasonably priced upgrades if you want more functionalities.
The app's only downside is the limited customer support; you can only do support tickets and email. Besides that, Followerwonk will be useful to those who want to get quick Twitter analytics as well as those who are searching for Twitter influencers.
About Followerwonk
Followerwonk is an analytics tool designed specifically for Twitter. It debuted in 2009, and the site allows users to gather information quickly about any Twitter profile. Users can then use the gathered information to plan their own Twitter strategies.
The tool comes with a variety of features that will give a detailed picture of a Twitter account's performance:
A view of an account's social rankings
Followers and their locations
Follower gains and losses
Knowing when followers are active
Tweet engagement stats
All these features are accessible right on the site; you don't need to install additional software to do analytics. The developers said that you can even use these tools to search for influencers you would want to work with.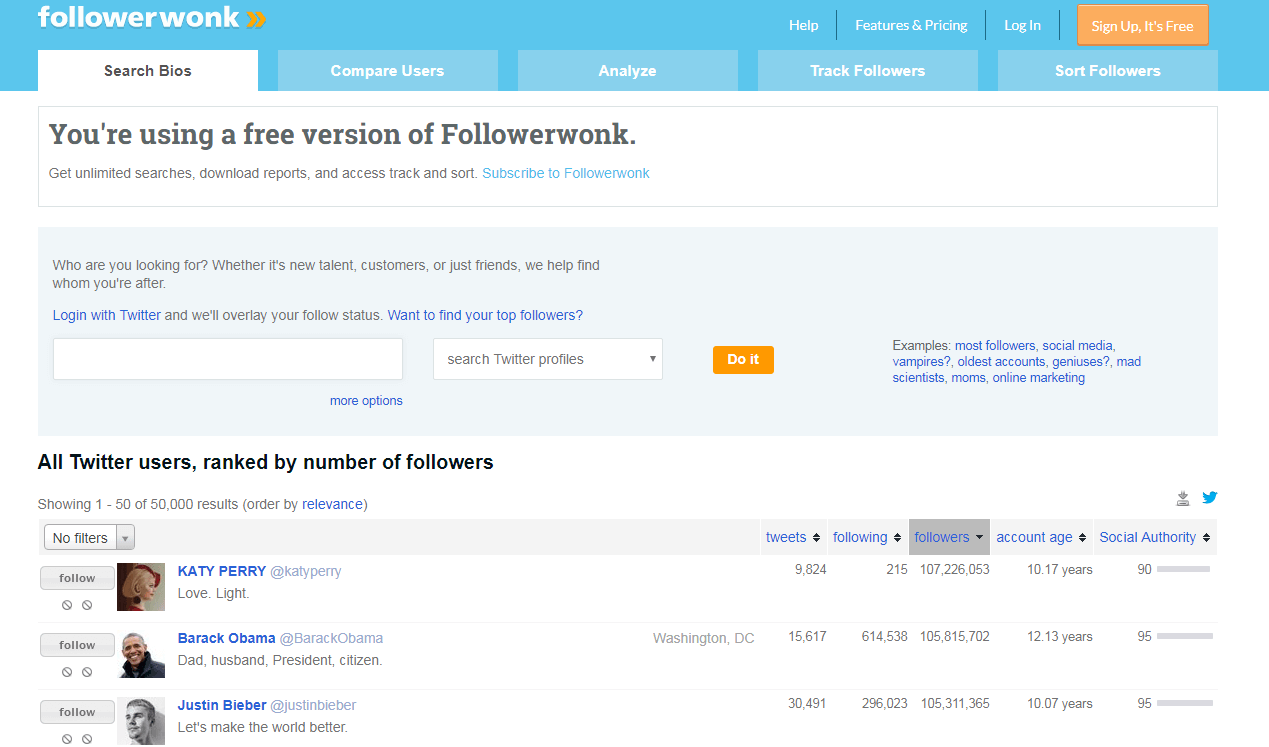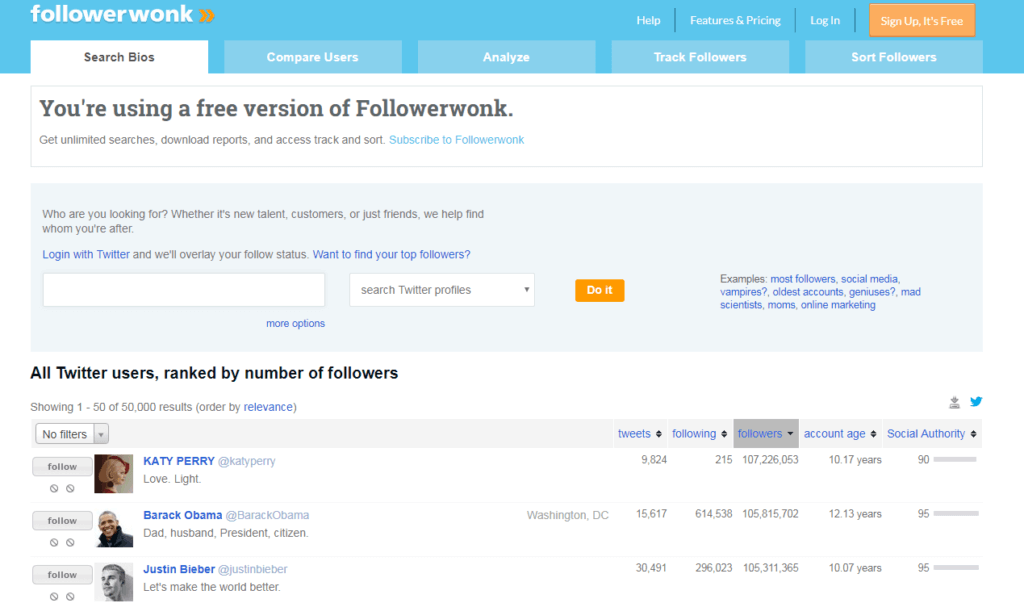 Service Plans
Followerwonk is free to use. You can view followers and their locations, as well as see when they are active. The free version lets you do 50 Twitter profile searches a day and see the respective social rankings of different accounts.
If you want to get more features, you can choose between two different upgrade options:
Target ($29/month): Unlimited profile searches, analyze accounts with up to 300,000 followers.
Multitask ($79/month): Unlimited profile searches, analyze accounts with up to 1,000,000 followers.
Both paid options also let you download your searches as CSV files. You can also see which of their tweets are getting the highest engagement and the follow/unfollow accounts. Followerwonk also offers custom plans if you need higher data ranges.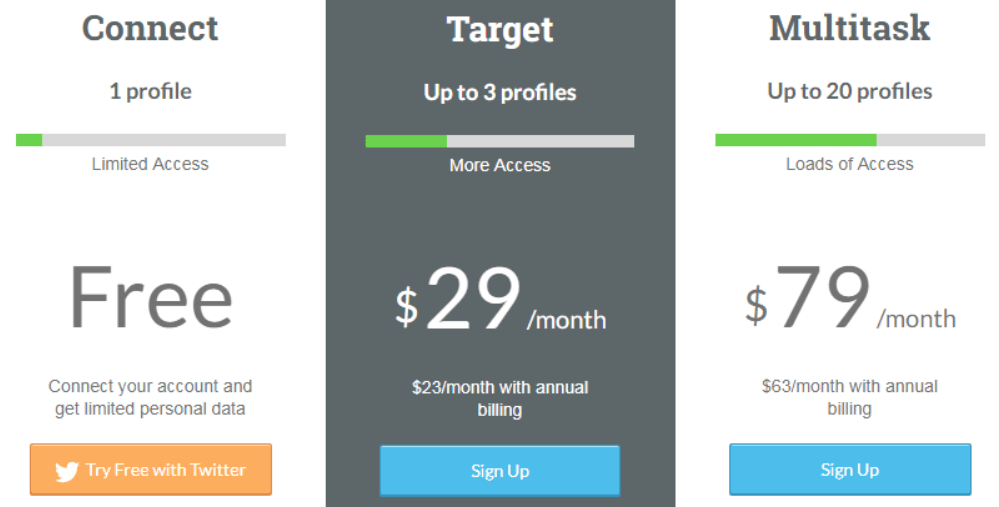 Terms and Guarantees
Terms of Service
Followerwonk's Terms of Services page states the conditions governing the use of its site. Only the following are allowed to use its services:
Customers who provide accurate information about themselves.
Those who do not authorize others to use their social media profiles.
Those who do not misrepresent themselves in their profiles.
The site says these users are granted a non-transferable license to use the provided services.
The site's TOS also stated its rules regarding user content. Users retain full ownership of the content they publish through the site. The site adds that users have the sole responsibility in ensuring their content follows applicable copyright laws.
Followerwonk further states that it has no obligation to screen the content posted by users on the platform. The company adds that it will not be responsible for any damage or loss caused by the user's content.
Privacy
Followerwonk says that it collects a variety of your personal information when you use its services. These pieces of information include:
Information you provide through filling different forms on the site
Information about the devices you use for accessing its services
Records of your correspondence with the site's staff
Your search queries on the site
The site states that it only uses the collected information to run its services and carry out other obligations. It states that it won't sell your information but might share your information with third parties in order to deliver its services.
Refund Policy
Followerwonk only offers refunds if it terminates your account before the end of your current subscription period, provided that you didn't breach any of its terms. The refunded amount will be equivalent to the number of unused days left in your subscription. The site does not provide instructions on how to claim refunds, which might cause some problems.
Customer Support
Followerwonk provides customer support only via email or support tickets. You can send your email inquiries to help@followerwonk.com, while the support tickets are available only for paid subscriptions. The site also has a short FAQ section that you can use as a quick reference.
Order Recommendations
Followerwonk's free version is a good option if you need to do a quick look at the statistics of a small number of accounts. If you want a more detailed study of larger accounts, you need to switch to any of the two paid versions. These versions will also let you download the data for future reference.
Followerwonk Review: Conclusion
We like how quick and simple it is to use Followerwonk for Twitter account research. You only need to enter the account user name, and the site will provide you with plenty of useful data. The free version is useful for most applications; the two paid subscription plans are handy for larger-scale studies such as doing competitor analysis.
Another thing we like about this tool is that it lets you search for Twitter accounts using keywords. This makes it easier to discover prominent accounts like that of influencers. The only negative thing about the tool is that it lacks a more direct customer support.
Followerwonk is definitely a great tool to have for anyone who wants to gather more information about popular Twitter accounts or to keep track of their own progress, and that's our honest Followerwonk Review.