Klear Review
Klear Review: Sweet and Short

Klear can simply be described as a social intelligence platform which helps brands do smarter influencer marketing and social analytics through accurate measurement and reporting. Klear started in 2012; today, it has one of the most comprehensive databases of over one billion influencers and a decade worth of historical data.
Klear offers one of the best ways to promote your brand, supporting over 60,000 influencer topics, ranging from fashion and food to sustainable agriculture. By offering rich demographics based on your target audience, Klear allows you to create and execute a surefire marketing strategy.
Though Klear offers a free plan, most of its original and authentic features can be found in its paid options. Its customer support is filled with resources and useful content, which makes the learning curve of Klear all the easier.
About Klear
Klear is a social media management tool which is designed to monitor social media conversations, record mentions of your brand, and allow users to make proactive decisions which will elevate their brand recognition.
Klear is easily adjustable and is optimized to be properly functional on both desktop and mobile devices. Useful features they offer include:
Performance measurement.
Facebook, Instagram, Twitter analytics.
Program tracking.
Audience demographics.
Influencer identification.
Segmentation.
Klear uses machine learning and data prediction to analyze thousands of features and millions of posts to help marketers yield favorable results. By using special algorithms, Klear allows you to calculate influence across all the popular social platforms, including Twitter, Facebook, Instagram, YouTube, and Snapchat.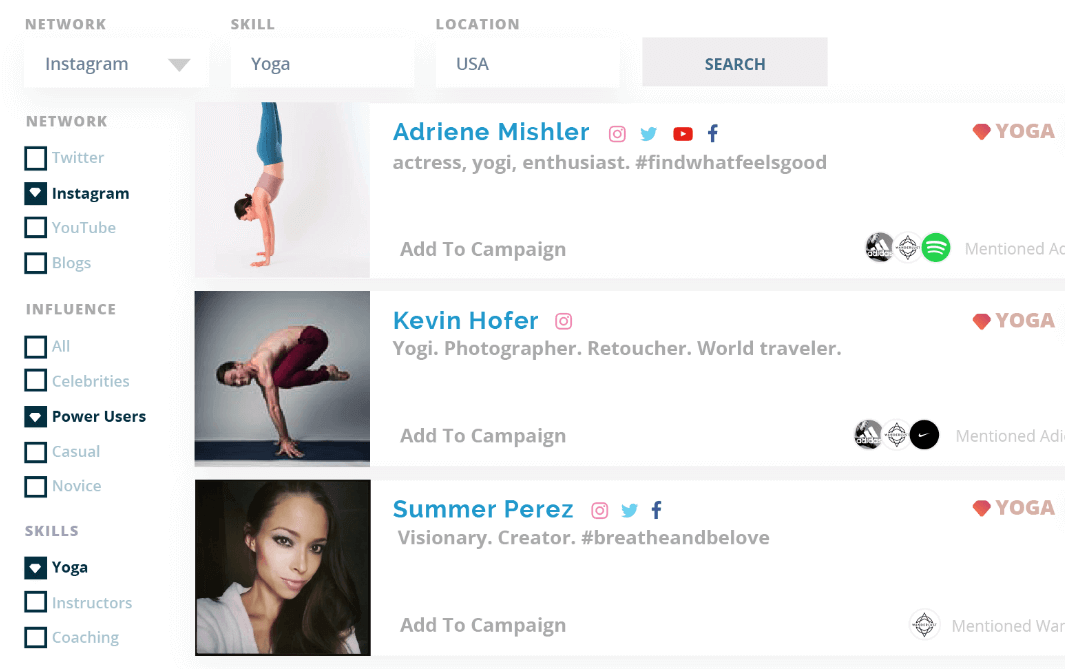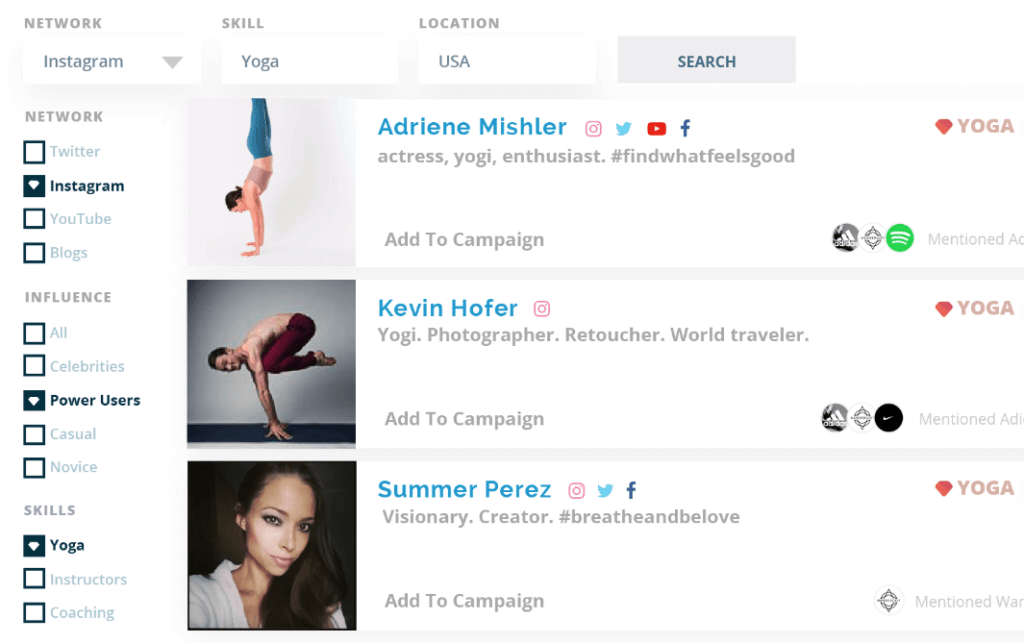 Klear has classified over 500 million influencers into 60,000 skills, and have done this by categorizing every influencer by their top skills and measuring their ability to influence their followers in those topics. After Klear is done calculating predictable outcomes, the machine learning algorithm accurately predicts the number of interactions an influencers' post will receive.
Service Plans
Klear offers several plans that are convenient for both individuals and business. Along with its free plan, Klear offers medium and premium plans:

Free: Klear's free package includes demo monitors, limited influencer searches, and limited social profiles.
Startup Plan: This allows companies with less than 20 employees the chance to manage 50 influencers, 50 profiles, and view 50 reports.
Basic: Klear's basic package includes 50 social profiles per month, basic influencer search, basic quota, PDF reports, five monitors, and 50 monitors per list. The price for the basic package is $249 per month.
Advanced: Klear's advanced package includes more than 50 monitors, unlimited social profiles, more than 20,000 social profiles, PDF reports, workspace, multiple users, and a dedicated account manager. The price is determined by the quote.
Obviously, Klear's free version offers limited features so that Klear can strategically offers its free tools just so that users get a glimpse of what the app is capable of doing. Here's an example of one of their free tools and its limited data: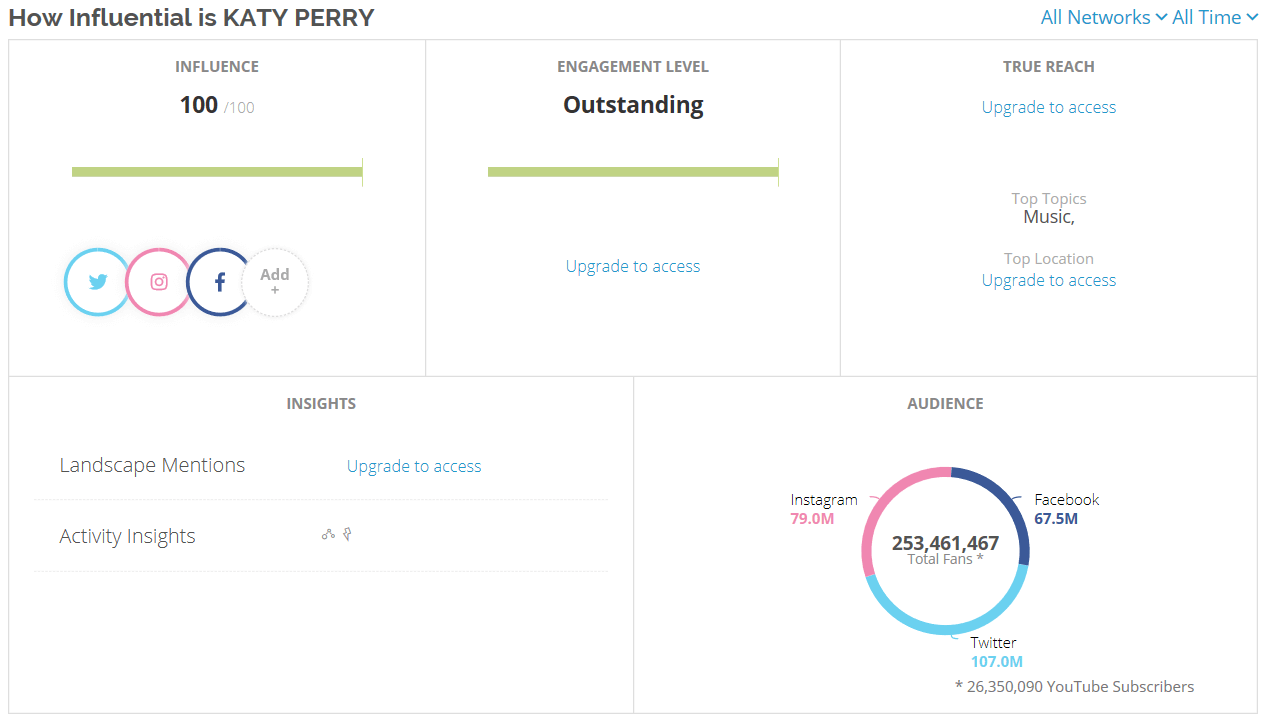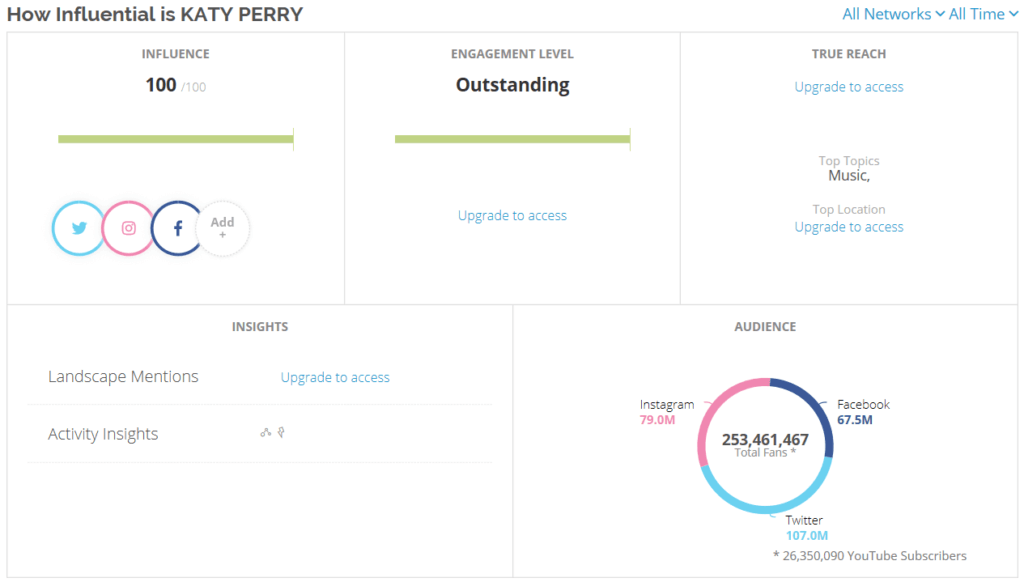 Terms and Guarantees
Terms and conditions
Twtrland is the owner licensee of the "Klear" platform. Twtrland claims that the company won't be responsible for any acts and/or omissions regarding data and that Twtrland doesn't intend and won't be required to edit or review the accuracy of any information provided by the users.
Twtrland also doesn't guarantee that the service, software, or any data will be performed error-free or without interruption. The site is intended for individuals aged 18 and above.
Privacy policy
Klear classifies personal information as any piece of information that you voluntarily share with the company. That includes contact information, email address, name, address, location, phone number, and social accounts.
When you use Klear's services, Klear automatically stores information about your computer hardware and software. This information can include your IP address, browser type, domain names, and ISP. Klear uses this information for the operation of the subscription service, to maintain quality of the subscription service, and to provide general statistics regarding the use of its website. Klear saves your personal information for 12 months.
According to its website, Klear makes reasonable efforts to make the collection and security of your personal information consistent with all applicable laws and regulations. However, Klear states that it can't guarantee that your data won't be exposed and breached.
Refund policy
There isn't a dedicated refund policy on Klear's website. This is a big surprise, considering that Klear deems itself as a professional company that caters to the needs of its users.
Customer Support
Klear has a solid website that is rich with useful content meant to aid users in fully understanding Klear's operation. We found several types of customer support on their website to be helpful:

Resources
Blog
Case studies
Guides
Live chat (on the pricing page)
This is not the best customer support we have seen. Klear doesn't provide email support, or phone support. It doesn't even have a "Contact Us" section. They do have a live chat feature on their Pricing page, but it is slow to respond and may as well just be email.
Order Recommendation
Klear does very little to provide thorough information about its packages. There is no refund policy, the prices of its services are very hard to find on its website, and there is no sign of customer support anywhere on the website.
There are free tools that you can use that will give you an idea of what to expect from its paid product. The Basic package is what most businesses will need, with large corporations needing the Advanced package.
Klear Review: Conclusion
There is no denying that Klear offers very useful services that any marketer would be happy to have. As a social management tool, Klear provides deep insights that are valuable for any individual or business. However, from an objective perspective, there are several areas that could use a fresh revamp.
The features offered by Klear's product are great, and we also commend the fact that Klear offers free tools for anyone who wants to get a glimpse of what Klear is capable of. The "Pricing" section though barely mentions any prices at all. Instead, it leads you directly to a demo version of Klear and requires you to sign up to access more information about the product. We can't say that we liked that.
The fact that Klear doesn't have a dedicated refund policy, and poor or slow customer support is also disappointing, as reported earlier in this Klear Review. Their live chat was slow and only on one page, and there wasn't an FAQ section either. All in all, while Klear clearly offers valuable services, there is a lot of room for improvement. We advise you to sign up for its free services right now to test them out. We're sure they're a great fit, but it's important to be comfortable before making a purchase.