Loomly Review
Loomly Review: Short and Sweet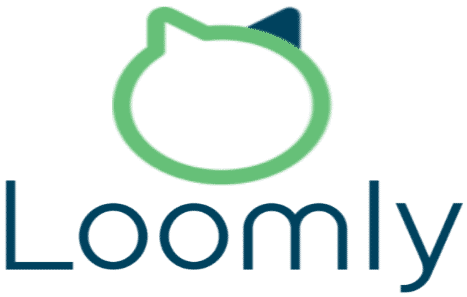 Loomly is a social media management tool that helps brands, influencers, and social media managers schedule and optimize their posts. The tool also gives managers control over their team members' activities since changes, updates, deletions, and other actions are tracked and sent through email and push notifications. Team managers can immediately review and make corrections if necessary.
You can enjoy a 15-day trial and take advantage of all premium features, including the PDF export functionality, calendar management, post scheduling and analytics, and live post analysis. After that period, you'd need to choose a paid service package that starts at $20 a month for 10 social media accounts and two users. Agencies that need to manage more than 61 accounts need to contact the company for arrangements with the Enterprise plan. The company doesn't provide refunds or credits, so make sure to choose a service plan wisely.
About Loomly
Loomly is more than just a calendar tool for social media managers as it offers post analysis and scheduling. The Arizona-based service started in 2013. Since then, it has allowed brands and agencies to have an organized workflow, flawless scheduling and monitoring, and performance measurement. Among Loomly's features are:
Social media calendar management
Post preview
Live post analysis
Approval workflow and history
Post scheduling and analytics
Email and push notifications
The tool enables brands, freelancers, and influencers to have a smooth internal workflow for all their social media updates from one dashboard. Gone are the days when calendar spreadsheets are manually updated and maintained.


Service Plans Section
Loomly has five service packages, with each package having a 15-day free trial period. Below are the provider's yearly pricing plans:
Base at $20/month: Includes 10 social media accounts and two users only.
Standard at $54/month: Allows for 20 social media accounts and six users.
Advanced at $108/month: Allows for 40 social media accounts and 16 users.
Premium at $228/month: Includes 60 social media accounts and 26 users.
Enterprise (price not disclosed): Includes more than 61 social accounts and 27 users.
Monthly payment plans for the same service packages are also available. All plans get to enjoy unlimited posts, calendars, uploads, and all features except for the Base plan which doesn't have the export functionality, advanced analytics, and Slack integration.
Terms and Guarantees
Terms and Conditions
Loomly's terms of service page is typical in its length and details. It discusses intellectual property ownership, limitations, links to other services, and fees, to name a few.
It further describes the company's services to include "scheduling, managing, uploading and facilitating of social media content via Calendars, and related analytical, interaction management and URL shortening tools."
Privacy
In its privacy policy, Loomly discloses that they may share user's information to third-party companies that they engage with. Among these third-parties are:
Amazon Web Services, Inc.
Intercom, Inc.
Attribution Inc.
Stripe, Inc.
The Rocket Science Group LLC dba MailChimp
OneSignal, Inc.
Google Inc. (Google Analytics and GSuite)
Mailgun Technologies, Inc.
Bugsnag Inc.
New Relic, Inc.
Loomly also uses Facebook Ads, Twitter Ads, Google Adwords, Outbrain, and Taboola so you will see Loomly ads on other websites you will be visiting.
Refund Policy
All fees and charges are non-refundable, and the company also doesn't provide credits even for partially used periods.
Customer Support
Loomly provides a very helpful tutorial page that covers how to create a calendar, create and schedule a post, and other actions. There are also FAQs that users can take advantage of before they decide to talk to customer support. If the issues aren't found in these resources, you can reach customer support through live chat and the "Contact Us" form.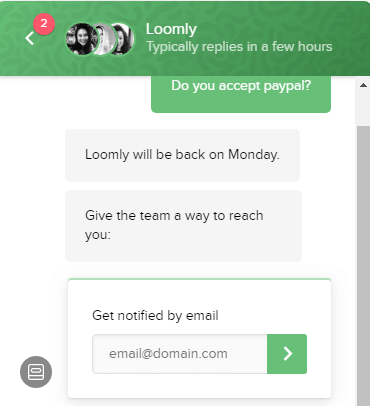 You'd expect live chat to be available 24/7, but support agents can only be reached during office hours on weekdays. As for the "Contact Us" form, there's no specific response time indicated so you probably have to wait for 24 to 48 hours.
Our Recommendations
Anything that lets you get rid of manual spreadsheets should be a welcome addition to your team's work process applications. With Loomly, you can do more than schedule posts. You can integrate the tool with Slack so communication is free-flowing and from only one place. It also offers post analysis which helps you learn how to make posts more effective.
If you're a small team, Loomly's Base plan is convenient and cost-effective since it's only $20 per month. However, if you manage a large number of social accounts, the price goes up. It's better to have a look around before deciding to sign up.
Loomly Review: Conclusion
Loomly has features that make it more than just a social media calendar tool. If you're looking into using the tool, which having made it this far into our Loomly Review is safe to assume, for your social media team, try out their services first with the 15-day trial period. After that, select the most appropriate service plan for your team's needs according to the number of social media accounts you manage, the number of team members, and the features you need.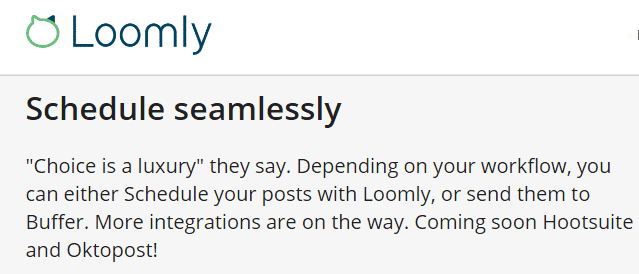 Loomly's website also has very informative support pages that include FAQs and tutorials. If these aren't enough, you have two ways to contact their support team through live chat and the contact form. Overall, Loomly is a great tool that makes the work processes of social media management teams simpler and their strategies more effective.

Buy Twitter Followers Reviews
Average rating:
1 reviews
Oct 22, 2019
Meh, can't recommend.