MeetEdgar Review
Short and Sweet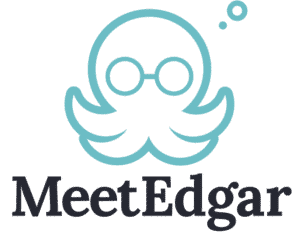 MeetEdgar is a social media management tool that can schedule posts and reshare both original and curated content. MeetEdgar's auto-refill queue is a handy feature that will keep your social media accounts active by filling them with recycled posts.
With its categories-based scheduling, you can mix the types of your posted contents. MeetEdgar's other essential features include a URL shortener, video uploads, and RSS feeds.
MeetEdgar works with Facebook, Twitter, LinkedIn, and Instagram. Through a browser plug-in, you can access the tool from a mobile device. MeetEdgar is designed to meet both social media and content marketing needs of small and medium-size businesses. They are recommended for their unique ability to keep feeds active.
About MeetEdgar
Laura Roeder founded MeetEdgar in 2014. Roeder is an online content creator, and one of her strategies involved resharing archived content. That meant she had to save her content in one big file and upload them manually into a scheduling tool over and over again.
Having realized there was no social management tool that had the capacity to do auto-reposts, she came up with the idea of creating MeetEdgar. Here are MeetEdgar's features:
Automated scheduling: MeetEdgar automates the posting of your content on your Facebook, Twitter, Instagram, and LinkedIn accounts.
Unlimited content library: Your shared content is saved in a library for future reposts.
Auto-fill queue: MeetEdgar can populate your accounts with archived content so you won't run out of posts.
Auto-generate content: MeetEdgar can look for quotable lines from published articles and share them online for you. It also imports RSS feeds.
Category-based scheduling: You can use MeetEdgar's default categories (like quotes, questions, tips, and blogs), or you can create your own. This ensures you get a mix of different kinds of posts.
Auto-expiring content: MeetEdgar lets you set an expiry date for seasonal posts, like articles for holidays and events.
URL shortener and in-app tracker: MeetEdgar helps drive traffic without posting a very long link.
MeetEdgar combines these social media scheduling and content marketing features. It works with Windows, Linux, and Mac. You can access the tool as well through a Chrome extension.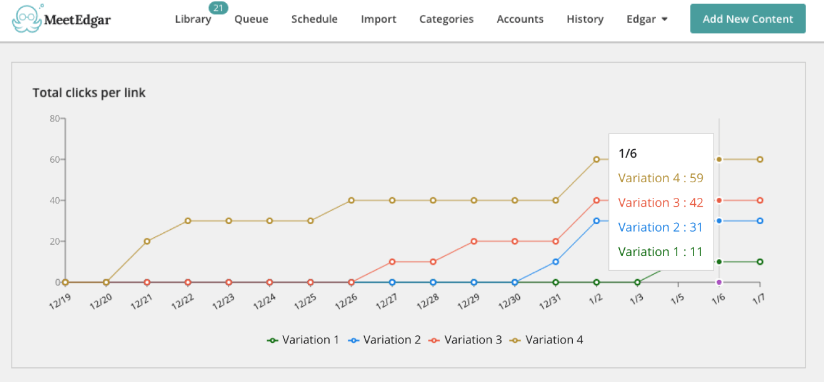 Service Plans
MeetEdgar only has one plan which you can subscribe for a monthly or annual basis. For $49 per month, you can link up to 25 social media accounts and enjoy unlimited library for your content.
Payment is through credit card or PayPal. In case you're not satisfied, you can use MeetEdgar's 30-day money-back guarantee.

Terms and Guarantees
Terms of Service
Under MeetEdgar's Terms & Conditions, the user must abide by any copyright notices and trademark restrictions. The user retains intellectual property rights over content posted on social media platforms through MeetEdgar.
Disputes, claims, or controversies shall be decided by binding arbitration in Los Angeles, California.  
Privacy Policy
According to MeetEdgar's Privacy Policy, the company collects the following information:
Name, email address, IP address, credit card details, and other personal information.
Non-identifiable personal information through cookies.
Other identifiable personal information stored in a non-identifiable format.
MeetEdgar says it collects such information to process your transaction, send you emails, and optimize its website. It may share your information with third-party service providers to maintain efficient services. MeetEdgar doesn't store your social media passwords.
Refund Policy
You can cancel your subscription any time by emailing MeetEdgar's customer support. If cancellation of the monthly subscription is done within 30 days of your initial purchase, you will get a refund of up to one month of your paid subscription.
For subscriptions past the first 30 days and annual subscriptions, a refund is not guaranteed and will be at the discretion of MeetEdgar.
Customer Support
MeetEdgar offers three support channels:
Knowledge base: This contains articles about getting started, features, announcements, integrations, pricing plans, and resources for social media marketing.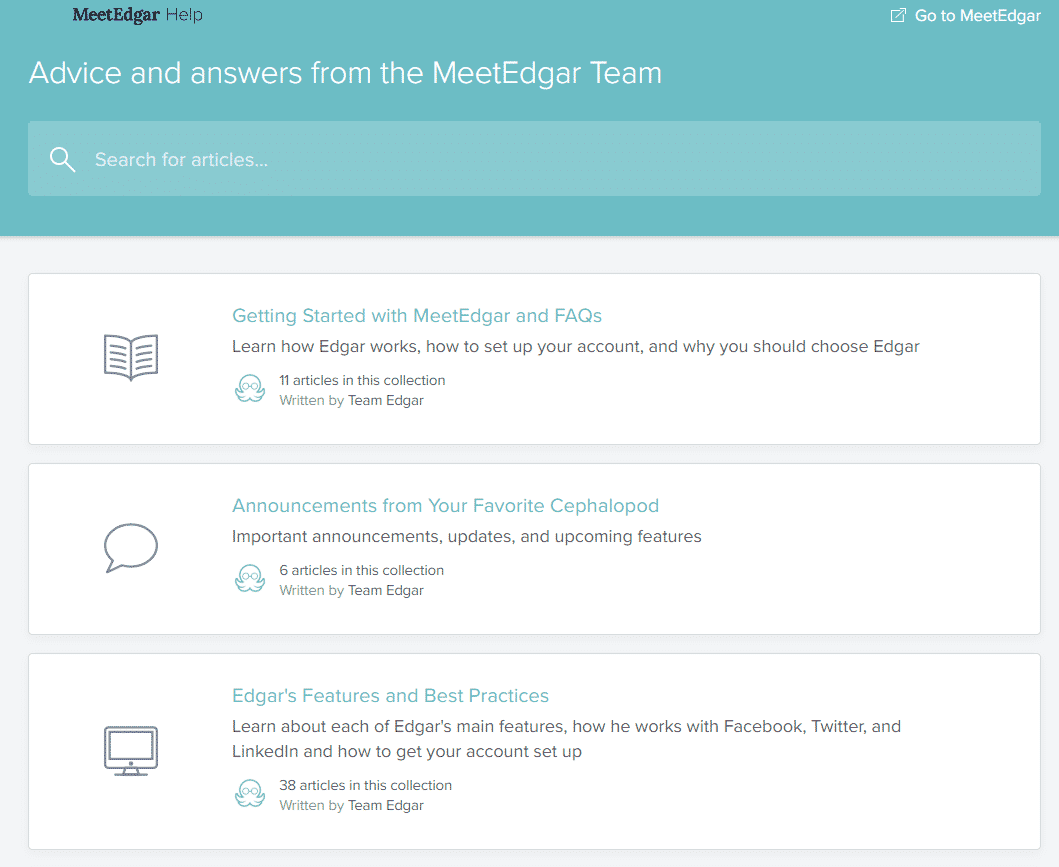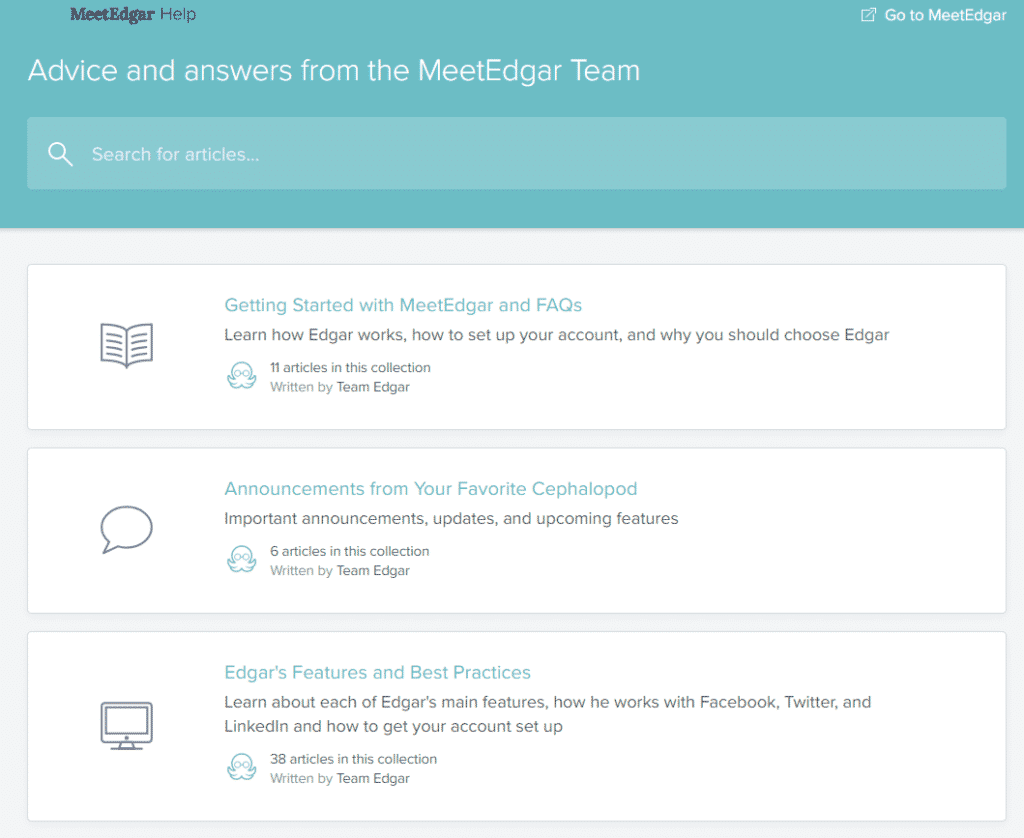 Contact form: Use this form to send questions, comments, or anything you have in mind.
Email: You can also get send an email through support@meetedgar.com.
MeetEdgar offers these channels in case you need to contact them for help.
Order Recommendations
There's nothing fancy about MeetEdgar, and that includes its subscription plan. Your choice here is simple: subscribe or just ignore it. If you find MeetEdgar's scheduling and content marketing features worth the investment, then try it first for $49 per month. There's always be the 30-day money-back guarantee as your fallback.
Conclusion
MeetEdgar may look like just a typical social media scheduling tool, but it's really more than that. It performs automated posting very well. With MeetEdgar, you won't have to save your content all the time so you can use it again for future posting. Not only that, it can even create and curate content to ensure your social media accounts won't be left empty.
Unfortunately, MeetEdgar supports only four social media platforms (Facebook, Twitter, Instagram, and LinkedIn). If your business has accounts outside these platforms, then MeetEdgar won't be the social media solution you're looking for. Moreover, MeetEdgar lacks advanced features like analytics, smart inbox, and social listening you'll usually find in competitors.
While MeetEdgar may lack certain features, be glad to know that the tool excels in two areas where it is designed to perform, that is, in social media scheduling and content marketing aspects. If this is the only thing you need from a social media management tool, then MeetEdgar is worth a try.