Mentionmapp Review
Mentionmapp Review: Short and Sweet
Mentionmapp is a useful app for Twitter that provides users a visual map of a specific network. You can see your own network connections, or search for another Twitter user and view their network. You can also search hashtags and see the users that are tweeting them. You can even save tweets and download them into PDF files.
Mentionmapp also caters to research projects that involve the study of social bots and misinformation on Twitter. If you have a research project of this nature, you may contact the company for a quote. Its support team responds through email after two to three hours even when you reach out through the website's chat window. With slightly faster customer response, they'd be in truly elite territory. They are still recommended for their unique features.
About Mentionmapp
Mentionmapp Analytics is a Twitter network visualization tool that started in 2009. It basically maps out a Twitter user or hashtag's connections, providing marketing professionals both an overview and a detailed view of a specific network.
For example, you can search for a competitor, find out the hashtags they are using and how widely used these hashtags are, and use these hashtags for your brand. On the other hand, you can search for a specific hashtag and see the Twitter users who frequently use that hashtag and related hashtags. You would then have an opportunity to reach out to influencers which are relevant to you.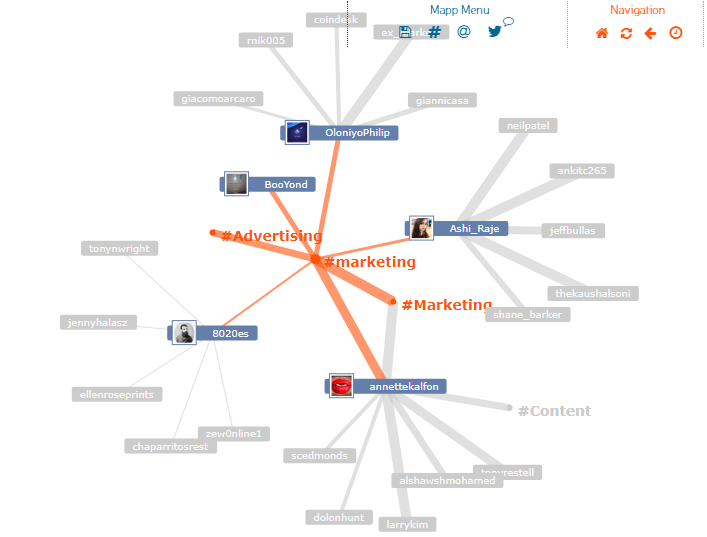 Aside from the initial network, a secondary network will also be shown as gray, showing the network of the Twitter users using the hashtags (if you searched for a hashtag) or the network of the primary connection (if you searched for a Twitter user). Mentionmapp also presents the search results in a news feed style: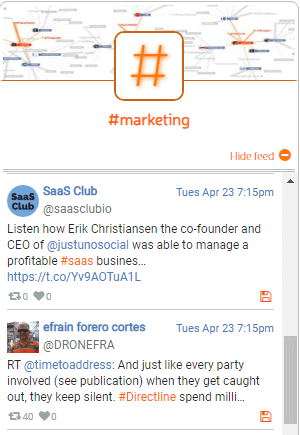 The Vancouver-based analytics company extended its services in 2017 to include the threats brought about by social bots and widespread misinformation. The platform is able to do this through tools and processes that enable it to gather and analyze data from several sources. You need to contact the sales team and give them the specifics of your research project so that they can give you a quote.
Service Plans
Mentionmapp offers one free service package and two paid plans with the following details:
Seeker: This is a free package that gives users up to 15 Twitter user and hashtag searches per month. You can also save up to five profiles and hashtags in maps then download the saved maps as a PNG file.
Adventurer: This is a free plan, but when you upgrade from the Seeker plan, it will bear the price tag of $9 a month. The Adventurer package allows you to search profiles, people, and hashtags with a limit of 300 searches per month.
Pioneer: For $27 a month, you are given unlimited profiles, people, and hashtag searches every month. You can save up to 180 profiles and hashtags in maps, and download them in PNG format. The plan also allows you to save up to 100 tweets and download selected tweets to PDF files.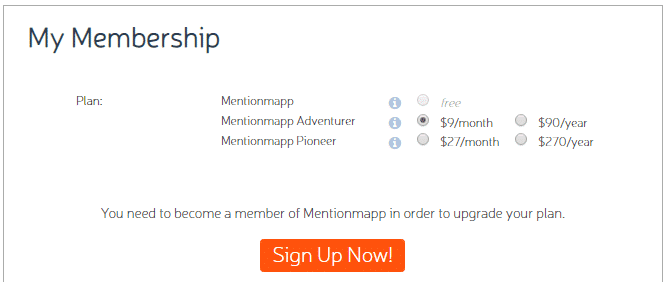 Mentionmapp also offers custom research projects related to Twitter social bots, and disinformation or misinformation. The price depends on the nature, extent, and duration of the project.
Terms and Guarantees
Terms and Conditions
The company's terms of service page is not accessible through the website. Instead, it's embedded in the sign-up form.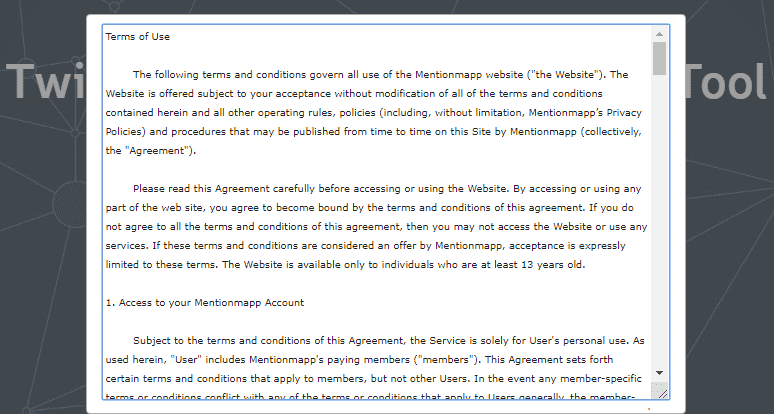 Mentionmapp requires users to be at least 13 years old to be able to use its service. It states that there is a distinction between paying "members" and other "users."
They also state that no one is allowed to try to discover Mentionmapp's source code through reverse engineering, disassembling, or any other method.
Privacy
Mentionmapp collects personally identifiable information such as your name, email address, phone number, and business details when you sign up with its service or subscribe to the newsletter. These details are used to provide a personalized experience on its website, send periodic promotional emails, and address reported concerns or issues.
Mentionmapp does not disclose this data to third parties, but it could hand over non-personally identifiable information to third parties for advertising and marketing purposes.
Refund Policy
The company does not provide any refund at all and even "disclaims all warranties of any kind" in its terms of service.

Customer Support
Mentionmapp's support team can be reached through live chat and by email at services@mentionmapp.com. The live chat option though isn't live at all since support agents don't respond immediately. An automated reply says that they might respond through email.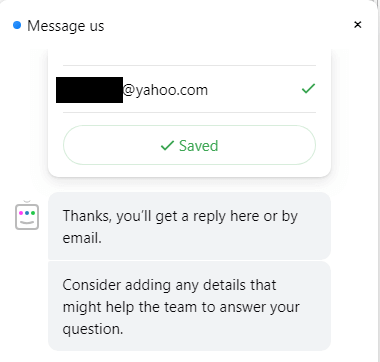 We did receive a helpful response two hours after we sent the question through chat support.
Order Recommendations
Mentionmapp will give you a glimpse of how wide a particular Twitter network is, which is helpful in forming marketing strategies. If you aren't familiar with network maps, the search results might be confusing at first especially since it tends to load slowly. If you get past this, you can see that when you hover over a connecting line, the number of tweets between the two users (or the number of times the user used the hashtag) will show.
The free package is suitable for casual individuals, but not for agencies, influencers, or brands. Paying $9 for 300 searches is well worth it over the 15 free searches option.
Mentionmapp Review: Conclusion
Mentionmapp is a simple Twitter app that can give you insights into a profile or hashtag and how they relate to other users. For large agencies and brands, the highest service package tier is more suitable since it offers unlimited searches.
The company does not provide any refund or credit, so be cautious when signing up for any of the paid plans. You may also contact the company if you have a research project related to social bots and misinformation on Twitter since Mentionmapp has already ventured into this type of research. We do recommend them for those looking to have a different visual approach to data, and that is our sincere Mentionmapp Review.