Since its launch in 2006, Twitter has been a different kind of social network. Those differences have taken center stage as of late, as Twitter's revenue continues to grow while it fights to attract new users. Many people think this means Twitter is in trouble, but it simply means it's a different type of business. It is using a business model that is new to the online world, and it is succeeding with that model.
Earnings per Share and Revenue
Twitter's earnings per share have exceeded its estimates in the last five quarters. In other words, Twitter's financial security is even better than the company expected.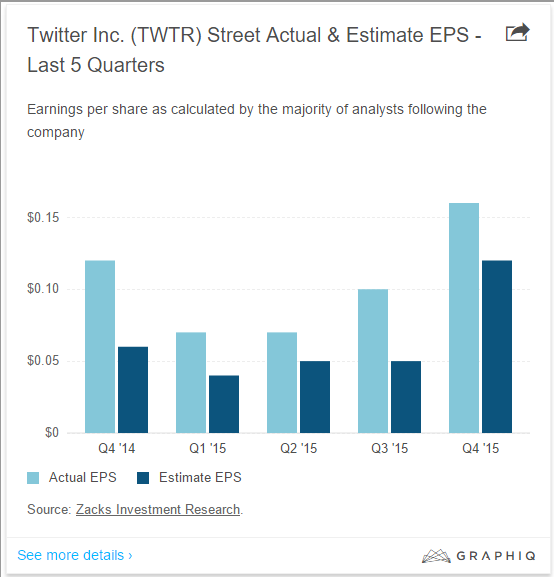 It isn't just exceeding expectations in terms of earnings per share. The company is also bringing in a lot of revenue. Twitter raked in $710 million in revenue in 2015, which was a 48-percent increase from 2014.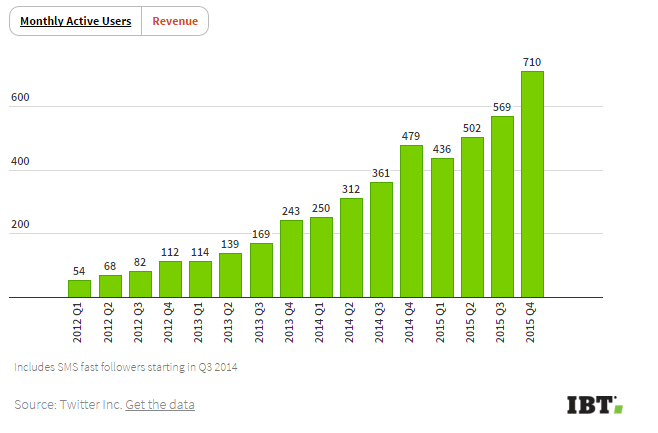 At the other end of the spectrum, the social network is struggling to find new users. It actually hit a decline in Quarter 4 of 2015, although it has bounced back a bit in 2016.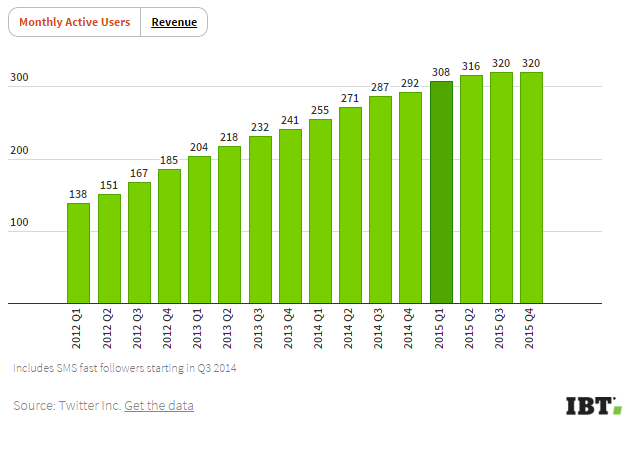 While it can be hard to understand why Twitter's revenue is increasing while its new users are stalling, the reason is actually quite simple. The company has found new ways to monetize its users, and it's even managed to rake in money from people who aren't logged into the network. This allows Twitter to get more out of each user it has. Because of that, it doesn't necessarily need more users. It just needs to continue to keep existing users engaged and make money off them.
Monetizing Users
Twitter brought in $479 million in advertising revenue in the fourth quarter of 2014. That is 97 percent more than it brought in for the fourth quarter in 2013.
It hasn't experienced this growth by accident. The company has spent recent years expanding into new markets. It added advertising offerings to 13 new markets in 2014 and included its self-serve ad products in 8 new international markets that same year. This expansion helped make 2015 a financially healthy year.
It's also healthy due to all of its advertising offerings. While people are familiar with Promoted Tweets and Accounts, the company has unveiled some new options that have helped it boost its revenue.
New Targeting Options
Targeting is one often most important advertising tools a social network can offer. Twitter had some trouble with advertisers in the past because it didn't offer enough targeting options. That has changed in a big way, though.
Tailored Audiences is one of the most popular changes Twitter has offered in recent years. This allows people to target Promoted Tweets to others through website retargeting, email list matching, and user IDs. This gives advertisers more ways to reach their target markets, and Twitter is reaping the rewards. This change alone is helping the company attract new advertisers and boost its revenue.
TV targeting is another new option available. This is great for live television events. A machine collects keywords, hashtags, and phrases as the event plays on television. Then, the advertiser sends out ads to people who use those terms or hashtags. This gives people a unique opportunity to advertise in real time, as something is happening. This plays to Twitter's main strength. Twitter is all about live news, and by using this types of targeting, advertisers become a part of the live conversation.
While this tool can be used for any advertiser who holds live events, expect it to get a lot of traction during the political season. Contentious debates make for great conversions on Twitter, and savvy politicians will use this to reach out to others. Those who use it well might even move up in the polls.
More Advertising Options
Along with the increased targeting options, Twitter now has more advertising options than ever before. Promoted Video Ads are delivered in an auto-play format and encourage interaction and engagement.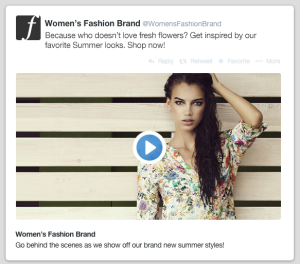 In addition, the social network now serves ads to Twitter users who aren't logged into the site.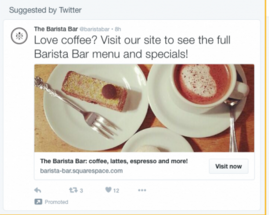 This is incredibly attractive to advertisers since it allows them to expand their audience. It's also attractive to Twitter since it helps the company shatter revenue records. Finally, when done correctly, it's a welcome change for Twitter users. People appreciate ads that help them solve problems. They are likely to click on these ads and make purchases.
Active users are not nearly as important as revenue is to Twitter. As long as there are people on the site to engage with ads, Twitter will make money. Because of that, it is putting a lot of its energy into improving the advertising experience for both companies and users.