Sendible Review
Sendible Review: Short and Sweet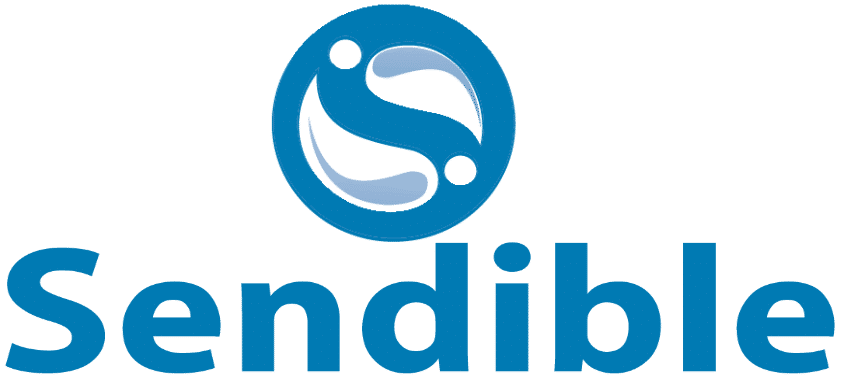 Sendible is a London-based social media management tool. It lets agencies, influencers, and brands manage multiple social media accounts, schedule messages, posts, Google blogs, and engage with their audiences. It could even give a glimpse of your ROI which could help shape your content strategy.
The tool also provides insights into a social account's analytics and allows users to generate reports for Facebook, Twitter, Pinterest, Instagram, LinkedIn, and YouTube. As well as support for Blogger, WordPress, Medium, and Tumblr.
When you encounter issues with the tool, there are several ways to get support since Sendible has live chat support, a contact form, and phone numbers for clients in the UK, US, and Australia. This shows what a dedicated company this is, and helps them earn our recommendation.
About Sendible
Sendible was released in 2008, and the team behind it is based in London. It is an all-in-one social management tool that lets you do the following:
Schedule messages
Manage social media accounts
Engage with audiences
Schedule blog posts
Manage team activities
Create social media reports
What sets Sendible apart is that it also measures ROI from the same dashboard that you use in performing the actions listed above. Social media managers can monitor keywords, which keeps them updated about what people are saying about the brand or business they manage.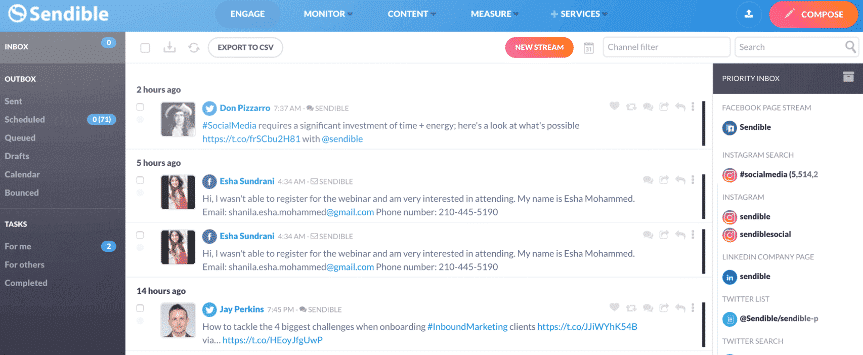 Sendible allows team members to collaborate more quickly through task assignments and approval system. The app is also available on iOS and Android, so you can manage your accounts on the go.
Service Plans Section
Sendible offers monthly or yearly payment plans, with yearly plans being the cheaper option. They all have a 30-day free trial period:
Micro at $24/month: The plan includes 12 services, unlimited scheduling, and only one user.
Small at $84/month: This is more suitable for small businesses as it allows them to use 48 services, build six reports, and allow three users.
Medium at $169/month: The medium plan includes 105 services, 35 reports, and seven users. This is compatible with agencies.
Large at $254/month: This allows large teams to use 192 services, build 60 reports, and allows 12 users.
Sendible defines "services" as a one-way interaction with a social media account. For example, posting and streaming to one Twitter handle is equivalent to two services. You may, therefore, need more than one service even when you're handling only one social media account.


Sendible's services include posting updates to social media, monitoring activity on social accounts via Streams, posting updates to blogs, photo and video services, monitoring and search services, RSS, and automation.
Terms and Guarantees
Terms and Conditions
Sendible is governed by English law, so any disputes and legal proceedings should be brought to the courts of England and Wales. Residents of Northern Ireland and Scotland, however, may bring the cases to the courts of their respective countries.
Sendible's terms of service page states that any content you upload to its site is considered non-confidential and non-proprietary. This means that although you remain the owner of the content, Sendible has the right to use, store, copy, and distribute them without a fee. It is further stated that Sendible has the right to disclose your identity to third parties that claim breach of copyright laws.
Privacy
Sendible collects personal information that you provide when you register and subscribe to its services, download educational content, search for a product or service, participate in the forums, enter a contest, survey, or any promotional activities, and submit a ticket to its support team. Here is some of the collected information:
Location information
Links and product usage
Photos
Cookies
Private messages
Log data
Even when you don't create an account, Sendible will still require you to give some personal data like your name, address, phone number, picture, credit card details, and email address.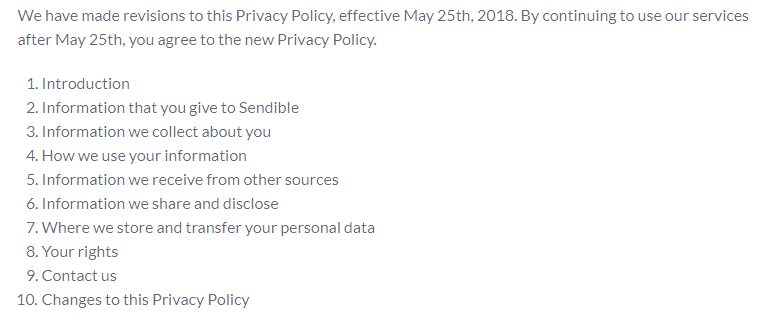 Refund Policy
You may cancel your Sendible subscription any time, and this will take effect immediately. However, a refund for the unused service is not guaranteed as it is based on Sendible's sole discretion. Sendible may also decide to cancel or refuse a subscription request; any payment made will be refunded in this case.
Customer Support
Sendible has multiple support channels which include the following:
Contact form
Phone (UK, US, Australia)
Live chat
Webinar
Video tutorials
Free training courses
FAQs
It also has a blog page, developer's hub, feature ideas, and service status update page.



Order Recommendations
Sendible is a sophisticated, all-in-one tool that offers multiple services, including scheduling, calendar management, and analytics. The tool can be very expensive though if you manage several social media accounts, as pricing is not based on the number of managed accounts but on the number of services you plan to use for each account.
For example, if you post, stream, and monitor keywords of one Twitter account, that's already equivalent to three services. If you manage five social media accounts for one brand, you no longer qualify for the cheapest package. The cost will definitely go up if you manage multiple brands.
Before signing up for any of Sendible's plans, make sure that you have a clear idea of the services you need for each social media account. Perhaps you can sit down as a team since not all services may be effective on some social media platforms. Take advantage of the company's 30-day free trial, or request for a white label demo, and see what the tool has to offer for your brand or business.
Sendible Review: Conclusion
If you are looking for a tool that allows you to manage multiple social media accounts, Sendible is a good option.
Before deciding on a plan, it's best to talk to Sendible's customer service first since the packages will be based on the number of services, not on the number of accounts and users. This shouldn't be a problem though since Sendible's live chat is responsive. If you're from the US, UK, and Australia, there are phone numbers you can call as well. Yup, good thing you read our whole Sendible Review, otherwise you'd never expect that level of service!
Sendible allows teams to work productively. It gives agencies a unified social inbox for each brand they manage and allows them to "listen" by monitoring keywords. The tool is definitely worth looking into, and the free 30-day trial gives you the opportunity to test Sendible. We recommend them highly.