TheSocialMarketeers Review
The SocialMarketeers offers Twitter Followers, among many other social media boosting services.
They claim to provide Twitter followers with "real personalities," including profile pictures, bios, and names. The followers we received basically matched that description.
Our order came on time, and we received more than twice the amount we ordered. Their customer support is also very responsive and provided informative answers to our concerns.
Overall, we recommend them if you want decent-quality followers for a fair price.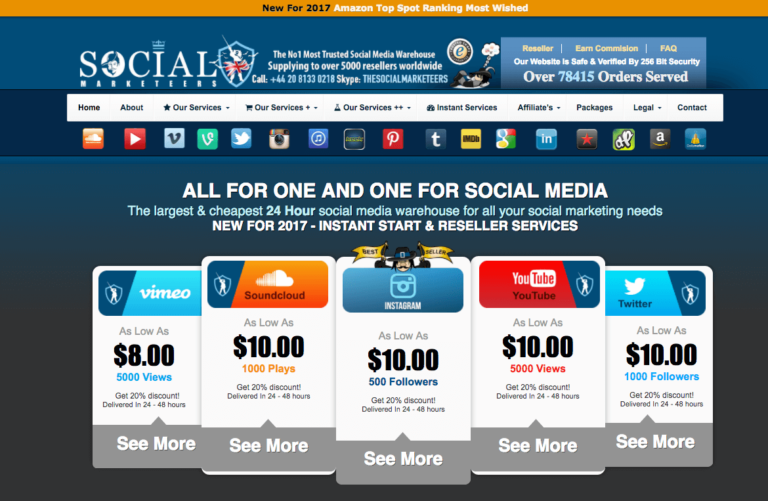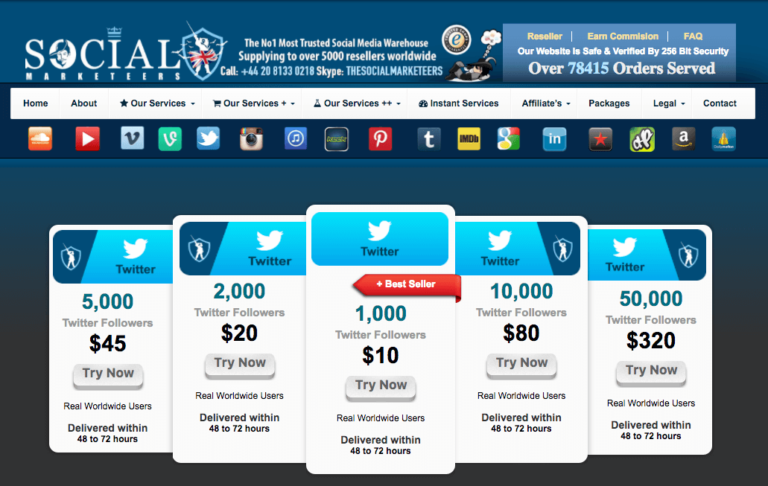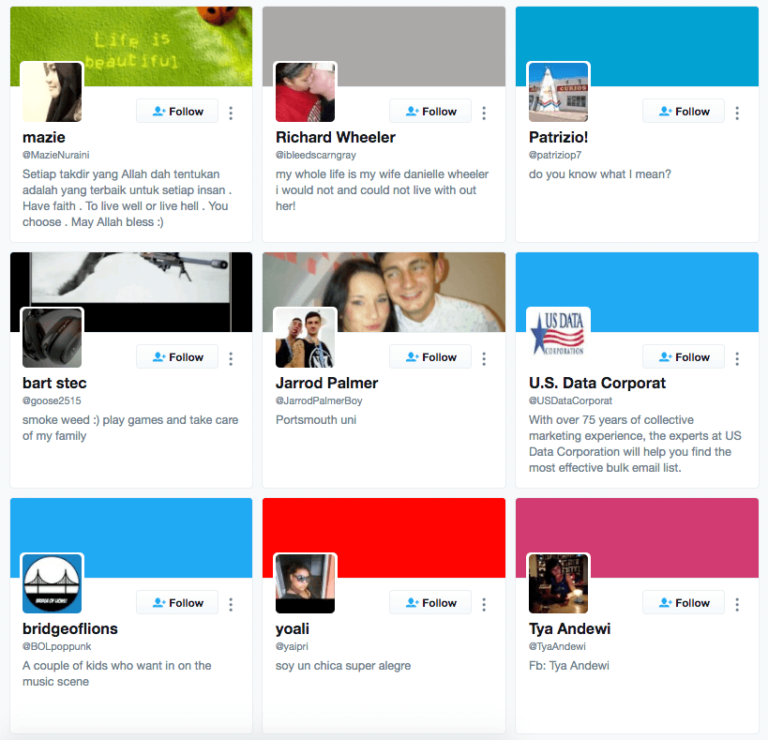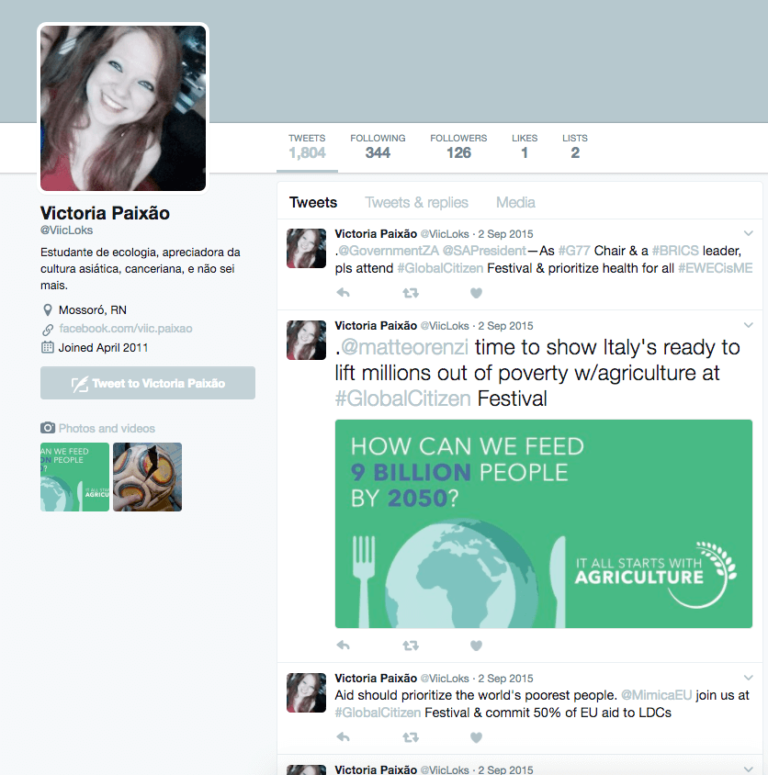 Let our review help you make an informed decision
The Social Marketeers is a company based in the UK. They started offering social media boosting services since 2010. They offer services for Twitter, Instagram, YouTube, SoundCloud, and many others.
They stand out from other Twitter social media service providers in that they offer a Twitter account verification service, which is a pretty rare find.
Site navigation may be a bit confusing because there's a lot happening on the landing page, and some of the packages are laid out in a way that doesn't quite make sense. They provide good-quality followers, however, who look basically like real users.
Service Plans and Options
Aside from Twitter Followers, the company also offers Twitter account verification, Tweets, Retweets, and Shares.
Twitter Followers
| | | |
| --- | --- | --- |
| Followers | TURNAROUND TIME | PRICE |
| 1,000 | 48 to 72 hours | $10 |
| 2,000 | 48 to 72 hours | $20 |
| 5,000 | 48 to 72 hours | $45 |
| 10,000 | 48 to 72 hours | $80 |
| 50,000 | 48 to 72 hours | $320 |
Terms and Conditions of the company can be found

here

.

As stated in the Terms of Service, refunds are only given as site credits, which you can use to purchase other services from the company.
They offer full and partial refunds, For full details, view the policy

here

.

As stated in the Terms of Service, refunds are only given as site credits, which you can use to purchase other services from the company.
Retensions & Replacements
No information on retention and follower replacement were provided on the site.

According to customer support, they will refill any followers you lose. However, no further details were provided.
With the contact page link very visible in the top-right of the page, it was very easy to contact them. They provide a great many ways for customers to reach out to them.
You can contact TheSocialMarketeers in quite a few ways:
On-Page Contact Form

Phone (UK only): +44 20 8133 0218

SMS (UK only): +44 07860026005

Email: hello@thesocialmarketeers.org or

socialmarketeers@gmail.com

Skype: thesocialmarketeers

WeChat: thesocialmarketeers

SnapChat: smarketeers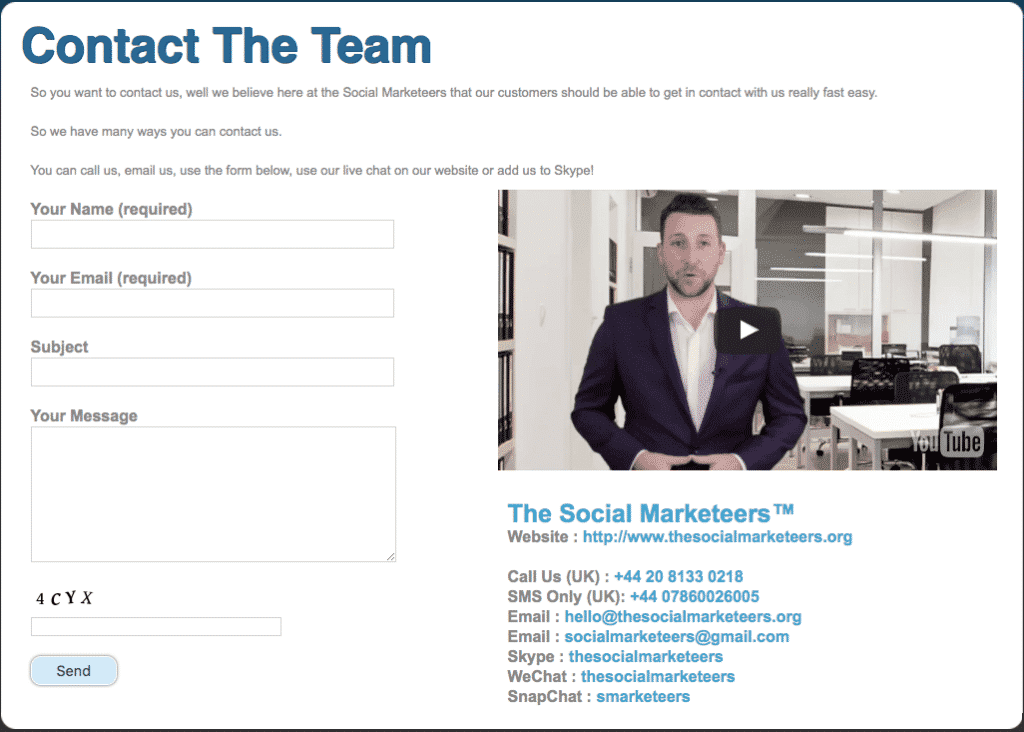 Pre-Order Questions
We contacted them with some pre-order questions to test their response, and we were somewhat pleased with the result. As you can see, they answered our questions pretty well, and offered to send us some sample followers. However, they didn't explain the replacement policy very well.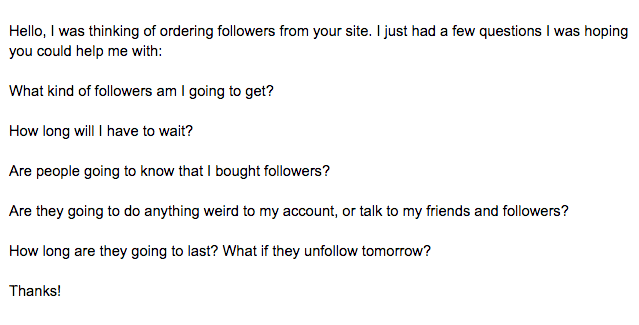 Pre-Order Response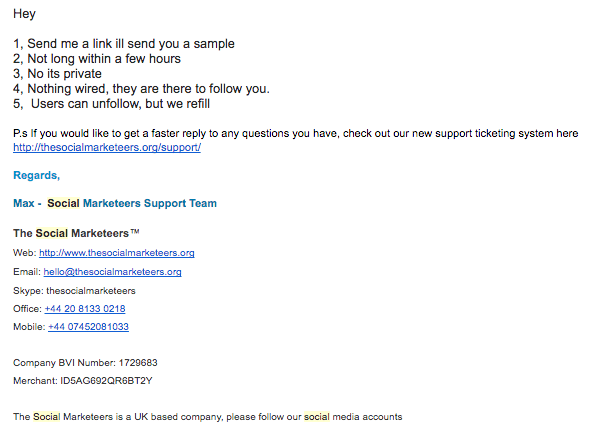 So, are TheSocialMarketeer's Twitter Followers right for you? These followers are of pretty good quality, looking like normal Twitter users. However, we did get a few NSFW followers.
If the blue icons below are what you're looking for, we recommend TheSocialMarketeers.
TheSocialMarketeers states that their packages will be delivered within 48 to 72 hours. Our Twitter Follower order was completed before then, within 12 hours.
The order came on time, though the rate was pretty unnatural, with the followers arriving very fast all in one big chunk.
Number of Days to Achieve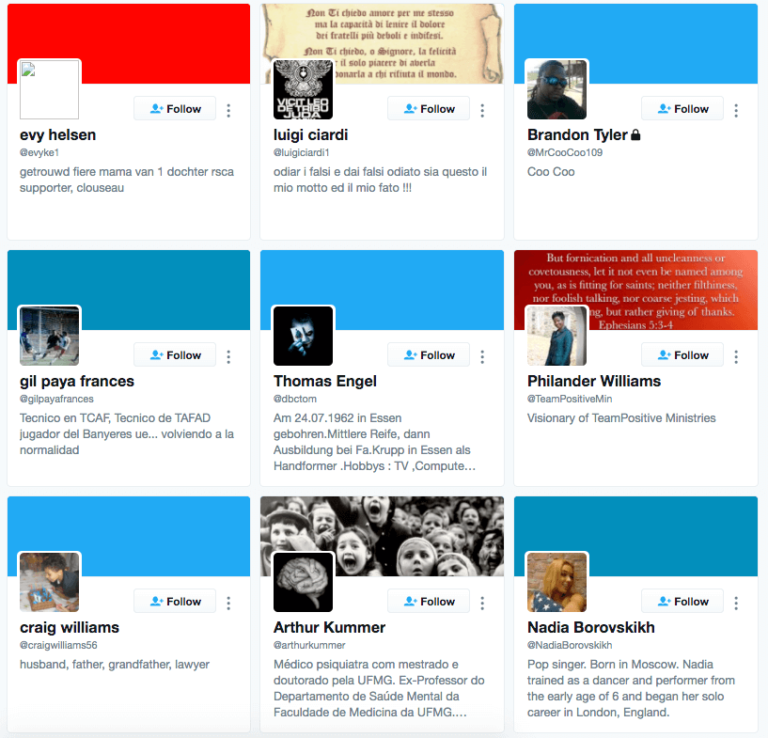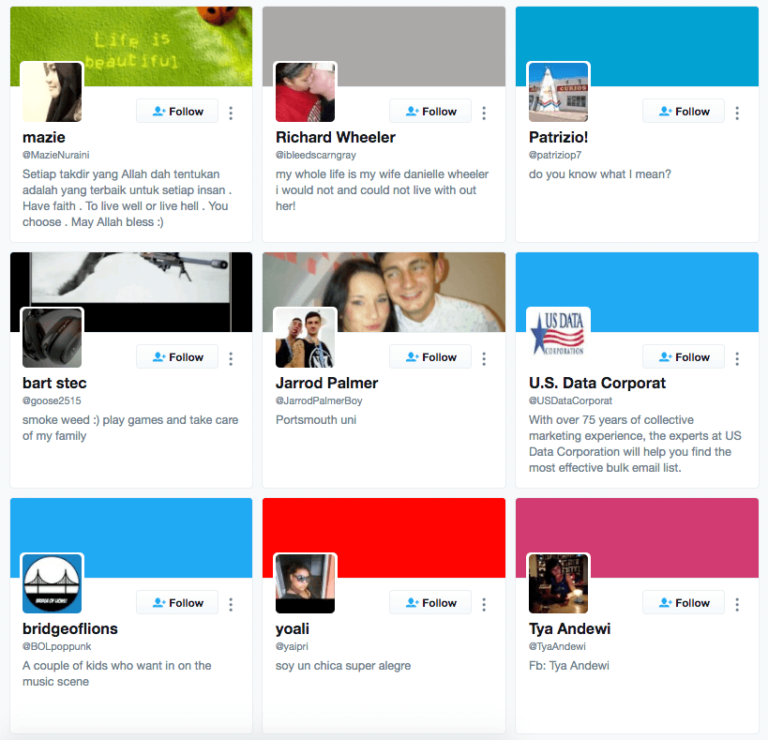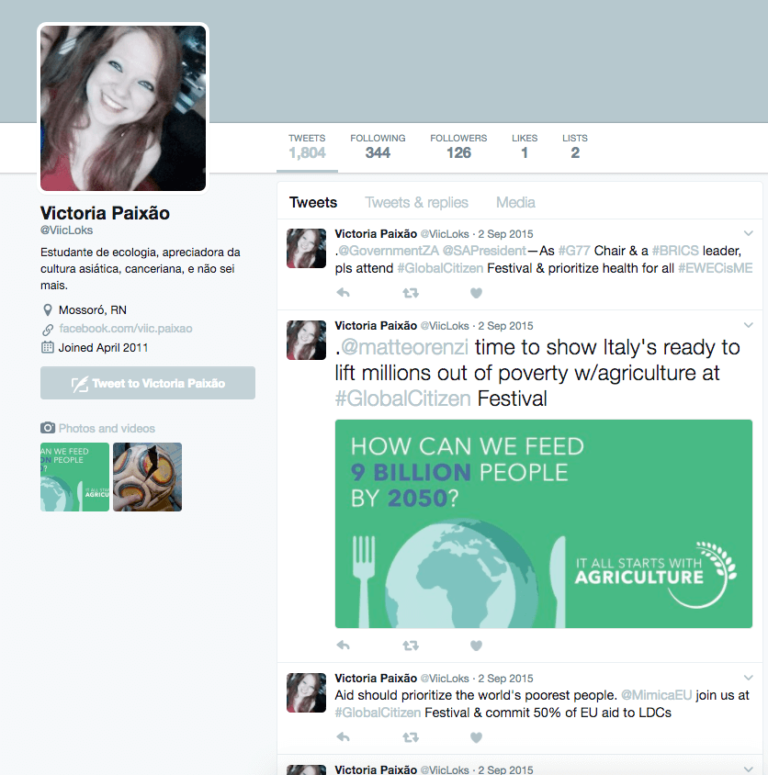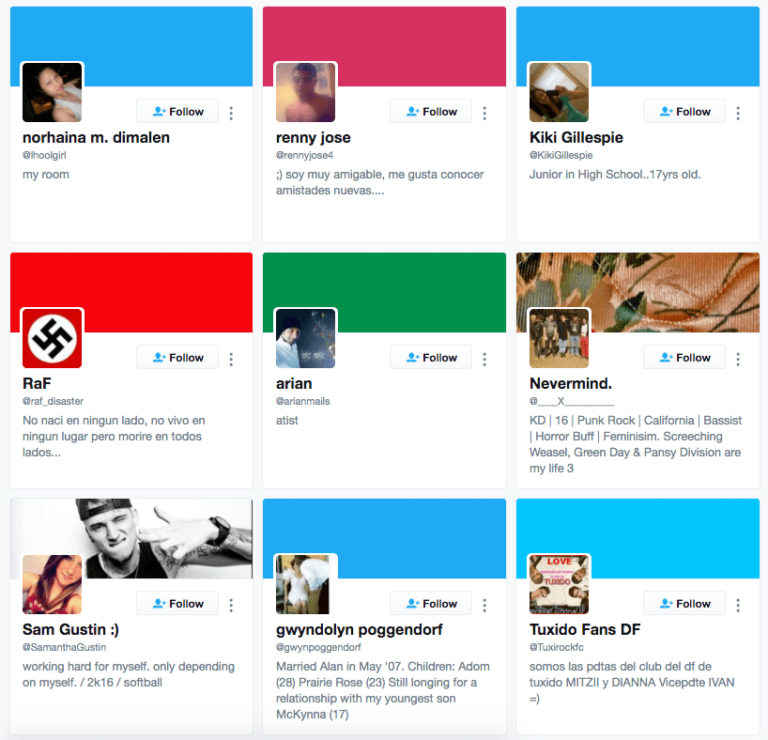 The first time we ordered from TheSocialMarketeers, the quality of their Twitter followers was not very good, without profile pictures or bios. They have since upgraded their service, however, and we re-tested their followers.
The new followers we received from TheSocialMarketeers were much better, with profile pics and bios, and they are several years old. They look pretty much real, though they don't look like the highest-quality followers we've seen.
They haven't been tweeting recently, however, so they look inactive. Out of the over 2,500 followers we received, we  got several NSFW followers, so be aware of that, but this isn't too uncommon on Twitter. We also got a user with a swastika profile picture.
| | | | |
| --- | --- | --- | --- |
|   | Profile Photos |   | Unique Bios |
|   | Good F/F Ratio |   | Active Tweeter |
|   | Engage Your Tweets |   | SFW-Only Followers |
| 80% | TwitterAudit Check |   |   |
The retention rate of our followers has been good. We ordered 1,000 followers and received far more than that. The count has changed a bit, but we still have more than twice the amount we ordered.
TheSocialMarketeers is a legit business, offering a variety of social media boosting services.
They didn't quite live up to their promises of high-quality Twitter Followers on our first order, though we saw a marked improvement on our second order.
We received better Twitter Followers on our second order, with profile pics and bios. They are quite a few years old, though they haven't been tweeting recently for the most part. We got a few NSFW followers, so keep that in mind.
Their customer support was pretty good, answering quickly and offering to send us some sample followers before ordering. No real complaints there, though they didn't explain their Replacement Policy very well.
If you want authentic-looking Twitter followers, TheSocialMarketeers can deliver them for a very good price. If you want to spend some more, and get even better-looking followers, please read our Top 10 Providers list instead.
BTFR
Average rating:
13 reviews
Dec 12, 2018
Great delivery
My twitter followers were delivered to me promptly and the quality was remarkable. The followers had profile pictures and bios. Some of the followers i got from them even tweeted me.
Nov 29, 2018
Excellent
This is my third time seeking their services but working on a different account. I am glad i continue getting exceptional services each time. This latest purchase was made 3 months a go and since purchasing the followers my account has experienced growth this time organically.
Nov 20, 2018
Exhilarated
I got to know about them following a discussion with a fellow marketer whose twitter account had tripled followers within 2 weeks. I got in touch with one of their customer care reps and we struck a deal. My twitter handle has surpassed our target 2 weeks after acquiring
Nov 9, 2018
Worked out
Theirs is a well thought out process whose results met my expectations- the urge for more Twitter followers.
Nov 1, 2018
It worked
I have been skeptic about the whole phenomenon of buying Twitter followers, but for socialmarketeers, they did it for me.
Oct 24, 2018
Good results
Months after I got their service which increased my Twitter followers, I appreciate the fact that the said account has since been growing more organically.
Jul 17, 2018
Wowed
I was wowed by the way in which I got them to add me huge Twitter follower numbers. This was a first of an experience and I count myself lucky to have crossed their path and realized how they'd impact my online presence on Twitter.
Jul 11, 2018
Good results
Buying twitter followers was a routine exercise to keep my pool of business handles going, but here I got a different experience. The followers from social marketers have been retained and that has me hooked to them.
May 13, 2018
Expectations met
My order for 2000 followers came on time and above that, the followers looked more real than I had expected.
Mar 29, 2018
Five star!
Landed on their site when I was looking to grow my Twitter followers with 15k more. I got more than I bargained for and a spot check revealed that the quality of followers was desirable, not just random avatars.