Sprout Social Review
Sprout Social Review: Short and Sweet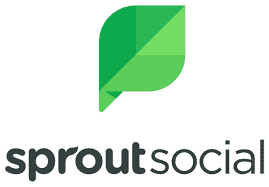 Sprout Social is a powerful social media management software for anyone from small businesses to large corporations. It's 'one-stop' functionality has publication, analytics, and reporting features, as well as social inbox, automation, listening, CRM, and team collaboration capabilities.
It integrates well with Facebook, Instagram, Twitter, LinkedIn, Pinterest, Google Analytics, and ZenDesk. All these qualities make Sprout Social one of the top names in its field.
Sprout Social has no shortage of customer support channels—you can get help through self-help videos and articles, phone, ticket, email, and social media. It offers three paid plans and a free 30-day trial. While Sprout Social's pricing structure is one of the most expensive we have seen, it is well worth the cost and we highly recommend it.
About Sprout Social
Sprout Social started in 2010, founded by Justyn Howard, Aaron Rankin, Gilbert Lara, and Peter Soung. On its website, Sprout Social claims to serve over 25,000 customers around the world. In December 2018, it garnered $40.5 million capital in a series D funding. The privately-held company is based in Chicago, USA.
Sprout Social supports integration with the following social media networks:
Facebook
Twitter
Instagram
LinkedIn
Pinterest
While Sprout Social covers almost all of the popular social media platforms, it doesn't support YouTube. Sprout Social also integrates with the Google Analytics, ZenDesk, and UserVoice platforms.
Sprout Social differentiates itself from Hootsuite, Buffer, and related tools by focusing more on agencies and large enterprises, as reflected by the following features:
Smart Inbox: Perhaps Sprout Social's defining feature, this makes collecting and viewing messages across all your social accounts a breeze.
Analytics: Sprout Social has built a robust analytics feature. You can download different reports, compare your social media profile with competitors, see if your business is successfully engaging your audience, and find out if your business growth is attracting more potential customers.
Sprout Queue: If you don't want to schedule your posts manually, there is the Sprout Queue feature that can keep a list of your scheduled items and auto-post them in the future.
ViralPost: This will help you measure your audience engagement so you can optimize the publication time of your posts.
Bot Builder: Build chatbots that will respond to direct messages on Facebook and Twitter.
Collaboration tools: Assign tasks to your team members to split the managing aspects of your social profiles.
Social listening: You can "listen" to what people are saying about your brand across multiple platforms by tracking topics, keywords, and hashtags.
Customer relationship manager (CRM): Sprout Social has a built-in CRM, one of the few companies to have this function.
Sprout Social is not just any ordinary social media management tool. It has advanced features you won't find in related tools, like the Smart Inbox, automation features, and a strong analytics function. Moreover, Sprout Social impressed us further with its team collaboration, social listening, and CRM capabilities.
Service Plans
Let's get straight to the point: Sprout Social is very expensive. Perhaps this is the price you must pay in exchange for Sprout Social's rich array of features
Standard: $99 per user per month, with five social profiles.
Professional: $149 per user per month with 10 social profiles.
Advanced: $249 per user per month, with 10 social profiles.
As prices increase per user, for large teams, these plans could get really costly. The price will still go up if you choose add-ons to customize your plan. You can commit to either a monthly subscription or an annual one. Payment can be done through credit card or PayPal.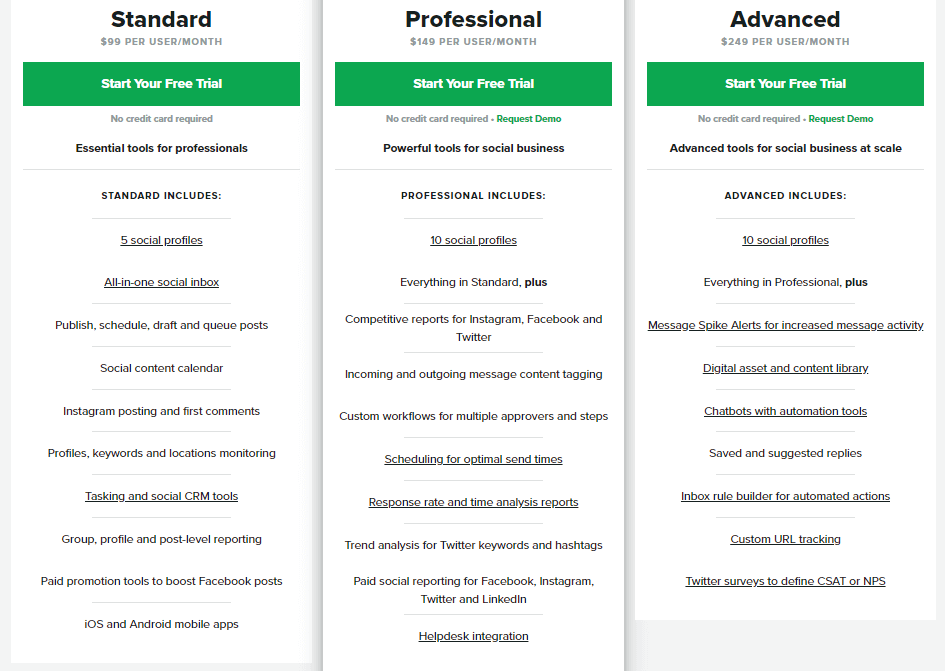 If you are unsure if a paid plan is for you, you can test Sprout Social's full features by signing up for a 30-day free trial. You can do this without a credit card.
Terms and Guarantees
Terms of service
You must be 18 years old and above, and you're solely responsible for your confidentiality and for any activities performed under your account. While agencies are allowed to use Sprout Social's product on behalf of their clients (they can charge clients for use of the tool), they must ensure that their clients agree to Sprout Social's terms.
There is also a DMCA section which details what will happen and what to do in case of possible copyright infringement.
Privacy policy
Sprout Social collects the following information:
Information collected or received from customers: This may come from account registration, filling of application and other forms, social media handles, or customer service communication.
Auto-collected information: This information includes IP addresses, geo-location, and visited websites, among other things.
You should know that Sprout Social can use such information in accordance with its privacy policy. Sprout Social says it does this to respond to any customer's service requests and to improve its products and services. If required by law, Sprout Social may also share user's data with third parties.
Refund policy
You can cancel your paid subscription anytime, but you won't get a refund. For instance, if you cancel your monthly plan before the payment date, you won't get a refund, but you'll get continuous access to Sprout Social's services until the term's end. The same situation also applies with the annual plan; you can cancel anytime, but the service will remain until the one-year term expires.
Customer Support
Sprout Social has a help center that's rich in useful resources, like video tutorials, webinars, articles, and news updates.


If you can't find what you need with videos and articles, you can get in touch with the customer support team through the "Contact Us" link to find:
Call 1-866-878-3231 directly.
Submit a ticket.
Send an email to support@sproutsocial.com.
Get help through social media channels.
With a help center and several ways to contact a support agent, Sprout Social simply has no shortage of providing support to its customers.
Order Recommendations
If you need a platform that goes beyond being just a social media management tool, then Sprout Social is worth exploring. While it's a powerful tool, unfortunately, the pricing plans could be disadvantageous to small businesses or teams with a large number of users.
You can test Sprout Social's full features first without any commitment by signing up for a free trial account. This way, you'll get a good feel for if getting a paid subscription is worth your money.
Sprout Social Review: Conclusion
Sprout Social is a powerful, one-stop tool for your social media management needs and analytics reports. It can do even more than those basic tasks with advanced features like Smart Inbox, social listening, collaboration capabilities, automated tools, and CRM. No wonder Sprout Social has its loyal base of users.
While Sprout Social is abundant in features, its high prices can be unfriendly to small businesses and agencies, as well as big teams with lots of users. Once you signed up with a monthly or annual subscription, even if you cancel, there's no turning back as you have to finish the term that you commit to. We really feel that Sprout Social has something to offer your business, and recommend trying them out in this Sprout Social Review.