It's almost time for a day full of green beer, parades, parties, and … marketing. Every time a holiday or special occasion rolls around, you should craft a marketing campaign around it. St. Patrick's Day is no exception. Follow some tips to dominate St. Patrick's Day on Twitter.
Dress the Part
Everyone is supposed to wear green on St. Patrick's Day. Get your Twitter page in on the fun by dressing it up with a green background and header image. This is simple to do, and will show the world that you have tons of St. Patrick's Day spirit. Keep it lighthearted and fun like the changing images on Google Search.
If you do this, you will be in good company. A variety of retailers have done this in the past, including McDonald's.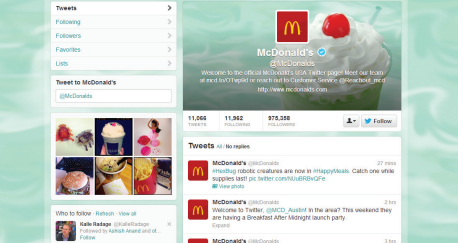 If you don't feel like changing out your background, upload a green profile picture. It only takes a few seconds to change your profile picture, and it will help your followers celebrate the holiday. It will also add a little fun to your profile.
Turn Your Products Green
You don't need to sell leprechauns and pots of gold on St. Patrick's Day to get in on the fun. You can turn your existing products green instead, just like Coors Light did on a recent St. Patrick's Day.
Even we wear green today. Happy St. Patrick's Day! pic.twitter.com/7EvCbc1nse

— Coors Light (@CoorsLight) March 17, 2014
While it's too late to change the color of your physical products, you can still do it with your digital ones. If you sell digital products, change the color on them and market them as your special St. Patrick's Day products. Put them out on Twitter and watch the people go wild.
Something as simple as a green cover on an e-book can boost your holiday sales, so get to work while you still have time.
Go with the Theme of Luck
Luck and St. Patrick's Day go hand in hand. Use that luck to your advantage by running a contest on the holiday. Make it a random contest where one lucky winner gets a prize. That will fit right in with St. Patrick's Day.
Start promoting this contest well in advance, and explain the rules clearly so everyone understands them. Then use a site like Wishpond or RaffleCopter to run the contest. To stick with the theme of luck, choose the "Sweepstakes" option. That way, people don't have to put any work into participating. The winner will be chosen based on luck and nothing else.
Fill out the information and publish your sweepstakes on St. Patrick's Day. Monitor your contest throughout the day and then announce the lucky winner. Be sure to stick with the St. Patrick's Day theme when you award the prize. Something like a green company t-shirt or a St. Patrick's Day-themed coupon will work perfectly.
St. Patrick's Day Trivia
Marketing isn't just about selling products. A successful marketing campaign also increases engagement. With that in mind, consider running a St. Patrick's Day trivia contest on your Twitter page. Come up with some fun St. Patrick's Day facts and quiz your followers throughout the day. You can award prizes, or you can just use it as a way to get people into the spirit. Either way, you will see your engagement levels go up during the day.
Make Smart Use of Hashtags
People want to take part in the conversation during St. Patrick's day. Because of that, they keep their eyes open for St. Patrick's Day-themed hashtags such as #shamrock and #StPats. Keep an eye out for trending hashtags and incorporate them into your tweets. Just don't get too crazy with it. One or two hashtags per post will suffice. Otherwise, you will overwhelm your followers.
Also, consider local hashtags if you run a local business. Including your city in the St. Patrick's Day-themed hashtag will make it stand out, which will help you get a lot of additional traffic.
Avoid Stereotypes
While there are a lot of things you need to include in your St. Patrick's Day marketing campaign, there is one thing that you need to avoid. Don't include stereotypes in your marketing campaign. While it might be enticing to go for a quick laugh, stereotypes are never a good thing in advertising. Keep it clean, positive, and respectful. That way, you will still have followers the next day, when the holiday is over.
Holidays are a lot of fun for marketers. Use the right strategies, engage your followers, and you will even add a few new ones to the mix.
Looking for some ideas? We've curated a short list of the most off-the-wall St. Patrick's Day campaigns: