StreamInSocial offers Twitter followers that look real, for the most part. The followers have pictures and bios, and they tweet actively.
However, their website is lacking some information on the kind of followers they are offering, including the retention rate, and they haven't been responsive to our questions.
Overall, we would still recommended StreamInSocial as they deliver on time and as advertised, and the followers are pretty good quality.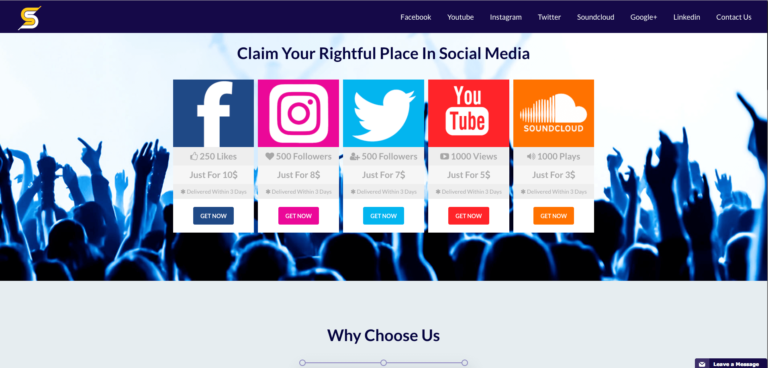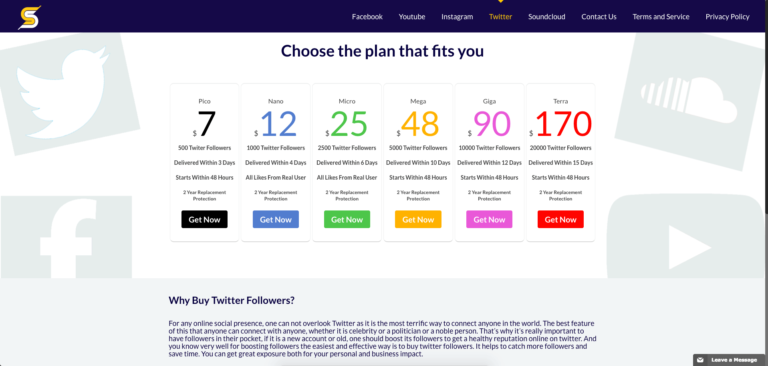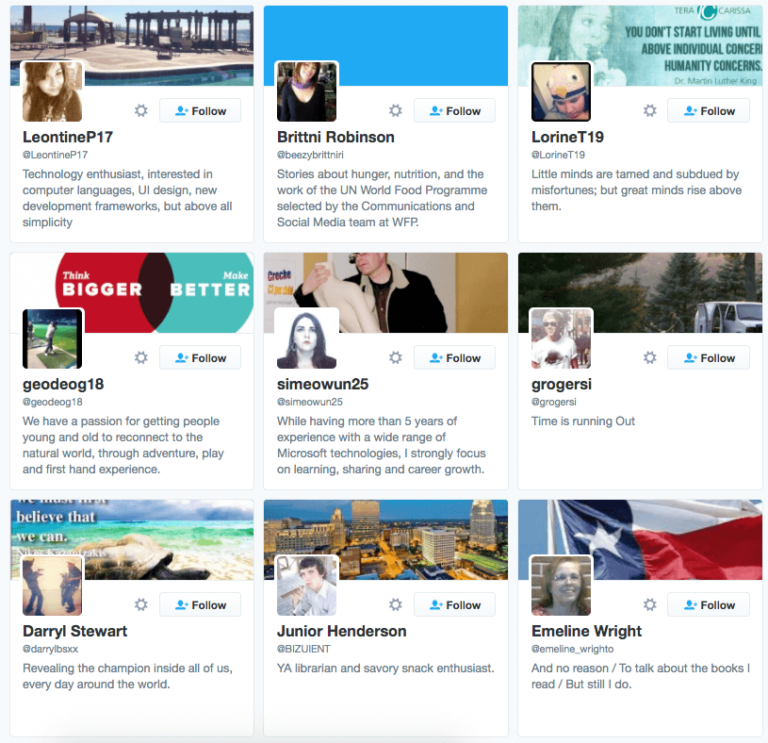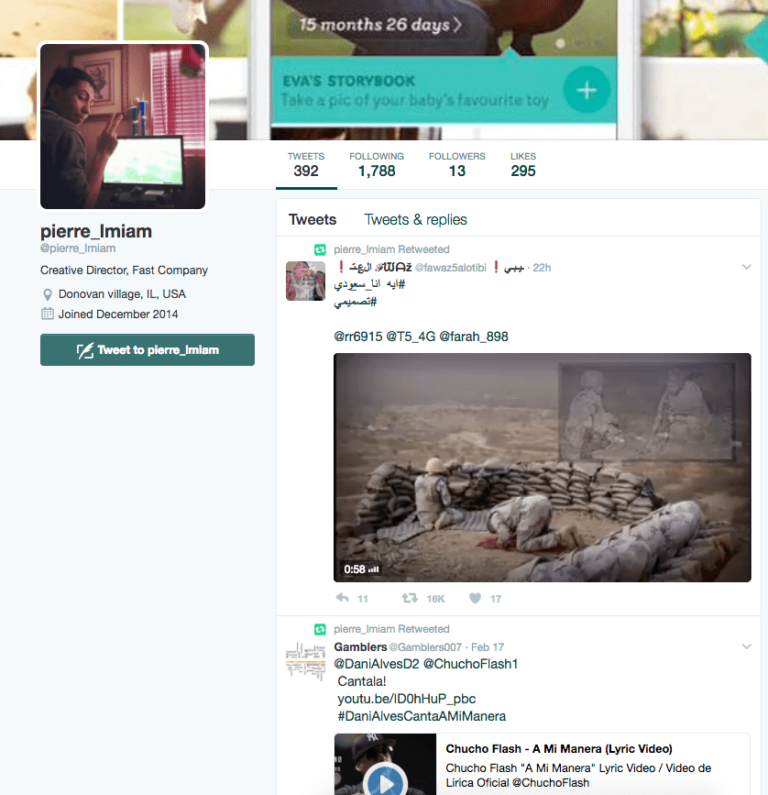 Let our review help you make an informed decision
Based in Panama City, Panama, StreamInSocial offers social media followers, likes, and views for various sites.
Their website is laid out fairly well, although on closer inspection you'll find some bad writing and misspelled words.
The navigation on their site is easy, and the services they offer are immediately apparent. StreamInSocial offers services for Twitter, Facebook, YouTube, Instagram, SoundCloud, Google+, and LinkedIn.
Service Plans and Options
For Twitter, the company offers Followers as well as Retweets.
Twitter Followers
| | | |
| --- | --- | --- |
| Followers | TURNAROUND TIME | PRICE |
| 500 | Delivered Within 3 Days | $7 |
| 1,000 | Delivered Within 4 Days | $12 |
| 2,500 | Delivered Within 6 Days | $25 |
| 5,000 | Delivered Within 10 Days | $48 |
| 10,000 | Delivered Within 12 Days | $90 |
| 20,000 | Delivered Within 15 Days | $170 |
English Only Service
They offer services from English-speaking users for an additional fee, depending on package.
There are no terms and conditions available on their website.
There is no Privacy Policy mentioned on the website.
They offer a 100% Money-Back guarantee, but how to go about claiming it was unclear.
Retensions & Replacements
There are no Retention and Replacement Guarantees mentioned on the site, which would cover you in case you lose any followers you buy.
Their website includes a Contact Us tab on the top navigation bar, which makes it very easy for customers to contact them. They do also have on-page chat easily seen at the bottom of the page.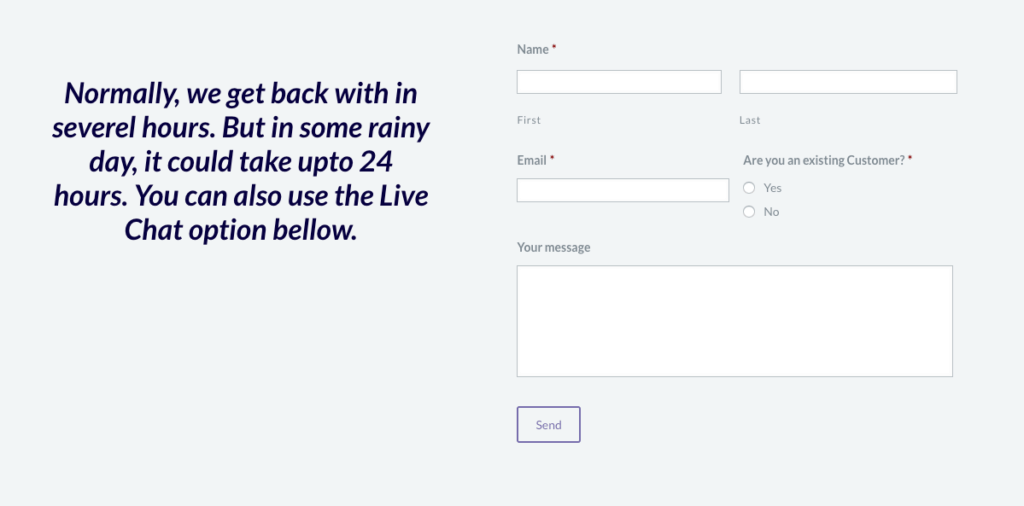 However, of the two attempts made to contact them, neither received a reply. There is also nobody online in the chat whenever we look.

Pre-Order Questions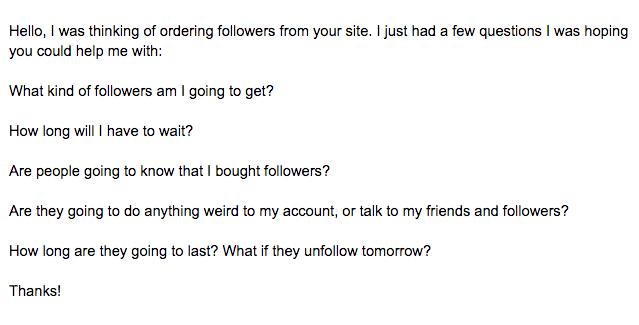 Twitter followers from this company will help you look more popular, attracting more attention to your account. Your posts could have a better chance of going viral, though you won't be gaining real followers directly from this company. You won't end up with a lot of NSFW followers, who could hurt your reputation.
The company advertises that delivery begins within 48 hours, and our order started coming in within 24 hours. It was completed on time.
Number of Days to Achieve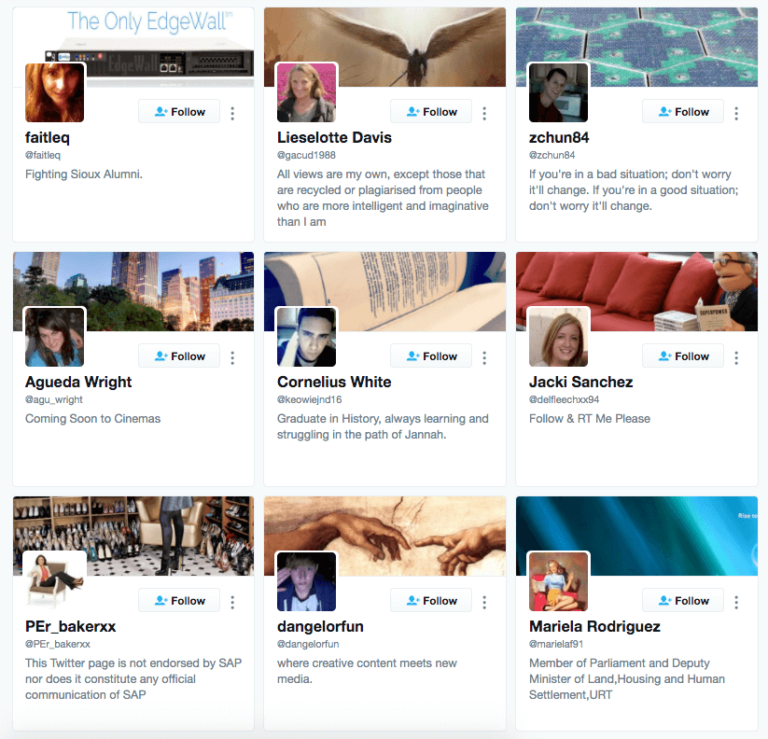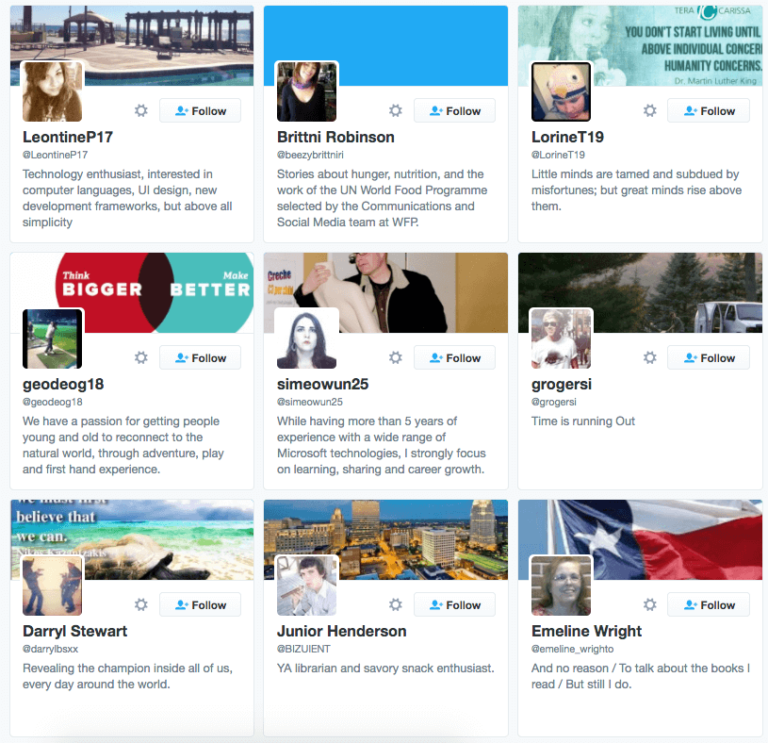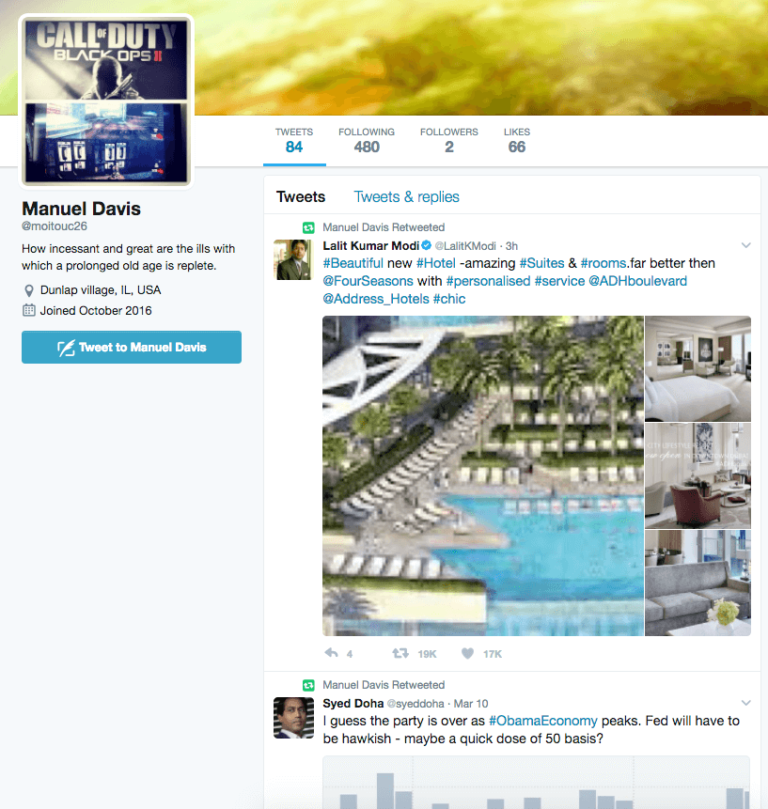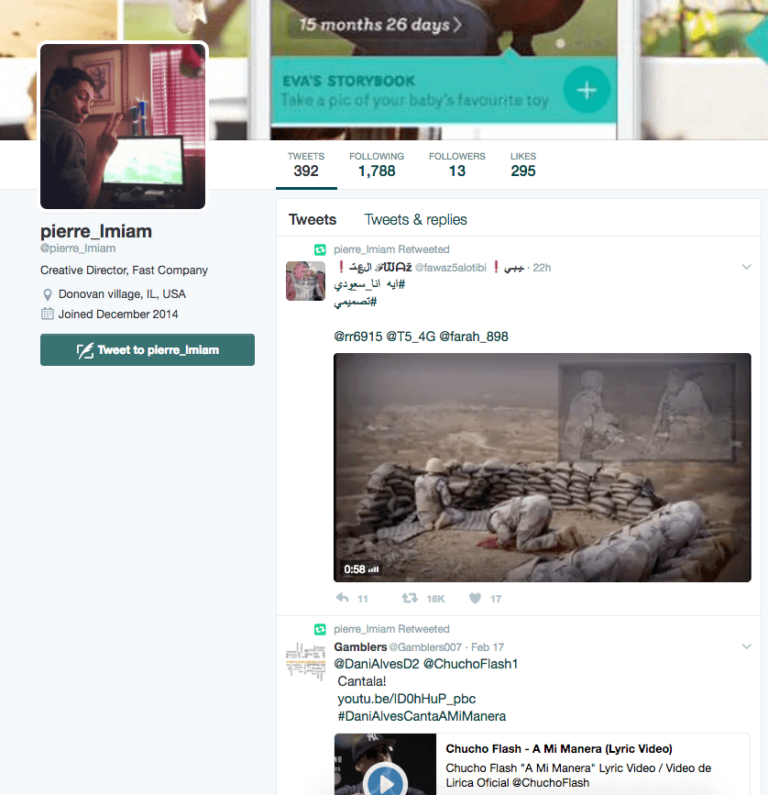 The followers from this company have profile photos and most have unique bios. They tweet actively, and are SFW.
| | | | |
| --- | --- | --- | --- |
|   | Profile Photos |   | Unique Bios |
|   | Good F/F Ratio |   | Active Tweeter |
|   | Engage Your Tweets |   | SFW-Only Followers |
| 100% | TwitterAudit Check | | |
The company did not provide information on their retention rate. We ordered 500 followers, and at the time of writing we have 495 on the account.
Even with the few misspelled words and ungrammatical sentences in their text, the company seems legit enough on first impression. They deliver as promised and their followers look real enough, although we have lost some since the order was completed.
Their prices are fair for the service they deliver, although the lack of a response from customer support is a bit troubling, in case you need to get in touch with them.
All in all, we can recommend this company to casual buyers who aren't looking to spend a lot on followers. If you want a more professional company with better customer support, we recommend going with any of the top rated Twitter follower providers in our list.
BTFR
Average rating:
10 reviews
Oct 24, 2018
Grab it!
To me, this streaminsocial is the easiest path to have a decent follower number on Twitter. Happy with the way they did it for me.
Aug 6, 2018
Reputable
I decided to buy Twitter followers from them and it's been a few months since I did buy. All looks well so far. I have the numbers and thus satisfied.
Aug 2, 2018
I recommend
In pursuit of a larger Twitter following, I landed on their site and requested for 10k followers for my business account. A few days later, the numbers had been added to my account and it was amazing that they didn't require my username and password to get this done. I've heard stories of how bought followers disappear, but in my case I haven't experienced such. I have since then recommended streaminsocial to a friend who wanted to know how I made it to grow my Twitter following.
Jul 17, 2018
Splendid
The words 'buy twitter followers' have always left a bad taste in my mouth. Long story short, I have bought thousands that have mysteriously disappeared, not until I got referred to streaminsocial. Tried with 5k followers and got satisfied and thus went forth to order more. Good stuff.
Jul 11, 2018
Credible
My search for a Twitter follower provider that gives retainable and real followers got me to try streaminsocial and they gave me a reason to keep going back to them.
May 27, 2018
Worthy
I am satisfied with the Twitter followers I got from them 2 months ago. They were worth every penny. My personal Twitter account looks reputable.
Mar 9, 2018
Look no further
I am satisfied with the service of followers I got from streaminsocial as they resulted in significant growth in my influence.
Jan 5, 2018
They're real
I was worried and was really careful on where I was purchasing followers for a corporate account that needed social proof. Just to mention, I had an earlier experience with some other website that sent me followers that started disappearing without a warning and real people actually put the unusual activity to question.

Long story short, StreamInSocial did the job and got me REAL followers that have stayed along.
Oct 4, 2017
They're different
Having come to them to try find some better twitter followers, away from the bots I had unfortunately settled for from another dealer, I can say they are way better. I hereby recommend.
Mar 11, 2017
Good for the price
Getting to buy Twitter followers that are actually real, had been elusive. I tried this site and the followers I got look a lot more real than I had anticipated. The pricing is really something I can hail.