TweetDeck Review
TweetDeck Review: Short and Sweet
TweetDeck has been managed and developed by Twitter since 2011, although it was released as an independent application years before that. It is the most popular Twitter-focused application probably because it is easy to use and accessible as it is built into the Twitter platform.
The app's dashboard is customizable. You can add columns and filter the display according to content or words, and tweet author. TweetDeck also allows you to see the tweets, mentions, lists, collections, and likes of another Twitter account, making it a practical venue to manage Twitter accounts.
The app is used by regular individuals, influencers, organizations, and even global brands in managing their Twitter accounts. We recommend TweetDeck mainly because it comes for free and is reliable. However, you need to use it in conjunction with a Twitter analytics app.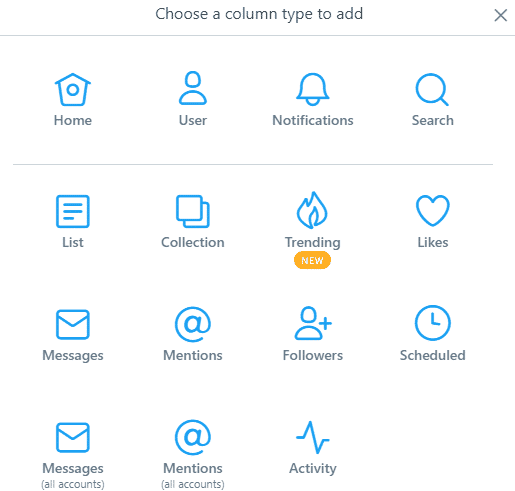 About TweetDeck
TweetDeck is a dashboard application for the management of Twitter accounts. It was released in 2008 as an independent app. It was acquired by Twitter in 2011 and integrated into the social platform's interface. It is the most popular and most used Twitter application. It has versions for Web, desktop, Chrome, Android, iPad, and iPhone.
Since it's integrated into Twitter, users can send and receive tweets through the customizable dashboard. This dashboard can be configured to show the Twitter user's timeline, direct messages, mentions, favorites, trends, lists, hashtags, or search results. Users can also choose to display all tweets by or to a specific person.
The Twitter app also allows users to schedule tweets, view multiple timelines, and build Twitter lists. Social media managers can add team members to TweetDeck without having to share their password.
Service Plans Section
TweetDeck is a free application, so there are no service plans.
Terms and Guarantees
Terms and Conditions
Twitter's terms of service govern all of its services, including TweetDeck which can only be used in compliance with Twitter Rules. Twitter prohibits graphic violence, adult content, illegal activities, distribution of hacked materials, selling of usernames, and many more.
For agencies, brands, and influencers who are using Twitter's advertising features, there's also a Twitter Master Services Agreement you need to be familiar with and agree to. Also take note that you can't use the Twitter badge, name, logo or anything unique to the platform for personal gains.
Privacy
Twitter updated its privacy policy in 2018 to give users more control and information about how their data is being used and shared by Twitter.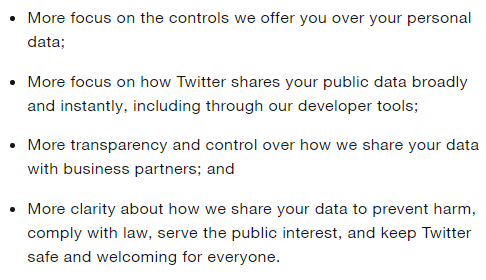 Twitter collects data even when you're not signed in, and a lot more when you're logged in. You can control what data Twitter collects though through the settings page.
Refund Policy
There's no refund policy since the service is free to use.
Customer Support
TweetDeck's customer support is only in the form of tickets. Of course, there's the option of sending a direct message or tweet to Twitter's official help account.

There's also a host of TweetDeck FAQs on Twitter's Help Center that might provide answers to common issues.

Order Recommendations
TweetDeck is a must-have tool for influencers, brands, and social media managers, but most specifically for those who are still starting out since it is cost-free. Like other Twitter applications, you can manage your Twitter accounts individually or as a team since you can add team members on TweetDeck.
TweetDeck doesn't set a limit on the number of Twitter accounts to be managed, and you can add up to 200 team members. Paid Twitter applications that set limits on the number of team members and Twitter accounts pale in comparison to this. We recommend that you use TweetDeck in addition to Twitter analytic apps since TweetDeck doesn't provide analytics.
TweetDeck Review: Conclusion
TweetDeck is a handy app in managing multiple Twitter accounts. It lets you schedule tweets and send direct messages directly through the app.
You can also see filtered tweets, lists, messages, mentions, and other activities of multiple Twitter accounts from a single dashboard.

The best thing about TweetDeck is that it can be used for free without fear of being scammed since it is owned and developed by Twitter itself. Overall, TweetDeck is a useful app although you will need to use another Twitter app if you want to look at statistical and analytics reports to truly understand and grow your account.