TweetReach Review
Short and Sweet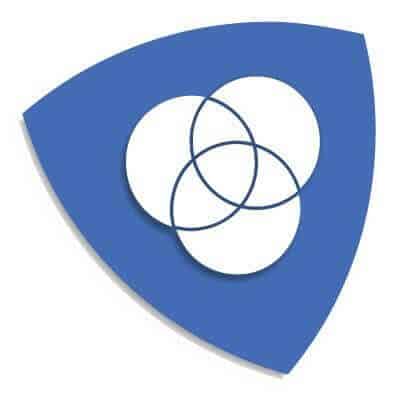 TweetReach is a Twitter analytics tool. TweetReach's free version can provide snapshot reports of a public Twitter profile. There's also a TweetReach Pro version which has deeper analytics capability and other powerful features.
TweetReach helps small, medium, and large businesses in their Twitter analytics needs. Using Twitter's API, TweetReach can run a quick search and generate an analytics report on that search. By measuring Twitter accounts, topics, hashtags, and competitors, this tool can help anyone improve their profile's reach, impact, and engagement.
In 2016, TweetReach became part of Union Metrics, a bigger, more comprehensive social media analytics tool. Users who subscribe to a Union Metrics plan will be able to enjoy not only TweetReach but also analytics tools for Facebook and Instagram. We recommend Tweetreach itself, as well as Union Metrics as a whole, for their ability to really help users understand Twitter through data.
About TweetReach
TweetReach started in 2009 to meet social media marketers' needs in measuring the reach of profiles, topics, hashtags, and competitors on Twitter. It's a free tool with a paid upgrade option so you can include more and older tweets.
TweetReach Pro version was launched a year after. This is a monthly subscription that can do more in-depth analytics and reporting than TweetReach. This pro version also contains more features, like real-time monitoring, and a searchable Twitter archive.
In 2016, all TweetReach products were placed under the Union Metrics brand. While the Twitter analytics functions remained the same, with Union Metrics, users can do analytics for Facebook and Instagram as well. Union Metrics is essentially a bigger social media analytics tool that's not only limited to Twitter.
Service Plans
Tweetreach's free analytics report is maintained and powered by Union Metrics. On TweetReach's site, you can search a hashtag, a username, or a keyword then get a snapshot report of that search.

The report will show you the search term's estimated reach, exposure, activity, top contributors, and the most retweeted tweets related to that term.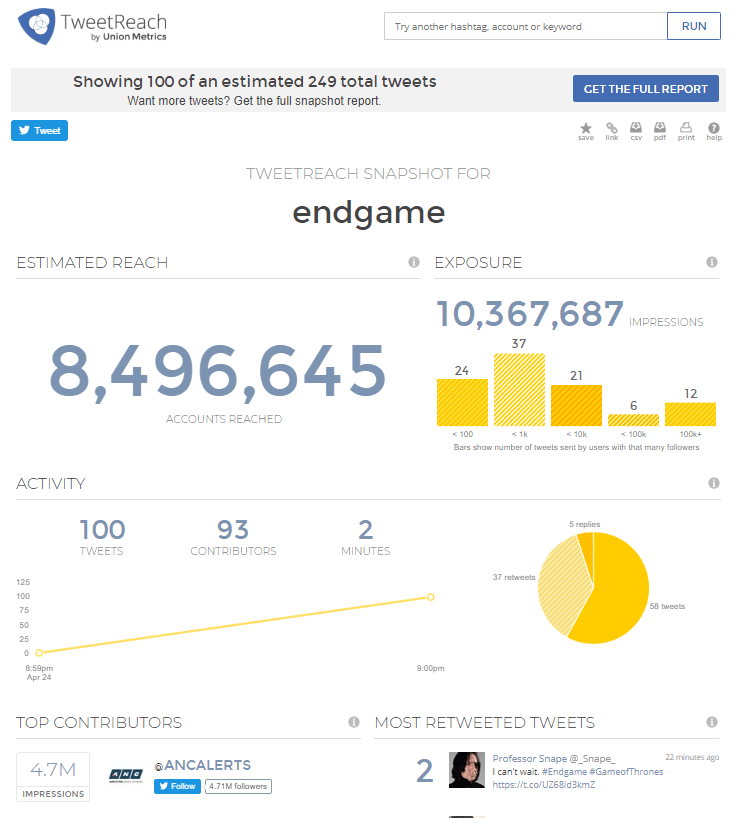 If you want to download a full snapshot report, you can do so by paying $20 for a single report.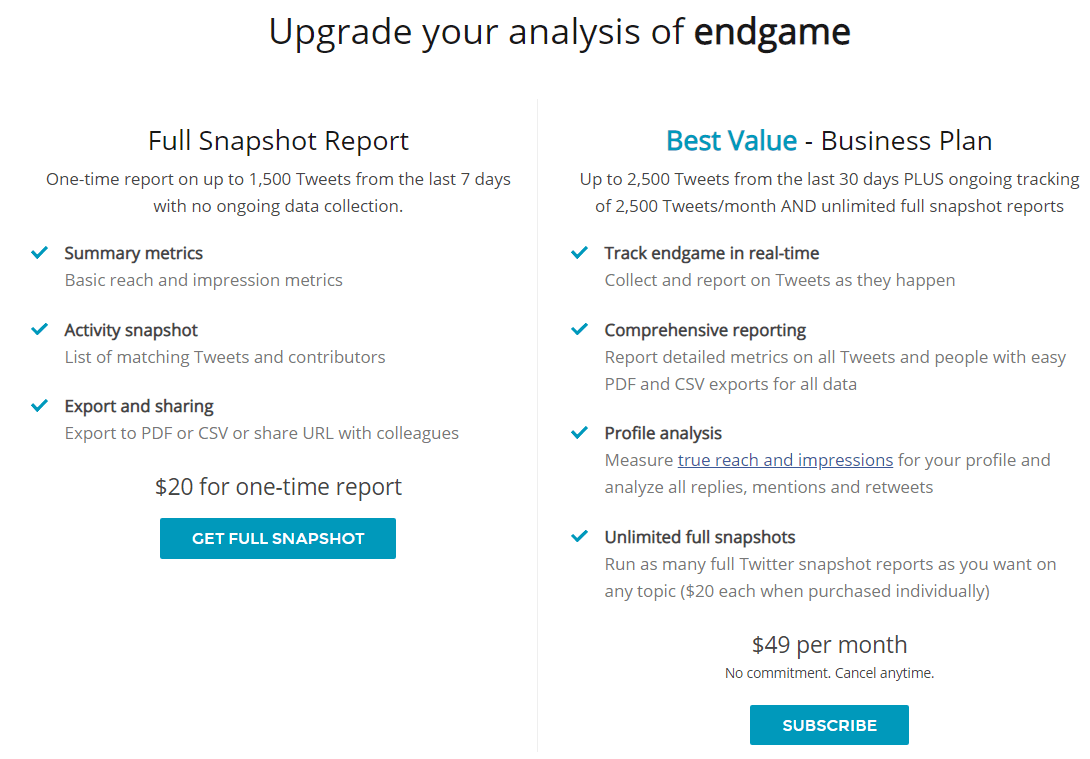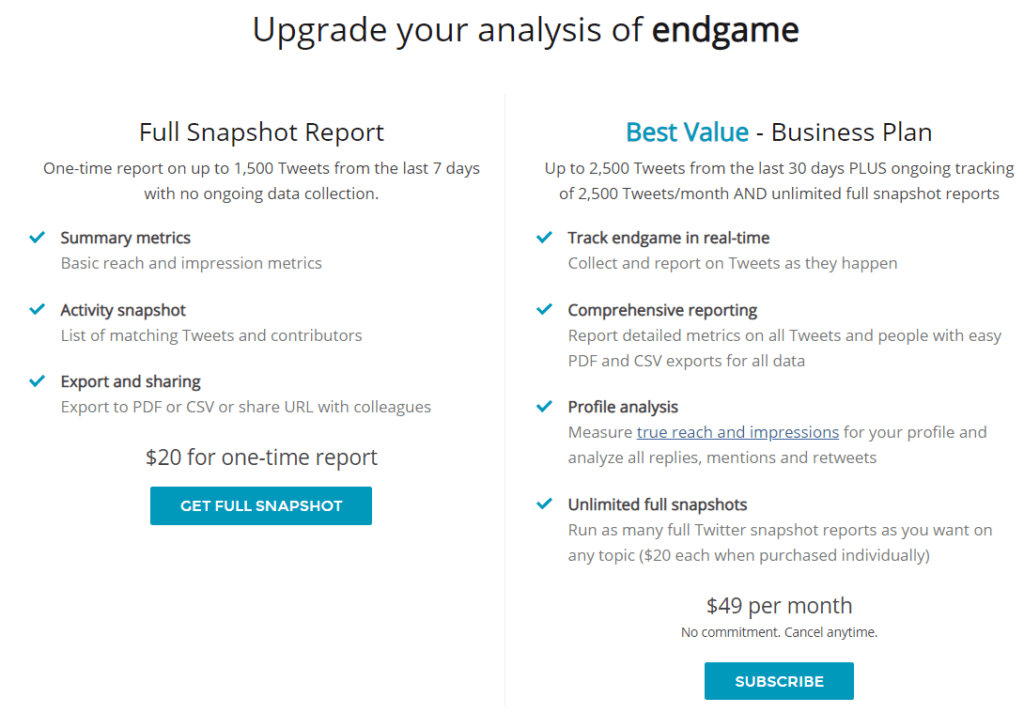 Instead of shelling out $20 for every single search, you can get unlimited snapshot reports plus TweetReach Pro features by subscribing to one of Union Metrics' business plans:
Social Manager: $49 per month, three social profiles, one Twitter topic, five queries per topic, 2,500 posts per month, access for one user.
Social Marketer: $99 per month, three social profiles, two Twitter topics, 10 queries per topic, 25,000 posts per month, access for one user.
Marketing Team: $199 per month, 3 social profiles, 1 Twitter topic, 5 queries per topic, 2,500 posts per month, access for one user.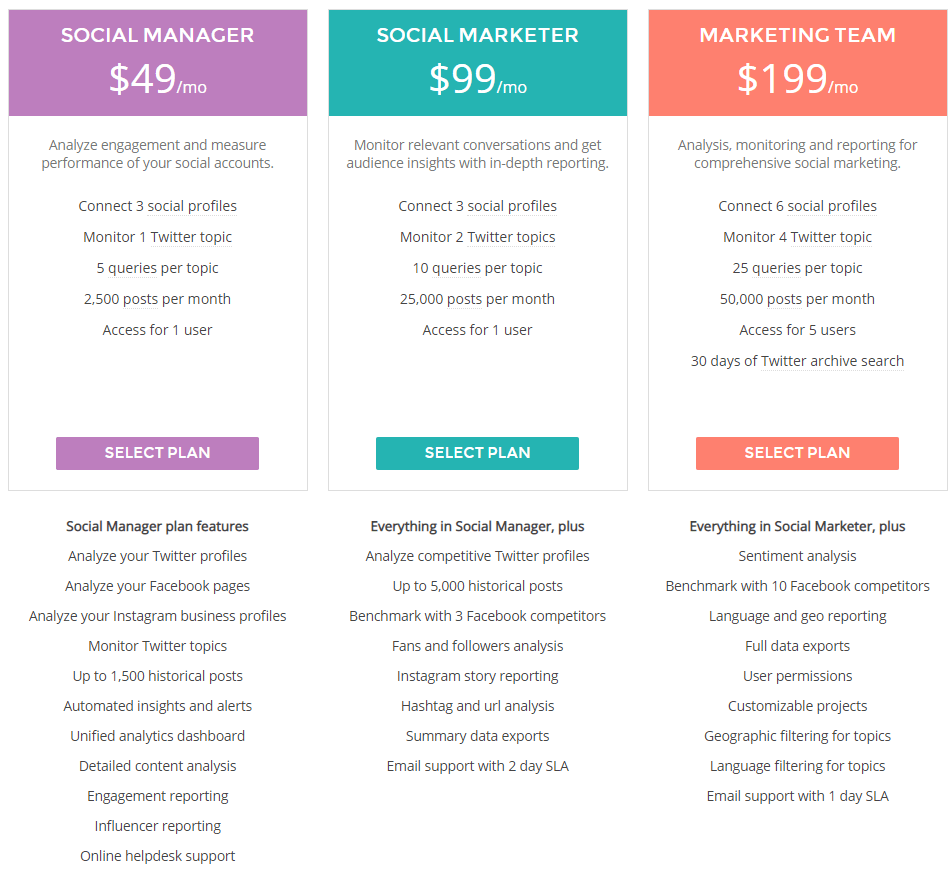 Note that all these Union Metrics plans will include not only TweetReach Pro, but also Facebook and Instagram analytics.
The social profile here refers to one of your accounts on Twitter, Facebook, or Instagram. A Twitter topic refers to the analysis and "listening" of one or more search queries on Twitter (like a hashtag or keyword).
Payment is done through credit cards, and you can subscribe for monthly or annual billing.
Terms and Guarantees
Terms of Service
Union Metrics now handles TweetReach's Terms of Service, and it reserves the right to change the terms without any notice. Users must be 13 years old and above. The user is solely responsible for the security of their login credentials and all activities under their account.
Privacy Policy
When you register for TweetReach, you'll be asked for several pieces of information like your name, company name, email address, billing address, and credit card information. Union Metrics uses these details for services provision and improvement, billing, identification and authentication, contact, and research.
Union Metrics states that it may periodically update TweetReach's privacy policy. In case of changes in the way your personal information is handled, Union Metrics will send a notice to your registered email address or place a notice on TweetReach's site.
Refund Policy
You can cancel your plan anytime, but you should do so by clicking on the Account link on the website. Cancellation requests done through email will not be accepted.
When you cancel there will be no refunds for unused days remaining in your monthly term. There is also no refund when you downgrade to a lower plan.
Customer Support
If you need help with your TweetReach concerns, you have to go to Union Metrics' website. In there, you will find the following support channels:
Help section: There are multiple self-help articles here for Twitter analytics, as well as for the rest of Union Metrics' products.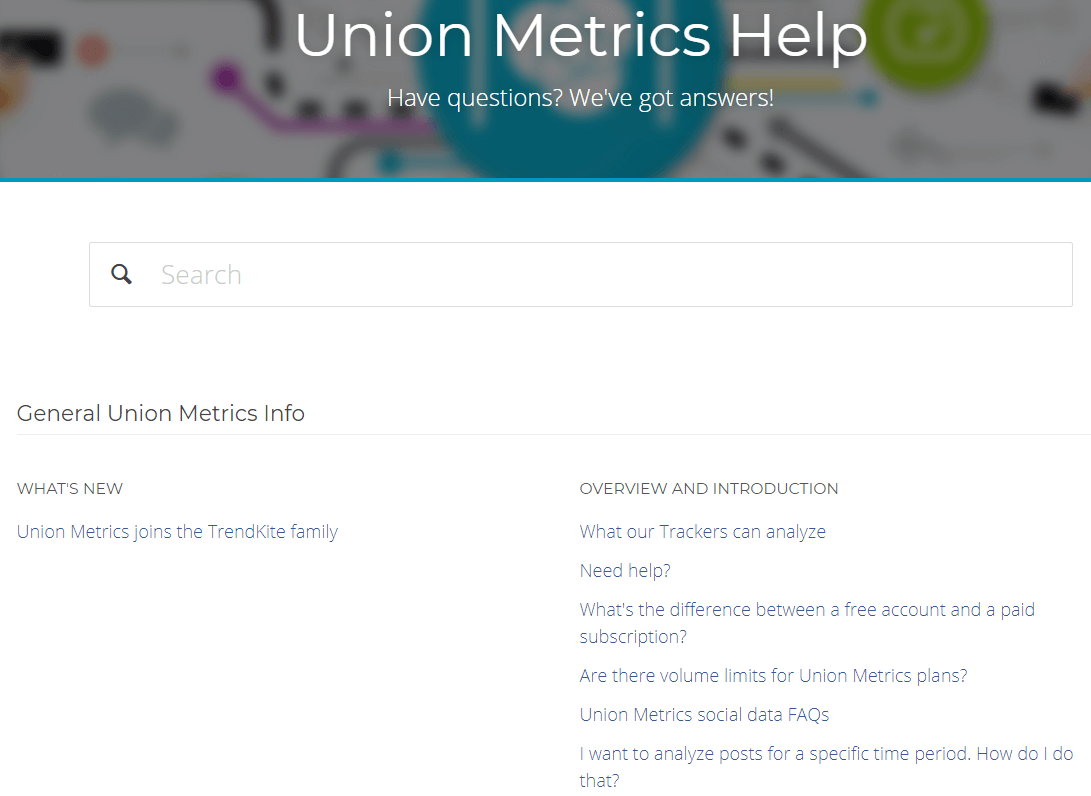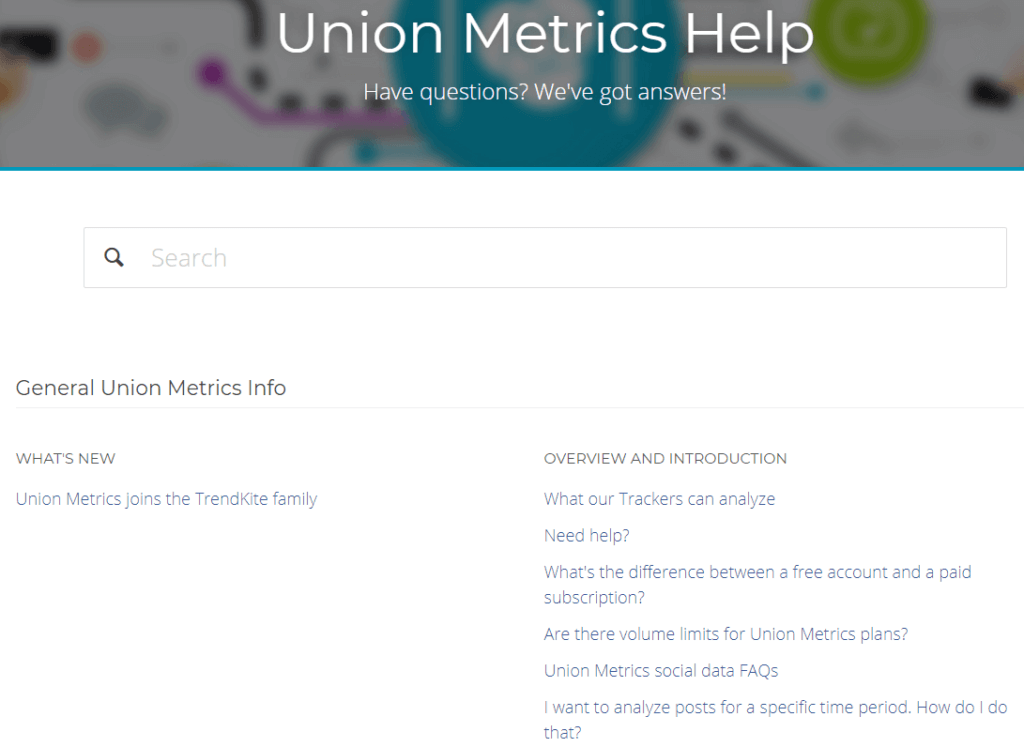 Support request: If you can't find a helpful article, you can submit your question or issue through a contact form. Union Metrics say it will get back to your inquiry within one or two business days.
Email support: You can also voice your concern by sending an email to support@unionmetrics.com.
While users can find help through articles, a contact form, and email, we can't say we're impressed with these available channels. We would have liked it better if there is a live chat as well as social help channels for faster response.
Order Recommendations
It's good that TweetReach's free analytics is still maintained by Union Metrics. For a quick search or individual use, this free version is already a handy tool for a quick search and analysis. If you want to download a copy of the snapshot report, do more intensive analysis, and enjoy a bigger array of social media analytics tools, then you have to get a Union Metrics' paid subscription.
Before you subscribe to one of the three paid plans, know first how many social media profiles and Twitter topics you are going to track. Each Twitter, Facebook, or Instagram account will be counted as one profile.
Consider also the expected volumes of the Twitter topics you want to track. If it's a popular topic, expect it to pull in more tweets. For businesses, the best bet is to start with the middle $99 plan. If you want to try out any paid plans, you can ask Union Metrics for a demo.
Conclusion
Now a part of Union Metrics, TweetReach remains a viable tool for Twitter analytics. The free version works for simple, quick search and analysis. The TweetReach Pro version is equipped with unlimited report downloads and more powerful features.
You can enjoy TweetReach Pro by subscribing to one of three Union Metrics's paid plans. As a bonus, you can also do analytics for Facebook and Instagram. While getting a paid subscription seems like a good move, don't expect to have comprehensive customer support and a refund in case you cancel your account.