Twitonomy Review
Twitonomy Review: Short and Sweet

Twitonomy is primarily a Twitter analytics tool which allows you to gain insights on a Twitter user's profile, followers, performance of hashtags, and campaign analysis. It also enables you to track retweets, shares, and likes on your own Twitter account or on any account. The company is based in Australia and is owned and operated by Diginomy.
Their free plan is enough to help you improve your Twitter profile. The dashboard is very rich in statistics and insights, then there are also tabs dedicated to the analysis of Mentions and RTs, Followers, and Following. Twitonomy is one of the most detailed analytics tools that's available for free.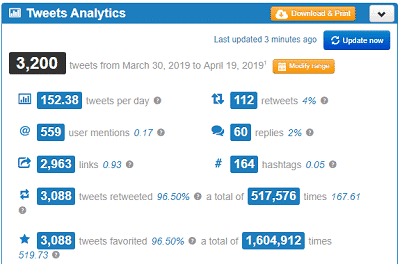 Twitonomy comes highly recommended, although we advise you to really take advantage of the free basic plan since you won't get your money back if you upgrade and decide to cancel.
About Twitonomy
Twitonomy is an Australian company owned by Diginomy Pty. Ltd. which started in 2013. It provides analytics that will help you gain insight on your own Twitter account, and even lets you analyze how other accounts (competitors) are doing. It was initially a web-based platform but the company has now developed an app for Android devices. For any Twitter account, you can take a look at the following statistics:
Tweets per day
Retweets
User mentions
Hashtags
How many times the tweets are retweeted
How many time the tweets are "favorited"
Twitonomy presents some of the statistics in charts and graphs that look professionals easy to understand. It gives you a lot of data including from what platform the user mostly tweets from, and the time and day the user usually tweets.
Service Plans Section
Twitonomy's analytics tool can be used for free but you can upgrade to any of the following plans:
One-month plan at $20 a month.
Monthly plan at $19 a month.
One-year plan at $199 a year.
Their free plan already provides a wealth of information, but their paid plans allows you to download tweets and favorites from any user to Excel and PDF, backup the list of people you or other users are following to Excel, and many more.

Terms and Guarantees
Terms and Conditions
Twitonomy's terms and conditions state that they are not affiliated with Twitter and they do not claim ownership of any tweets or material a user provides, even though they have access to these tweets and a lot more account-related data.
They don't guarantee that their service will be up 24/7, but they say that they are working to improve their service.
Privacy
Twitonomy has a comprehensive Privacy Policy that covers information gathering and usage, cookies, data storage, and policies around children.
Refund Policy
The company does not have a money-back guarantee. They don't provide full or partial refunds or credits, so if you cancel your subscription before the end of your paid month, the cancellation will take effect at the end of the paid month or year.
If you want to cancel, you can do so anytime but the effectivity will be at the end of the paid month or year. You also need to contact their support team for this request, which can be frustrating you only have the contact form and email as options. There's no guarantee as to how soon you'll get a response, and all you can do is wait. The tool is easy to use and understand though, so hopefully you will have little to no reason to contact support.
Customer Support
Customer support can be reached only through the contact form or by email at support@twitonomy.com or at hello@twitonomy.com.
Don't expect a prompt response since Twitonomy doesn't claim to have a 24/7 support team. You may need to wait for at least 24 to 48 hours before you hear from them.
Our Recommendations
Even Twitonomy's basic plan which is for free already gives you a lot of helpful insights. The best thing about it is that it's not only for your Twitter account, but you can get the same wealth of information for any Twitter account. It definitely makes competitor research quite easy.
If you want to be able to download tweets, retweets, followers, and other data, you can sign up for any of their paid plans which are reasonably priced.
Twitonomy Review: Conclusion
We tried looking up a Twitter user on Twitonomy and was surprised at how much information we got on our free account. Through the analytics the tool provided, we were able to find out the following:
The number of tweets the user posts each day of the week and every hour of the day.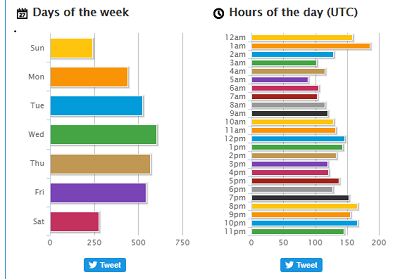 The list of people the account is following which also shows each account's basic stats like number of tweets, following and follower count, and basic information such as name, Twitter handle and bio.
The list of followers which also shows the basic information and statistics as above.
The platforms the account used when tweeting.

The actual tweets being favorited by other Twitter users.
Congrats, you've made it this far in our Twitonomy Review, so you must be slightly interested! All these data and more will definitely help any Twitter account compete with the top players in their niche, and it will also help shape their Twitter marketing strategy.

Buy Twitter Followers Reviews
Average rating:
1 reviews
Oct 22, 2019
Pathetic
Don't waste your time.