A year doesn't go by without someone saying that Twitter is doomed. People believe the micro-blogging site can't live up to the hype and it will eventually go the way of Friendster. In reality, Twitter is far from doomed. While it might not be everything that everyone wants it to be, it has staying power. It is not going anywhere, and those who know how to use it properly enjoy great results.
Twitter Suffers from Misplaced Expectations
Misplaced expectations have a lot to do with the chatter that Twitter is doomed. Since its inception, Twitter has been measured by its growth. In the beginning, that growth boomed. Twitter added new active users at record rates, causing analysts to predict those numbers would continue to rise for the life of Twitter.
While it still adds users on a monthly basis, growth has slowed down tremendously. In 2013, it added approximately 4.5 million users per month. In 2015, it barely added that number in the first nine months of the year.
That alone has caused people to say that Twitter is doomed, but they are putting the wrong expectations on the site. Twitter is not the same type of site as Facebook or Instagram. Twitter is more of an information site. It gives people a platform to share ideas to a wide audience.
Celebrities, marketers, and advocates are the most active users on Twitter because they have the most information to share. Because of that, you shouldn't expect Twitter's growth rate to rise more than the rate of new celebrities, marketers, and advocates in the world. Twitter simply cannot live up to those types of expectations because it is not that type of site.
However, it is the type of site that makes brands more powerful. Brands that use Twitter well do so to great results.
Look no further than Super Bowl 50 to see the power of Twitter in action.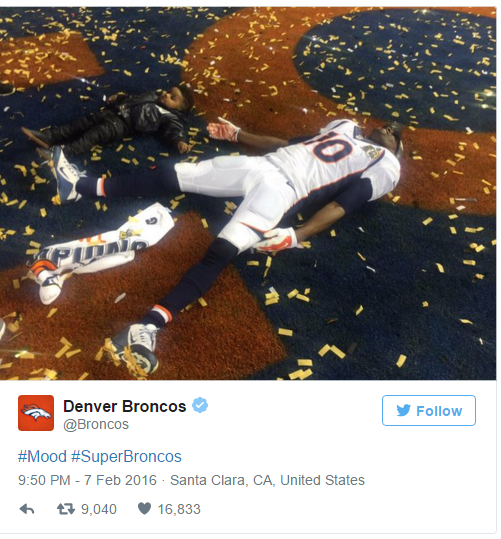 Thousands of people interacted with the Denver Broncos' tweets after the Super Bowl, proving that Twitter is the place to go for live interaction with celebrities and brands. On top of that, football fans all over the world live-tweeted during the big game.
Revenue is Booming
Revenue plays a big role in how healthy people think companies are, but for some reason, people have widely ignored Twitter's revenue boom. The company actually exceeded its revenue predictions in the third quarter of 2015, raking in $569 million for the quarter. This is largely due to ad revenue. As anyone in adverting knows, advertisers do not spend money on a doomed platform. If they did, people would be spending millions of dollars advertising on Google+. Instead, they are throwing their adverting dollars to Twitter. They know their advertising dollars are well spent when they stick with this powerful site.
This goes back to misplaced expectations. People put too much emphasis on new users and not enough emphasis on revenue. Based on revenue, Twitter is healthier than it has ever been, and people can expect that health to continue to rise.
The Need for Live News
Twitter also fulfills an important need in the marketplace. People do not want to wait for media outlets to compile stories and then send them out. They want immediate information, which is why they turn to Twitter.
The riots in Ferguson, MO are the perfect example of people utilizing Twitter to get breaking news. According to the Pew Research Center, 71% of tweets that contained #Ferguson included information about a specific event. In many cases, these were events people saw with their own eyes.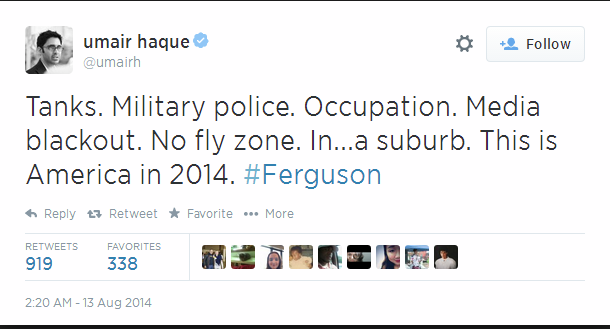 This gave people an inside look at the riots. In fact, people were able to glean information from Twitter that wasn't even available on news sites. Best of all, they were able to do this in a live format so they did not have to wait for news outlets to submit their stories.
As long as there is breaking news, there will be a place for Twitter to cover it. Along with getting the story first, people like the fact that it is from eye witnesses instead of news outlets regurgitating what they have been told. People report what they see with their own eyes and take pictures of it. This gives people a front row seat to what is happening around the world.
Twitter is far from dead. It is as powerful as ever, and that power continues to grow as more people learn how to use it properly. From reporting the news to bringing people together around a brand, the options are limitless with Twitter. Instead of clogging your mind with thoughts of Twitter being doomed, open your mind up to all of the possibilities it has to offer. At that point, you will be able to grow your online presence.