TwitterWind Review
Company: TwitterWind (Unsure)
Website: www.TwitterWind.com
Founded: 2013
Service Reviewed: Followers, Retweets, Monthly Followers
Methods: Bots, Internal Network
Price: $17 and up
Editors' Rating:

Review Summary (Short & Sweet)
TwitterWind.com doesn't seem to be very active. Their prices are 65-70% higher than any other provider and don't offer anything to justify those prices. Their delivery is on time, the followers are typical for the industry and their guarantee is one of the shortest on the list. Overall we don't see any reason to choose these guys over the higher ranked providers

About TwitterWind
TwitterWind is a Twitter follower provider that has been in business for over 2 years. In that time they haven't done much to really grab our, or anyone else's, attention. They currently appear dormant with no updates to their website recently. With a 90-day guarantee on their service, and a 30-day money back guarantee, TwitterWind does not offer anything out of the ordinary. These guarantees are on the lower end of the spectrum, with little else going on to make up for it. They have several Twitter Follower packages, starting at $17 for 1,000 untargeted and inactive followers. They offer a monthly follower package which delivers followers at a drip all month, which they have called Monthly Discounted Memberships. This works much like other monthly Twitter subscription services, as you slowly grow your account in a more natural way. Prices are also not so bad. This is one of their better services as you can get those higher numbers at a more reasonable rate. This should increase people's trust in your account.
The Order Process
We've used Twitter Wind multiple times in the past for a handful of Twitter accounts
The ordering process is simple enough and we've never had a problem here.



1. Their homepage displays their packages and services ranging from $17 for 1,000 followers to $2997 for 500,000 twitter followers.
2. When you select a package, you're taken to their Enter Your Details page where you'll enter your Twitter Username and email. As well as be asked if you want to upgrade to their "Premium Followers" Which apparantly is free. As well as have the choice of US Based ($37), Spanish Speaking ($37), Arabic ($47) or Worldwide untargeted ($0). You have to make a selection here, so if you want to spend the least amount of money make sure to select the Worldwide Untargeted option.
3. The next step is Checkout. You'll see the summary of your order and be directed to PayPal. Twitterwind accepts Credit Cards and PayPal payments through PayPal only.
Turnaround Time
All of their Twitter Follower packages take about 24 hours or so to begin once you've ordered; smaller orders such as 100 and 1000 Twitter Followers are completed within a day of starting. Larger orders such as 10k and above usually take a few days to complete, since followers aren't deliver all at once. The monthly followers obviously take 30 days to completely deliver all the followers, but that isn't a bad thing. The more natural monthly followers would be the only way we could recommend buying followers from Twitterwind.
Quality of Twitter Followers
We received OK quality Twitter Followers from Twitterwind. OK quality followers means that these followers MOSTLY look-real enough. Alot of them with profile photos, bios, tweets and followers of their own. They are definitely bot created accounts and some do have the tell tale egghead with no profile, tweets or followers and they follow thousands of people. The image below is a screen shot of the followers delivered to us by TwitterWind: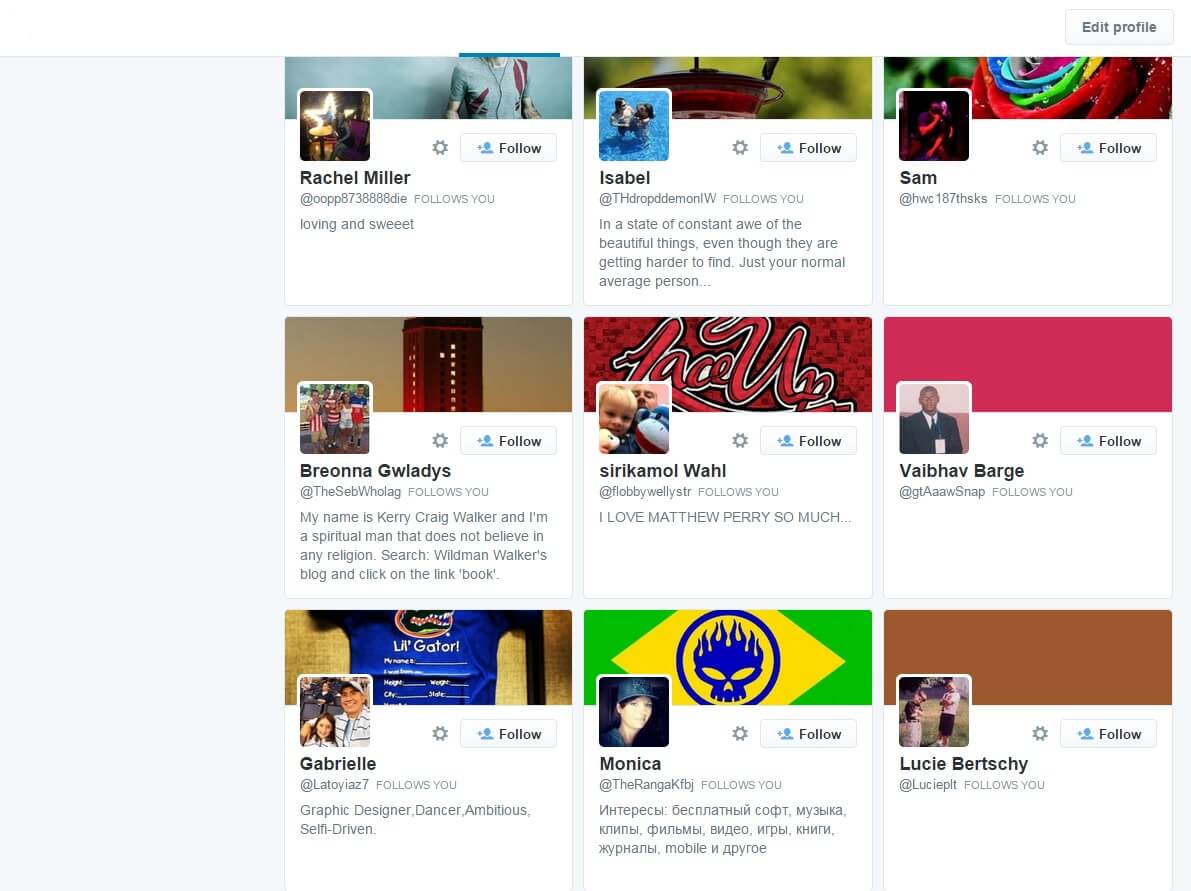 Extra Service: Twitter Retweets
TwitterWind also have a high priced retweets service ranging from 1,000 retweets for $27 to 25,000 retweets for $347. This is above average pricing for inactive account retweets.
Conclusion
This is another case of a website that has been set up and the owner appears to have left it to gather whatever money comes along. They have no live chat, no active blog, customer service is on the 24-hour+ scale—and they don't even have a Twitter account!
As of this writing, TwitterWind is fulfilling their orders. The state of their outdated website and lack of updates with any facet of their company would lead us to advise you to contact them before ordering to be sure that they will complete your order. TwitterWind is a slightly below average provider with slightly higher prices. Their only noteworthy service is their monthly follower subscription service. Their Twitter retweets are at a decent enough price, but you can find better overall providers easily.
Have you tried Twitter Wind? We want to hear your Reviews!
Average rating:
13 reviews
Dec 12, 2018
Great work
My followers were delivered promptly as i had been promised. The quality was good too with many followers having bios and pictures. the customer support was great answering my questions and even making a follow up after the delivery of followers.
Nov 29, 2018
Happy
I am happy my followers were delivered to me in the agreed time frame and that a majority way above average were of good quality. Overall i am impressed with the service i got.
Nov 29, 2018
Satisfied
I made contact with the customer support and explained to them that i needed my order delivered in time for a serious board meeting. They assured me i would get exactly that and they indeed kept their word. Their delivery is swift and the quality of the followers is above average.
Nov 9, 2018
Fantastic
It was an amazing experience to have my Twitter follower numbers boosted by Twitterwind, something I all along hadn't known before.
Nov 1, 2018
Good service
I specifically liked how they have in place, a well organized customer service which does well responding to questions and concerns.
Oct 24, 2018
Cold
Their customer service was slow to respond when I needed more clarification on my request for a 3k follower package.
Jul 24, 2018
Problem solved
Time comes when you want to have a credible voice online, but you do not have the social proof. In my pursuit of a following that I wanted to bank my social proof on, I came across twitterwind and sought their Twitter follower gain service. I'm now 16k followers more and feel very satisfied.
Jul 17, 2018
Dissatisfied
My order for Twitter followers came on time, and in good numbers. It was however short livd as the numbers began dwindling and now 2 months later, I am afraid I may end up losing everything!
Jul 11, 2018
Dismal
After buying Twitter followers from them, my rating on twitter audit slumped a little, meaning there are bots as part of the followers they sold me. I however am glad for the added numbers.
Apr 26, 2018
Just like any other
I have been to their site and ordered the $17 worth follower package. I honestly should have looked for a cheaper option as I came to realize later.