Twitter is home to thousands of businesses trying to make a dent in their industry – one tweet at a time.
They're all using Twitter for good reasons, as the platform sees 49% of their users following brands compared to 16% on other social networking sites. Many businesses also leverage the engagement they've received on Twitter into online as well as in-store sales.
If you want to get the most out of Twitter, you've got to develop a marketing strategy designed for the platform. There are a wide variety of features to help you zero-in on your target audience, and the internet is chock-full of tools that can provide valuable insights to help guide you through.
In this day and age, social media exposure can make a business – and there are plenty of examples to prove it. Take some inspiration from these awesome success stories of businesses who have used Twitter to get 'er done.
Poncho 8: London Burrito Bar with a Personality
Poncho 8 is London's most famous burrito bar, complete with a quirky, charming personality. Despite their size (they have 6 branches all over London), this fast food chain keeps an inviting and fun environment for their customers.
Poncho 8 has always used Twitter to provide their customers with responsive assistance, as well as for their other marketing efforts. Pretty good service, right?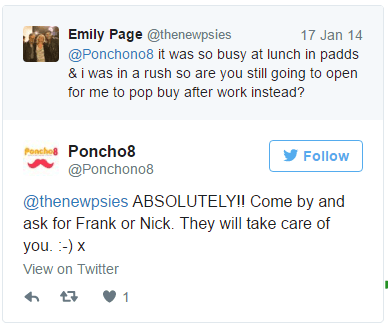 They decided to use Twitter to get the word out about the launch of their latest Paddington location. So they set up a followers campaign to create a buzz around the launch and bring more customers to the doors.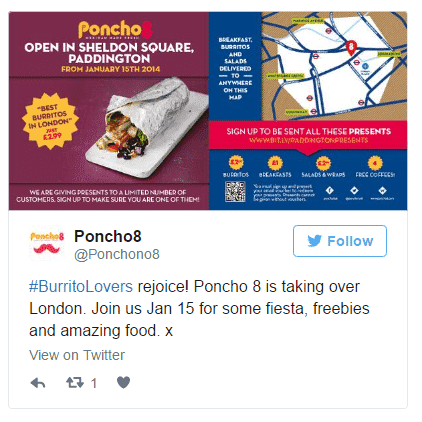 They specifically targeted business professionals and London foodies. The result? They reached 23% peak engagement for their promoted tweets and the launch was a complete success.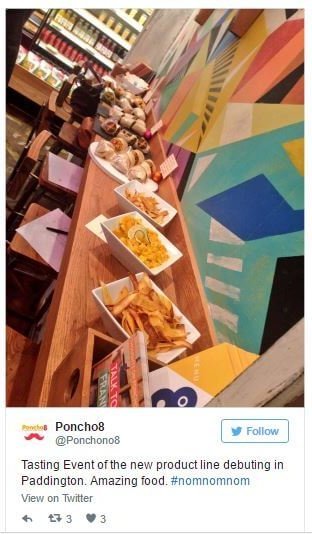 Poncho 8 combined Twitter's promotion strategy with posts that showed their fun and quirky personality. All these contributed to the success of their campaign.
Oreo: One Tough (and Funny!) Cookie
Who doesn't love an Oreo cookie, right?
This gigantic brand knows how to use Twitter right. Despite their size, they constantly interact with their followers over the most random things and engage in friendly banter with other big brands.
Like the time they challenged Kit-Kat to a game of tic-tac-toe over Twitter. They were Os, of course.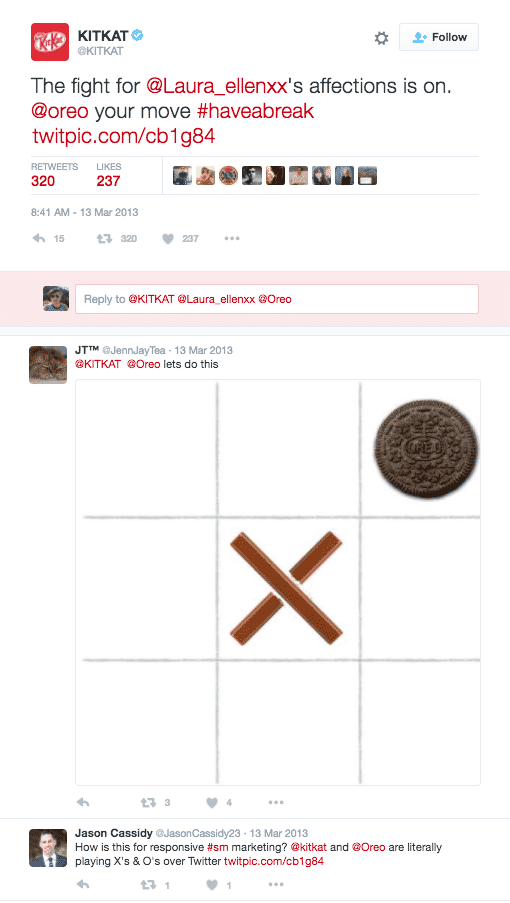 Their dedication to engagement makes browsing through their feed a lot more entertaining and immersive for their followers. Their effort to entertain people in 140 characters or less has garnered the attention not only of the people but of the media, as well.
Gary Frisch of Swordfish Communications: A Small Company with a Fighting Chance
Who knew Twitter could help one man buy his own house? Gary Frisch launched his own PR agency back in 2007, Swordfish Communications, and began growing a client base through traditional means. One fateful day in 2009, Gary decided to check Twitter, which he didn't do very often.
He chanced upon a tweet from a colleague that mentioned an entrepreneur he (Gary) had previously worked with. This urged Gary to reach out to the entrepreneur to send his congratulations on being featured in the newspaper.
That tweet paved the way for Gary to land his biggest-paying client yet. It made his business profitable and helped him buy his own house shortly after.
Uber: The Tweet that Launched an Entire Fleet
Who can forget the story of how Uber found its project manager?
Uber founder Travis Kalanick sent out a tweet looking for a product manager who could help him and his partners take his ride-sharing app idea off the ground.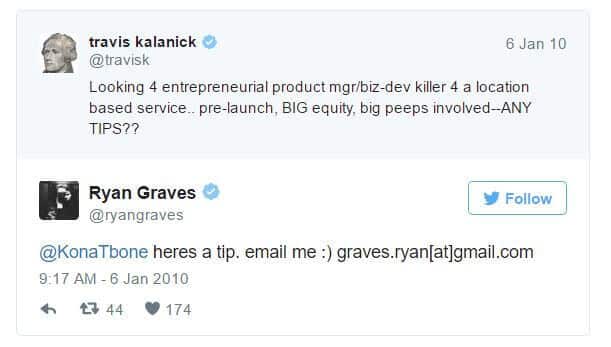 Ryan Graves chanced upon the tweet, replied to Kalanick with his email address, and what followed was a partnership made in entrepreneurial heaven, which eventually turned these budding professionals into billionaires.
This just goes to show that connecting with the right people on Twitter can help you achieve your professional and entrepreneurial goals. Armed with the right strategy and the right tools, you can turn your Twitter followers into meaningful real-life connections.
If you are looking into building valuable connections with people in your industry, you have to have a profile that will impress the best of them. When just starting out, consider purchasing an initial set of followers from a reputable provider to establish your social proof and persona on the platform.
High quality followers can help you build an impressive profile without having to exhaust yourself on organic efforts. This is a fast way to grow your presence and authority on Twitter, giving you more time to focus on more important marketing efforts.
Onnit: A Fitness Company that Found Its Tribe
Finding your target market on a heavily populated platform can be a challenge, but for Onnit – a fitness company – all it took was a consistent social media management strategy and a highly targeted followers campaign.
Through Twitter's specific followers campaign, Onnit earned high returns in their investment, with a 40% lower average cost-per-acquisition than their other campaigns.
Onnit played it smart and made sure to be extra specific with their strategy. They targeted health-conscious 18 – 34-year olds around the world, bringing in a great conversion rate.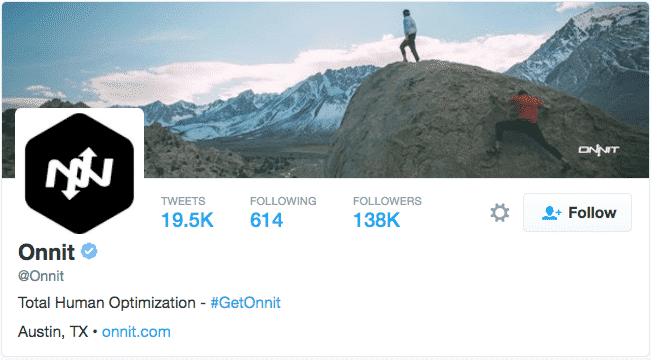 By playing it smart, the company managed to send their powerful brand message to the right people. To date, Onnit has over 138,000 followers and a growing family of fitness ambassadors that helps them reach more customers – and in turn, build their business.
It's Not About How Big You Are, It's About How Smart You Are
A smart marketing strategy can succeed, even if you don't have Oreo-like funds to back it up.
If you want to grow your business through the help of social networking sites such as Twitter, you have to make sure you're utilizing all of the tools available to achieve your goal.
Social media marketing is a fast-paced and somewhat ruthless game that requires dedication, but just like any other game, you have to be smart if you want to win. Organic growth is key, but there are ways to kickstart the process.
Purchasing high quality followers from a reputable provider is easy, if you know where to look. We review many of these companies and put them to the test to make sure they hold up their end of the bargain.
We do this to help you make the most informed choice for your business and Twitter presence. Check out some of our reviews by following the link above.
Be smart, and move quickly – succeeding on a highly competitive platform is not about how much of your marketing budget you can burn, but how you utilize all the tools you have at your disposal.