BuyRealMarketing Review
BuyRealMarketing
Company: Clicking Labs (Philippines)
Website: www.buyrealmarketing.com
Founded: 2009
Service Reviewed: Followers, Retweets, USA Followers, Daily Followers, Favorites, Engagement and Account Management.
Methods: Bots, Internal Network & Social Networking
Price: $9 and up
Editors' Rating:

Review Summary (Short & Sweet)
Buy Real Marketing is one of the first Social Marketing providers, founded in 2009. Their followers are extremely low quality and are delivered way to fast to appear natural. Follower retention is low at best and our visitors have complained about their refund policy continually. They claim to offer 24 hour support, have a 60-day refund policy and are priced competitively.
Overall, this company has the ability to deliver a lot of followers very quickly, but they will be of very low quality. You'll be better off looking at the rest of our Top 10 Providers List to find one which is better quality.
About BuyRealMarketing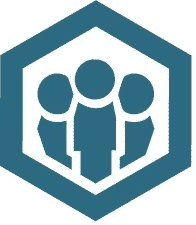 Their parent company, Clicking Labs, is a Philippines-based company operating in Mabolo Cebu City with 6 years of history. They have a solid foundation of customers and have proven to be effective at delivering massive amounts of untargeted, inactive twitter followers extremely fast. Some would say TOO fast. Their inactive followers start at $9 for 1,000 and can be upgraded to a maximum of 100,000 for $699. Their most popular service is 5,000 inactive twitter followers for $39.
They offer 24/7 Customer Support by email and chat, an 800 number for phone support during regular business hours and a limited 60-Day Money-Back Guarantee. They have a USA only twitter follower service that provides real enough looking accounts from the United States, but they are on closer inspection not real accounts, they are just the same inactive accounts that are based in the US.
BuyRealMarketing has recently branched out to more services including social media management and daily engagements, both of which require you to give them your login information.(which completely violate the Terms of Service of Twitter and all other social media outlets)
BuyRealMarketing – Our Detailed Review
We've used BuyRealMarketing twice in the past, testing all of their available services.
BuyRealMarketing offers seven different twitter services: Followers, Retweets, USA Followers, Daily Followers, Favorites, Engagement and Account Management. All the services vary on price and time frame based on quantity. Their lowest amount of followers is 1000 that costs $9. The most popular plan is 5,000 inactive followers for $39.
Their most basic packages are the fastest as the majority of orders are completed in less than 24 hours. No following is required on their basic untargeted inactive followers which means no password or login is needed. Their other plans however, DO require your login information. We do not recommend you share your Twitter password with any third party. Ever.
The Order Process
The ordering process is simple enough and we've never had a problem here.

1. Their homepage displays the smallest packages of their popular services, including 2000 Twitter Followers, 5000 YouTube Views, and 5000 Vimeo Plays. The prices of their other Twitter Packages varies widely depending on where the followers are coming from, or whether they are active or inactive.
2. When you select a package, you're taken to their Enter Your Details page where you'll enter your Twitter Username and email. If you are selecting a plan that requires you to give your login information against our advice you will have to put your password in this form as well.
3. The next step is Checkout. You'll see the summary of your order and be directed to PayPal. BuyRealMarketing accepts Credit Cards and PayPal payments through PayPal only.
Turnaround Time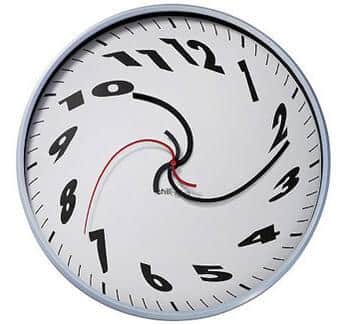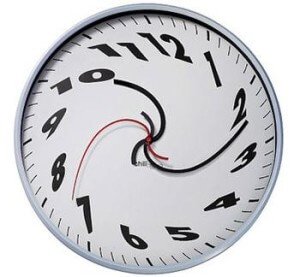 Fast. All of their Twitter Follower packages take about 1 to 2 days to begin once you've ordered. The Twitter Followers (from what we've noticed) are delivered unnaturally fast. Orders for 10,000 Twitter Followers are completed within a day or two. We actually have found that this service delivers untargeted and inactive followers TOO FAST.
Getting 20,000 twitter followers may be possible for someone with over 1,000,000 followers to begin with, but a person just starting out isn't going to naturally get that amount. They do offer a daily follower package now which appears more natural, but their basic packages can get you in trouble with the amount and speed which they are delivered.
Twitter Follower Quality
Low Quality, appear ok from a distance
The Twitter Followers from BuyRealMarketing are inactive and that is apparent when you click into any of their profiles. They have profile photos, bios, some tweets and some followers of their own. Not bad, but they could be better (we've seen better). We call them 20 footers because they look ok from 20 feet away, but get any closer and they are obviously fake.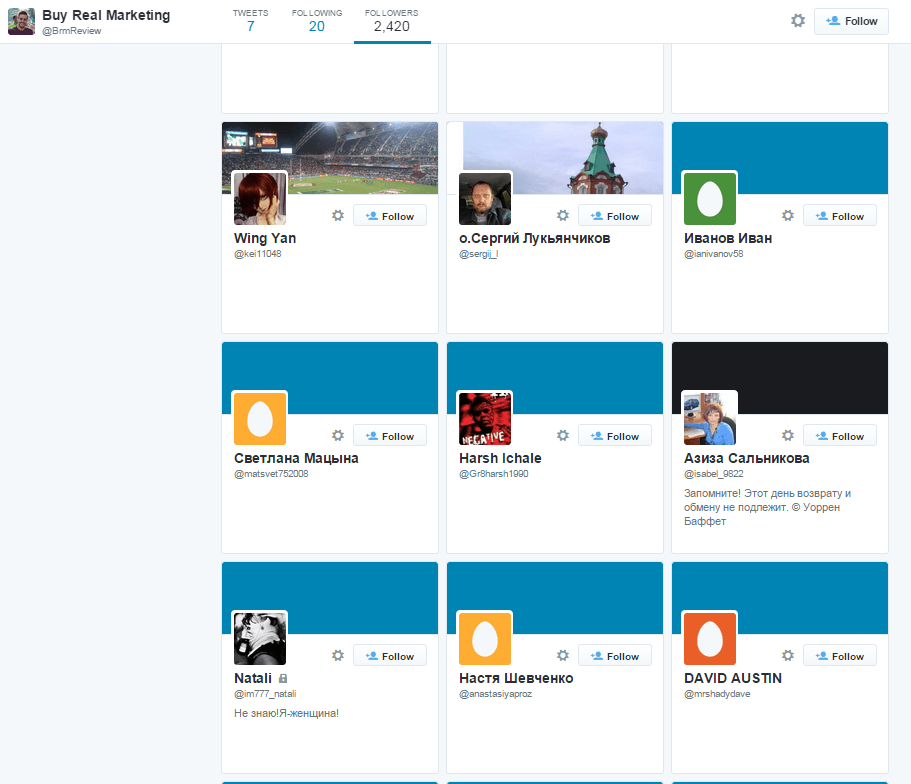 The followers here are nowhere near as good as our number 1 ranked provider, so you may want to continue researching.
Twitter Follower Retention Rate
Really Bad. They had to replace twice
Our oldest order with BuyRealMarketing was placed 5/23/2012 ago for the account @BRMReview. Of course, this username was changed after the order was completed. We ended up with 1004 Twitter Followers, but the the followers quickly dropped within the same day.
After a month, we were less than 800 followers and after 6 months, the followers were down to a mare 300 followers. At the moment, the follower count is above 2,000 of completely fake, horrible accounts with no profile photos. We definitely think someone has used a FollowerBomb on this account. The current followers on the account were definitely not part of the purchase from BuyRealMarketing.
Extra Services
BuyRealMarketing offers multiple new additional services that we have not tested, nor do we intend to. Any service that requires you to share your login credentials is a huge red flag to us and we do not recommend anyone share their password with any third party. If you choose to use these services you do so at your own risk.
Conclusion
BuyRealMarketing is a provider with a strong history in the industry. Their Twitter Followers service delivers inactive Twitter Followers quickly at a very affordable price (for their smaller packages). They offer 24/7 Customer Support and include a limited 60-Day Money-Back Guarantee with their services.
BuyRealMarketing doesn't offer any real marketing. Their followers are known to be not reliable in the long-term. Their 24/7 customer support is not always available (which defeats the purpose of 24/7) and is outsourced. They money-back guarantee only applies if they haven't started your order (so essentially, no refunds). They automatically sign you up for their mailing list, which will send promotional emails every other day.
Overall, a So-So provider. If you choose to go with Buy Real Marketing, we would recommend trying one of their smaller services before jumping into one of their larger packages.
Have you tried Buy Real Marketing? We want to hear your Reviews!
Average rating:
39 reviews
Jun 14, 2019
Excited
The followers that were delivered to us were high quality twitter followers. It would be hard for anyone to tell that they were bought. The followers were also delivered quickly just as they had indicated. Thank you.
May 10, 2019
Exceptional quality
My twitter followers were delivered on the same day that i paid for them which is something they had promised to do. They are quite fast in delivery. The quality of followers was top notch, with most having pics.
May 3, 2019
Superb
The followers we paid for were delivered pretty quickly with the last set of followers arriving early the following day. The quality of the followers was remarkable. The customer support agent i was in touch with was amazing and answered my questions exhaustively.
May 3, 2019
Reliable
I made my order for twitter followers and the order was delivered pretty fast same day. The quality of followers was amazing with a majority of the followers being active and engaged me in many instances. Its a great service.
May 3, 2019
excellent work
Our twitter followers were delivered in full pretty quickly. We loved the fact that the customer support was reachable every time we reached out to them and they were very knowledgeable making the process smooth for us.
May 3, 2019
Great work
The customer support is what i have to mention first. They have a team of very pleasant customer support agents who have always been prompt to answer my queries. Its my 6th time using them and i dont think i will stop any time soon.
May 3, 2019
Exceptional service
The quality of the twitter followers that we got was amazing. A majority of them had complete bios and profile pics. Some even tweeted me. Customer support was quick and very helpful .
May 3, 2019
Affordable
I received my followers on time just as i had been promised. The quality of followers was impressive for the money we paid for. Their customer support is top notch.
May 3, 2019
pleased
The followers we got were of decent quality. We liked the fact that a majority had complete bios and pics. The speed of delivery was also good. The customer support team were very prompt as well.
May 3, 2019
Brilliant
The quality of followers was top notch. Most of the followers had complete bios and profile pics. The followers started streaming in soon after i had paid for them.