Retweeting is a defining feature of Twitter. It's up there with likes, comments, and following another account. There are many good reasons why people retweet, such as to promote goodwill, to agree, to share information, to entertain, or to contribute to conversations.
It used to be that people would post multiple tweets if they wanted to share their posts several times. By mid-2016, things changed when Twitter introduced the ability to retweet one's tweets. Some people like it, some don't, and this generates lots of discussion on whether this practice is a good thing or not. Let's explore the benefits and downsides of retweeting your own tweets.
The cons of retweeting your tweets:
1. Attention whore?
The most obvious downside of retweeting your tweets is that you're going to annoy some people. While you may be doing the retweet to reiterate a good point, expect some people to care less about your intention. Many Twitter users think that any time you retweet yourself, you appear to be desperate for validation or attention.

2. You appear to be inflating your social metrics
There's a high chance that people will engage a post if there's initial engagement that already happened on it. People like to respond to each other, and few people are interested in engaging with an ignorable post.
A single tweet is usually not enough to trigger engagement. By retweeting yourself, you're trying to kickstart your original post and encourage people to engage more. However, some people may view your retweeting attempts as an artificial way to inflate your social metrics.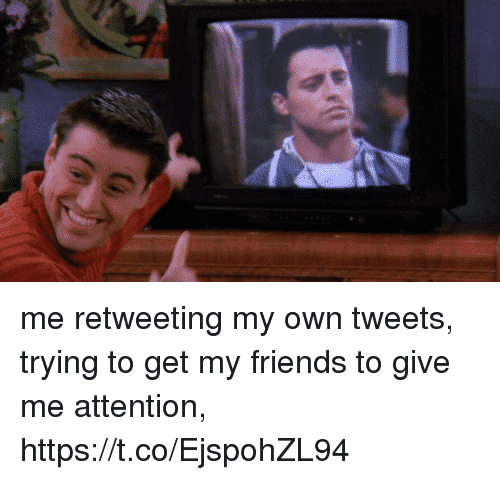 Image: Retweeting as an attention seeker. Photo taken from me pics.
3. You'll reveal your real standing on Twitter
Retweeting your tweets will show your actual standing on Twitter. Less popular users usually won't get too many engagements when they tweet. If they retweet themselves to seed some engagement, but nobody engages with them the second time, it will just show that they don't have engaged followers. Having a larger audience, therefore, is a necessity in order to support self-retweets.
The pros of retweeting your tweets
1. Retweeting will expose your content more
While retweeting looks wrong to some, you can achieve great things if you retweet the right way and with noble intentions. Perhaps the biggest one is that retweeting will casually increase the exposure of your content. You could be retweeting jokes that you want to share with as many people as possible to share the laughs. It could be an image, a video, or a quote to bring a breath of inspiration. It could be a message of something you're passionate about, as shown in this post below.

We're all aware that Twitter is a crowded place. As Twitter users see lots of tweets, retweets, replies, notifications, and sponsored content every day, it's likely that they will miss your initial tweet. By retweeting, you're giving yourself another chance to share a good post.

2. Retweeting is cleaner
A simple retweet looks cleaner than other reposting options. For instance, many brands post the same content but with different prefaces, like "for morning folks" or "evening crowds." Posts with such phrases, however, sound repetitive and irrelevant to people who lurk on Twitter the whole day. Why not just retweet an original post to make things simpler? Retweets are also a lot cleaner than starting every post with "ICYMI" (In Case You Missed It) or other shorthands.
3. Retweeting makes you appear more valuable
An alternative to retweeting yourself is to repost the same content. It could be the same link with a different introduction or that exact tweet.
Here's another valid reason why you should retweet instead of creating a second post: retweets make your content look more valuable. The idea here is that the extra engagements generated by your retweets are counted towards your initial tweet. This should push Twitter to continue showcasing your content for a little longer.
Should you retweet your tweets?
Yes, you should retweet your tweets if you're aiming to get more reach, exposure, and value. Before you go on a retweeting spree, there are a few things you should take into consideration:
One, retweet a content that's worth retweeting. People don't like unnecessary retweets on their feed.
Two, it's essential that you mind the timing of your posts and the space between your retweets. This way, you won't annoy others too much.
In the end, you shouldn't worry about any adverse reactions if you're retweeting the same tweet with the best intentions. Retweeting your tweets will bring you lots of benefits, especially if you're a small brand trying to be successful on Twitter.