The Twitter we've come to love is more than just a social networking site. Today, Twitter has become a powerful marketing platform and a source of real-time news as it unfolds.
Tweets are even being used to track earthquakes across the globe. There's really no guessing what people will use it for next.
just setting up my twttr

— jack (@jack) March 21, 2006
Twitter has truly come a long way since its humble beginnings – that's the first tweet ever above. Brands and businesses across the world are signing up to gain more leverage for their online marketing efforts. Soon, practically every brand will be on Twitter.
If you don't want to be left behind, read this comprehensive guide through until the end (including part two!) because we'll be teaching you everything you need to know about how to get started.
Learning everything about Twitter can be overwhelming, so we've broken down this helpful guide into two parts. Today, we will help you plan a killer strategy to get your profile ready for all your potential followers.
Get ready for school, because we'll be teaching you everything you need to know to set up your Twitter account for success.
Choose Your Handle Carefully
One of the first things you have to do upon signing up to Twitter is to come up with a username. It's of the utmost importance that you choose a handle that's as close to your brand name as possible.
Doing so will eliminate any confusion and will help you become more searchable to a lot of users.
Avoid using confusing numbers, letters, and symbols that are hard to manually type in the search box. This will just deter users from looking you up.
Kia Motors is a known car brand all over the world who has a significant presence on Twitter. This company has many accounts, and they optimize their profiles by including the region they serve in their username.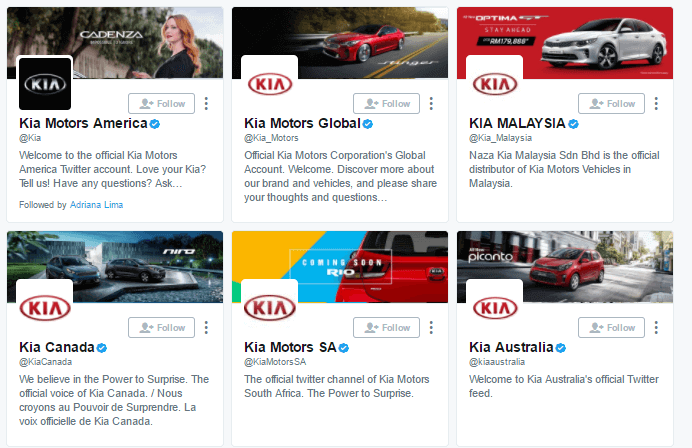 All Kia Twitter accounts carry the global name with slight variations in the location. This makes it easier for users to find the KIA account that serves their region.
Get Your Profile Ready
Now that you have an unforgettable Twitter handle, the next thing you need to work on is your profile. Your profile is your brand's face on the internet and you want to make sure it's as pleasing as possible.
You can easily optimize your Twitter profile by using a recognizable logo as your avatar. If you manage to tweet actively and consistently, people will begin associating your brand name to your logo in no time.
Make sure you have an eye-catching banner image – that space holds a lot of advertising potential if you use your creativity. That area on top of your profile is a prime piece of Twitter real estate so put it to good use!
Another thing worth working on would be your Twitter bio. Use this space to tell new followers what you or your business is all about. Never take the bio section for granted and whatever you do, DO NOT LEAVE IT BLANK.
The perfect example of a well-optimized Twitter profile would be that of AddThis, a provider of website publishing tools.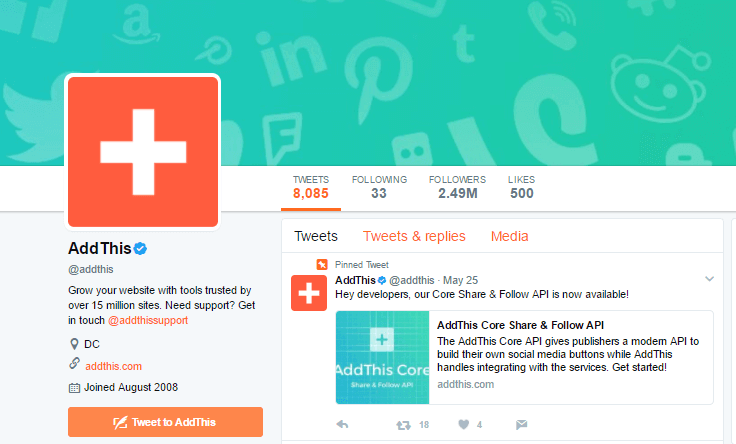 Their brand colors stand out and they have an avatar that's easy to recognize from a mile away. They also have a clear and concise bio that tells people exactly what they offer, along with a link to their customer support account.
The number of followers you have and the engagement you receive (such as likes and shares) also play a big part of how your profile looks, and how credible you'll appear to users. To build up your rep quickly, you can buy high-quality Twitter followers from a tried and tested provider of social media boosting services.
There are hundreds of providers out there but not all of them offer superior service quality. You'll also encounter providers who will ask you to give them your login information, which can compromise your security.
Stick to the providers on our list to make sure you get exactly what you pay for. Avoid the scams and be smart about choosing the provider you go with. The top companies listed on our website offer reasonably-prices social media boosting services that come with comprehensive guarantees and prompt customer support.
Determine Your Marketing Goals
As we mentioned earlier, Twitter is a powerful marketing platform, and that's why over 66% of companies in the United States with more than 100 employees are already on it.
That being said, Twitter can be quite competitive. In order to stand out, you should have a clear idea of your marketing goals. Knowing what you want to get out of Twitter will help you come up with actionable plans to help you reach your goals.
Subway is a world-famous sandwich chain who takes full advantage of Twitter for all their marketing campaigns. Subway fans know that they can log into Twitter and see if there are any promotional deals and discounts they can take advantage of, or to see what's new on the menu.
Introducing the Italian Hero, stacked with seasoned mortadella, available right now. pic.twitter.com/No0bt8UV7n

— SUBWAY® (@SUBWAY) March 30, 2017
Know what you want to get from Twitter and base your strategy around your goals. Practice this long enough, and you'll soon see progress towards the results you're hoping for.
Develop a Content Strategy
Once you set your marketing goals in place, you'll want to break down the steps that will help you achieve them. This is when you need to start thinking about your content strategy.
What is a content strategy? According to Usability.gov, a content strategy refers to the "planning creation, delivery, and governance of content."
Simply put, when it comes to Twitter your content strategy is what you tweet and how you tweet – plus a bit of community management.
Finding the right content strategy takes time and experimentation so don't be afraid to make mistakes. Take the time to find the right tone for your posts, one that's aligned with your brand image and relevant to the users you want to attract.
Once you find it, be as consistent and as true to it as possible. This will help followers get more accustomed to your manner of delivering their dose of social media updates.
Threadless dubs itself as a creative community that makes clothing and home accessories. These guys know exactly who they want to target on Twitter, and this allowed them to identify what type of post works with their target audience and how they should deliver it.
Wear Your Pride On Your Sleeve! Shop the Collection: https://t.co/2YJozFB5XI #PRIDE #Pridemonth pic.twitter.com/KvngB3ysnn

— Threadless (@threadless) June 1, 2017
They were able to find their tone, and they stuck with it religiously. Doing the same can help you recreate their success when it comes to winning over your Twitter followers.
Being as visible and consistent as possible doesn't hurt, too. Browser-based social media scheduling tools such as Hootsuite and Twuffer can help you schedule posts in advance, so you can focus on more important things while staying consistently visible on the platform. Don't miss our indepth Hootsuite Review to see if it matches your needs!
Pay Attention to the Details
Fully optimizing your Twitter profile is one key to your success on the platform. Learn to pay attention to the tiny details to attract as many followers as you can.
Developing a clear vision of your goals as early as possible should help you identify the right marketing steps to take in order to reach them. Don't be afraid to spend some time at the drawing board to concoct the perfect strategy.
Remember, buying yourself a few thousand high-quality Twitter followers should also help you appear to be more of an authority on the platform. You can find dependable providers of high-quality Twitter followers on our review page.
Keep your eyes peeled for the next installment of this blog, to learn how you can craft tweets for maximum success!