Twitter recently announced that they've replaced the beloved Moments tab with a more sophisticated and comprehensive Explore tab. It's designed to help users cut through the noise of their feed to find the posts that are most relevant to them.
The Explore tab is a hodgepodge of all the other search features Twitter had in the past, all collated in one page. If you're a marketer or a business owner, you can make use of this new feature to stay on top of trending topics in your niche or industry.
With a simple search, you can easily find out what the people are saying about your brand, or anything else you want to focus on. This gives you a better shot at elevating the quality of support you provide your customers.
Find out how you can take full advantage of Twitter's new feature to further strengthen your online marketing campaigns below.
Discover Hot Topics
The main objective behind the Explore tab is to bring content discovery to the front and center of the app. As a business owner or a marketer, this is good for you because you have to stay in touch with the hottest topics in your niche in order to stay relevant.
Now, you can do all that without having to switch from tab to tab all by utilizing the single Explore tab.
With the Explore tab, you can easily browse through the different trending topics and the latest news within your industry all in one page.
Because Twitter is focusing on highlighting live news and commentaries, the Explore tab can help you stay on top of all that without having to switch from screen to screen.
Find Out What People Are Saying About Your Brand
You can easily gauge people's perception of your brand by running a quick search using your brand-specific hashtag.
The Explore tab allows you to go through all of the posts people made about your brand. If you're running a promotional campaign, you can easily gauge the reception it's getting from users with a simple search.
Through the Explore tab, you can monitor your campaign while on the go. You also have the option to filter the results as you please – from Top, Latest, People, Photos, Videos, News, or Periscopes.
You can even change the settings to get results from people within a specific geo-location for more accurate targeting.
Monitor Your Viral Campaign
If you're conducting a viral campaign, you would know that your success somehow relies on how well you monitor the reception you're getting from people.
When you closely monitor the results of your ongoing viral campaign, you can make tweaks to bump up the engagement you receive in order to drive more attention to your posts.
There's really no way you can hack success when it comes to viral campaigns. You just have to go in there and engage in the most personable way possible with as many Twitter users as possible, while being lucky enough to gain a lot of traction quickly.
Thanks to the Explore tab, doing so is more enjoyable and less tedious. This makes viral success a possibility, even to smaller brands with limited marketing resources and energy.
Spy on Your Competitors
Another way to fully utilize the Explore tab is by using it in order to get a clear scope of the market – also known as spying on your competitors.
Knowing as much as you can about your competitors, their current strategy and long-term strategies, and their ongoing promotions will give you the opportunity to even the playing field as much as possible.
Gather as much intelligence about your competitor as you possibly can. If you see them using a brand-specific hashtag, run a quick search on it and see what the people are saying.
@Target We're grateful for the help filling #OperationGratitude Care Packages to say "thank you" to all who serve! #TargetFeeling pic.twitter.com/KdtOMgUafs

— Operation Gratitude (@OpGratitude) July 5, 2017
Target is a well-known brand that plasters their official hashtag on everything. Running it through the search bar will show you tons of user-uploaded content, which shows that they might be focusing on that right now. You can use these results to determine what it is they're doing right and how you can take inspiration from it for your own campaign.
Conduct a Followers Campaign
You can use the Explore tab to connect with potential and existing customers as well as brand amplifiers.
You don't need a Twitter Ads Account to conduct a followers campaign. Tinkering around with the advanced search options should help you find the people you want to connect with, without breaking a sweat.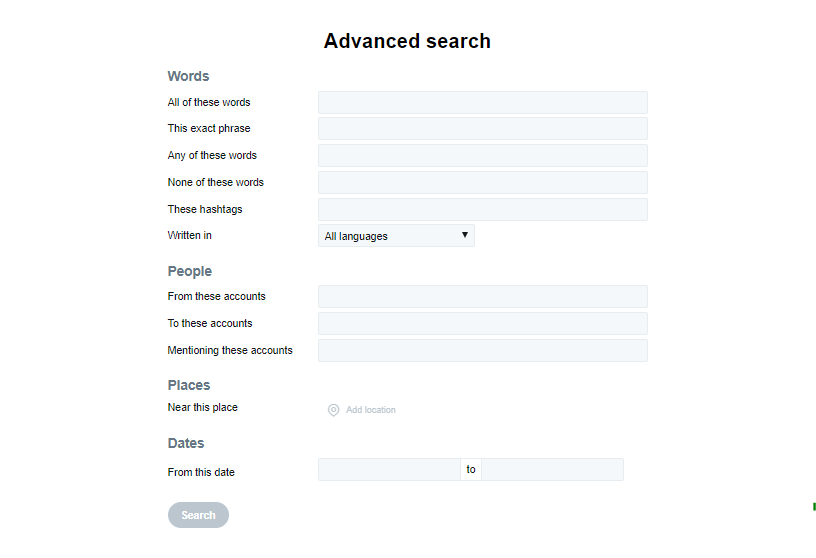 The advanced search feature is best used in the web-based platform because you can type in specific parameters just by filling in the fields.
From there, you can easily follow people you want to connect with. And you can improve your chances of being followed back by buying yourself a few thousand high-quality Twitter Followers from a reputable provider.
Buying Followers can help you establish a much stronger social proof – even if you're fairly new to the platform.
Do a Local Search in Your Area
If you want to conduct a local search, you can easily surface tweets that were sent out from a specific geo-location using the Advanced Search on the Explore tab.
In order to find the tweets and users you're looking for, you must enter the address, postal code, city, state, or country in the field shown above.
If you want to get the most accurate results, input the geocode (that's the longitude and latitude) of the area you wish to target.
In order for this feature to work, you must turn on your location services. Twitter has detailed instructions on how you can do that here.
Explore the Explore Tab
Staying on top of your engagement levels and the hottest trends in your industry has never been easier thanks to the new Explore tab. Learning how to use it to its fullest potential can help you strengthen your digital marketing efforts and gather high-quality data which you can use to your advantage.
This latest feature can help you be more precise about who you direct your marketing efforts to and what general direction they should take. Take the time to get to know the Explore tab in order to find out how you can best use it for your ongoing and future campaigns.
While you're doing all that, don't forget to pay close attention to your social proof. Purchase an impressive amount of high-quality Twitter followers from a tried-and-tested provider to better your chances of impressing the right people, and attract organic Followers with your newfound popularity.
Twitter marketing trends are coming in and out quicker than you can tweet your breakfast. Staying on top of the latest trends can help you become a much stronger brand online – so explore away.