Twitter is, by far, one of the busiest social networking sites out there. It's a not-so-tiny nook of the Internet where every brand imaginable connects with customers from every part of the world. Being on Twitter helps a business increase their presence among potential and existing customers. Unfortunately, having a presence on Twitter also makes a brand more prone to hacking.
In this day and age where brands are hyper-connected to their target audience via social media, it's important that safety protocols are regularly updated. Because a single hacking incident can do more than just compromise your online safety, it can also tarnish your credibility and reputation.
Even big brands are not safe on Twitter — just ask McDonald's and HBO!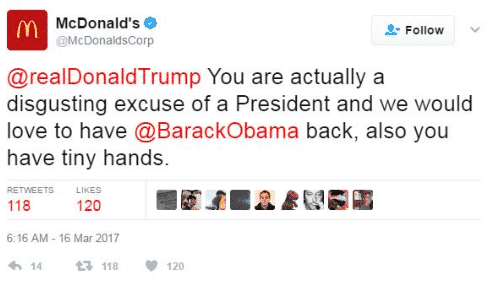 Image credit: CNBC
Staying safe on the internet isn't as hard as most people think. Sometimes, all it takes is a review of your security measures for everyone managing the account. Taking some precautions like these now can help you avoid security breaches that can compromise your safety as well as your credibility.
Keep All Media Managers In Check
Social media managers are essential players in a brand's online marketing success. Hiring a social media manager lets you focus on more important things while maintaining activity on all of your accounts.
It's vital that a social media manager is fully informed and reminded of the security protocols for your Twitter account. Social media managers must also be fully committed to maintaining a brand's integrity online. All activities of social media managers must be tracked and monitored from time to time to ensure that a brand's persona, voice, and integrity is kept intact.
There are plenty of incidents where social media managers have gone rogue on Twitter — tarnishing the reputation of the brands they work for along the way. TapMedia learned their lesson the hard way when a former social media manager went rogue and exposed the company's CEO through a very public and explicit meltdown.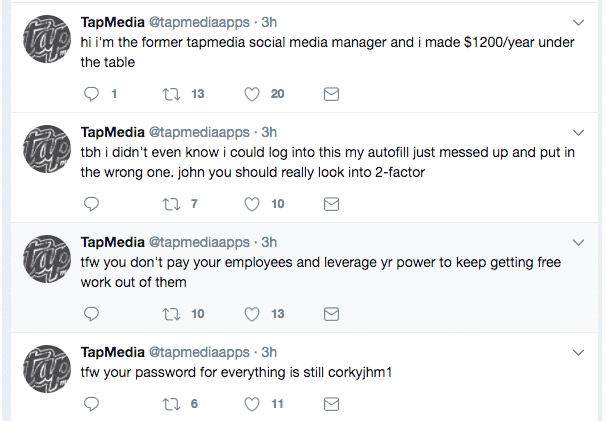 Image credit: Mashable Asia
The rogue social media manager sent out a series of tweets that directly targeted TapMedia's CEO, John H. Meyer. She attacked Meyer for his insensitive comments about women, stating "making fun of women's eyebrows to say we're disconnected from reality is sexist, John."
Another tweet said, "tfw [that feeling when] you don't pay your employees and leverage power to keep getting free work out of them."
This PR catastrophe could've easily been avoided had TapMedia changed their login details when the former social media manager stepped down (or if they treated their employees better).
Never be too trusting of someone who handles your account. If you're worried, set up a scheduling system that lets you check all of the updates they send out before they go live on your timeline. And always, always, change your password.
Monitor All Twitter Apps
If you're planning on using a third-party app or site for your Twitter management needs, make sure to double check the site's credibility and reputation.
Do your research and try to find out whether an app has fallen victim to any massive hacking incident in the past — if so, beware!
If you're already in the habit of using third-party apps, make sure to review the permissions you provide each of the sites from time to time. Back in 2013, the acclaimed scheduling app Buffer fell victim to hacking compromising the security and credibility of all their clients, both big and small brands included.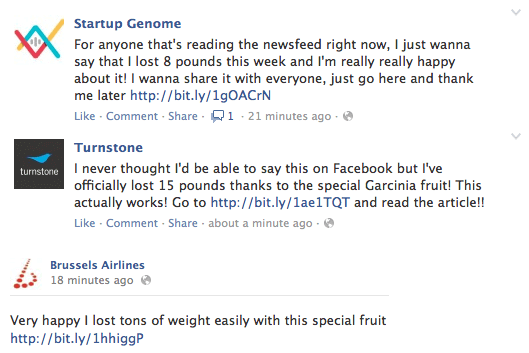 Image credit: TechCrunch
The hacked accounts sent out tons of spammy tweets about health supplements and weight loss. Buffer's case proves that you can't be too safe with third-party apps or sites — so use them with caution. We still recommend that you read our full review of Buffer for its potential.
By the way, have you considered purchasing Twitter Followers for your account? Avoid the scams and keep your accounts safe by purchasing from one of the tried and tested providers on our list. Read our reviews before making a purchase to ensure you get your money's worth.
Be Aware Of The Signs
There's no telling when a hack will befall your account. Be vigilant in monitoring your brand's online activity so you can prevent a hacker from compromising your account and credibility on Twitter.
There are a few signs you can watch out for to determine whether your account has been compromised. You may be unable to login with your username and password if your account has been completely stolen, but that's not the only way you can get hacked.
Big Sean's twitter Account just got hacked pic.twitter.com/PBGEqpd320

— page (@theechopage) July 7, 2018
Regularly check your timeline and see if there are any spammy posts published that you did not authorize or post yourself. Also, check your inbox regularly and see if there are any direct messages sent to other users without your permission. Keep an eye out for account behaviors that you didn't take, like follows, unfollows, and blocks. And check your email for notifications that any account settings were changed, especially your password.
Being hacked can be devastating for your brand and the credibility you've worked so hard to solidify over the years.
Backup All Your Tweets
You can never be too careful on the internet. Even the biggest brands can't protect themselves from the hackers who are always lurking in the dark underbelly of the web, like a demogorgon in the Upside Down.
To be on the safe side, it's recommended that you backup all your tweets periodically. Keeping a file of all your tweets makes it easy to rebuild your account after getting hacked.
If you ever find a need to delete your account due to the devastating results of a hacking incident, quickly rebuild your repository of tweets using your backup. You'll need to start by downloading your personal archive. Twitter laid out instructions on how to backup all your tweets here.
Stay Safe Out There
The internet — and Twitter — can be a dangerous place for brands, but where there is risk there is opportunity. It's crucial that you stay vigilant and get in the habit of monitoring your accounts. Also, it's important that you carefully choose the tools you associate with your account, because even the most reputable third-party app can be susceptible to hacking.
You must get in the habit of changing your password at regular intervals to minimize the threat of a security breach. Limit the number of people who have access to your account so you can monitor activities closely.
And remember, try purchasing a few thousand Twitter Followers to boost your social proof and credibility online, especially after a nasty attack which sees your account lose thousands. Just make sure to buy from a reputable provider, which you can find by reading our detailed reviews.
The internet can be a dangerous place, so be careful out there!