Twitter is an amazing platform for business owners and brands who want to reach and interact with their audience. More and more brands are noticing the marketing benefits that Twitter has to offer, and are stepping up their tweet game to gain more engagement. You've worked hard to build a following on Twitter for your business, but now you need to turn them into paying customers.
An introduction to calls to action on Twitter
A call-to-action represents one of the most fundamental strategies on any social network. It is crucial that you encourage your followers to take action in your posts if you want your engagement levels to thrive. Here's how we can define a call-to-action in Twitter marketing:
What it is

: A call-to-action or CTA is an instruction to the audience designed to provoke an immediate response.

How it works

: By using a specific selection of words, the call-to-action prompts a reaction from the followers. Such words can be "Watch to find out more," "Follow now," "Click here" etc.
These are words that urge the followers to take an immediate action. Of course, a call-to-action works best if it's combined with an incentive that provides value. For instance, "The first 100 to retweet and like my post get 10% off my new merch." The trick is to make the call-to-action irresistibly enticing in order to achieve the best results.
Retweet and Follow for a Chance to Win a Pre-Order copy of Madden 19 H.O.F EDITION 🔥 1 for Each Console‼️ Ends 7/20 -TEG pic.twitter.com/5N5cEtmBPV

— JmellFlo (@JMELLFLO) July 9, 2018
RETWEET to WIN a signed Kevin Costner #CriminalMovie poster & prize pack! Get tickets now: https://t.co/ORsKym9s0ghttps://t.co/CwNhp9FePb

— The Expendables (@expendables) April 14, 2016
Here are some proven and effective Twitter call-to-action examples and tips you can use to achieve maximum results.
Use action words
You can put all of your time and energy into crafting engaging tweets, but you'll soon hit a dead end if you don't persuade your followers to take action with your tweets. The use of action words is probably one of the most basic call-to-action techniques there is. It is amazing how a couple of encouraging words can influence the mindset of your followers.
Does your website need more traffic? Ask your followers to pay it a visit. Want more likes on a certain tweet? Ask for it. Do you want to gain more exposure through word of mouth? Ask for a retweet! It really is that simple, but mastering the craft takes time.
Frosty is 50¢! Buy a whole bunch before this deal is done. pic.twitter.com/XfxIGv7JLr

— Wendy's (@Wendys) May 7, 2018
Above, you can see how Wendy's put simple action words to good use in advertising their delicious, mouth-watering, brb AFK…As I was saying *eats Frosty*, they hvae a great deal going on *eats Frosty until brain freeze*, and used a simple call to action to "Buy a whole bunch" in their playful brand voice.
Yes, it can be as simple as only using the word "buy" in a sentence. Don't be mistaken by the genius of this simplicity as it is covered by how *finishes eating Frosty, clutches head again* enticing incentive. They already had their followers hooked with the promotion, all they needed was a little push. They did that perfectly by using simple, classic, action words.
1. Sees tweet.
2. Rushes out of the house to get Frosty's.
3. Debates whether to use spoons or French Fries.

— Joshua Saltzman (@SaltyDogCLE) May 7, 2018
The reaction from their customers above tells you just how effective their call-to-action was.
I'm on my way

— Christian Dugue (@gotumms146) May 7, 2018
Other action words you can consider using in your CTAs are:
Try

Join

Download

Learn

Build

Grow

Discover

Start

Stop
The goal is to convince people into taking action with the right wording. Search for strong keywords you can use, and combine your CTA strategy with a hashtag strategy that will help you boost the visibility of your campaign.
Give them want they want: Free stuff
There's nothing people love more than free stuff. Incentives like these make you look friendly and helpful, which gets people hooked. Offering free and valuable stuff – like chapters from your eBook, exclusive deals, access to member-only content, etc – can be great leverage to get your followers to hit your CTA.
In exchange, you can ask your followers to sign up for your newsletter, create an account on your website, visit your sales page, or whatever your goal may be.
😃 It's #WinItWednesday time! 🎉

🎁 To enter our #giveaway, FOLLOW & RETWEET for a chance to #win a #free Shaker Bottle! #competition pic.twitter.com/vW0FEjIyDw

— Simply Supplements (@SimplySupps) July 11, 2018
Here you can see a combination of effective CTAs used to great effect: the use of action words while offering free stuff. Giveaways are a popular type of Twitter contest that drives impressive engagement. A perfectly crafted CTA like this will certainly tempt every follower to enter the competition and win a free prize.
Help them become better (Insert profession here)
We all want to become better at what we do, right? Professionals are always on the lookout for valuable resources that will help them become more skilled and competent in whatever they do.
A fast way to get everyone engaged and interested is by providing them with real, practical information that can help them achieve their career goals.
Even if you're not creating the content yourself, you can find resources that people will find useful, and tweet them out. You're still providing some value yourself because you're giving people the info they want, and this will help them appreciate you more – making them more likely to click your CTAs.
The teaser
Are you launching a new product? Or coming out with exciting deals? This is an excellent opportunity for your to create teasers and tweet them out to your followers. This will get them actively excited about your new content. Create enticing snippets that will give your followers an idea on what you're offering, and tweet them at the perfect times.
#Mixers, I know you peeped this! #LittleMix & #CheatCodes dropped their #LGBTQ-inspired teaser for the #OnlyYou music video!!! Watch here: https://t.co/m47qxm6lVy pic.twitter.com/foHjWFGhU0

— Mike Adam (@MikeAdamOnAir) July 11, 2018
The goal is to generate enough curiosity to drive them to click on your link. The teaser alone should be your call to action. Tease the information you have to offer, telling people exactly what they'll get if they follow.
In addition, you can use link shorteners like Bitly and Tiny URL that will help you shorten your link and save on space.
Send strong trust signals
While highly suggestible in some cases, Twitter users can also be sceptics at times. If the previous tactics weren't enough to get them hooked, you might want to take a good hard look at your account and see whether you are sending off credible trust signals. There are a number of ways you can improve your credibility and build a strong personality on Twitter:
Optimize your profile

: Including links to your official website and other social media accounts in the bio section is a great way to optimize your profile. You also need to make sure that the overall look and style of your Twitter account is consistent with your brand.

Build a strong following base

: Having a lot of followers is another great way to send all the right trust signals. A large follower count makes you look more credible, injecting positive social proof into your Twitter profile. The positive social proof, in return, will make people more likely to click your CTAs.
A great way to boost your followers is by purchasing Twitter followers, and it's actually easier than you think. For example, you can click on the menu above and see our reviews of some of the most successful and reputable Twitter followers providers. There are hundreds upon hundreds of providers out there but not many can offer you high-quality followers that can boost your social proof.
If you consider purchasing Twitter followers, you want followers that look and act authentic, and that won't give off warning signs to real users, like this one: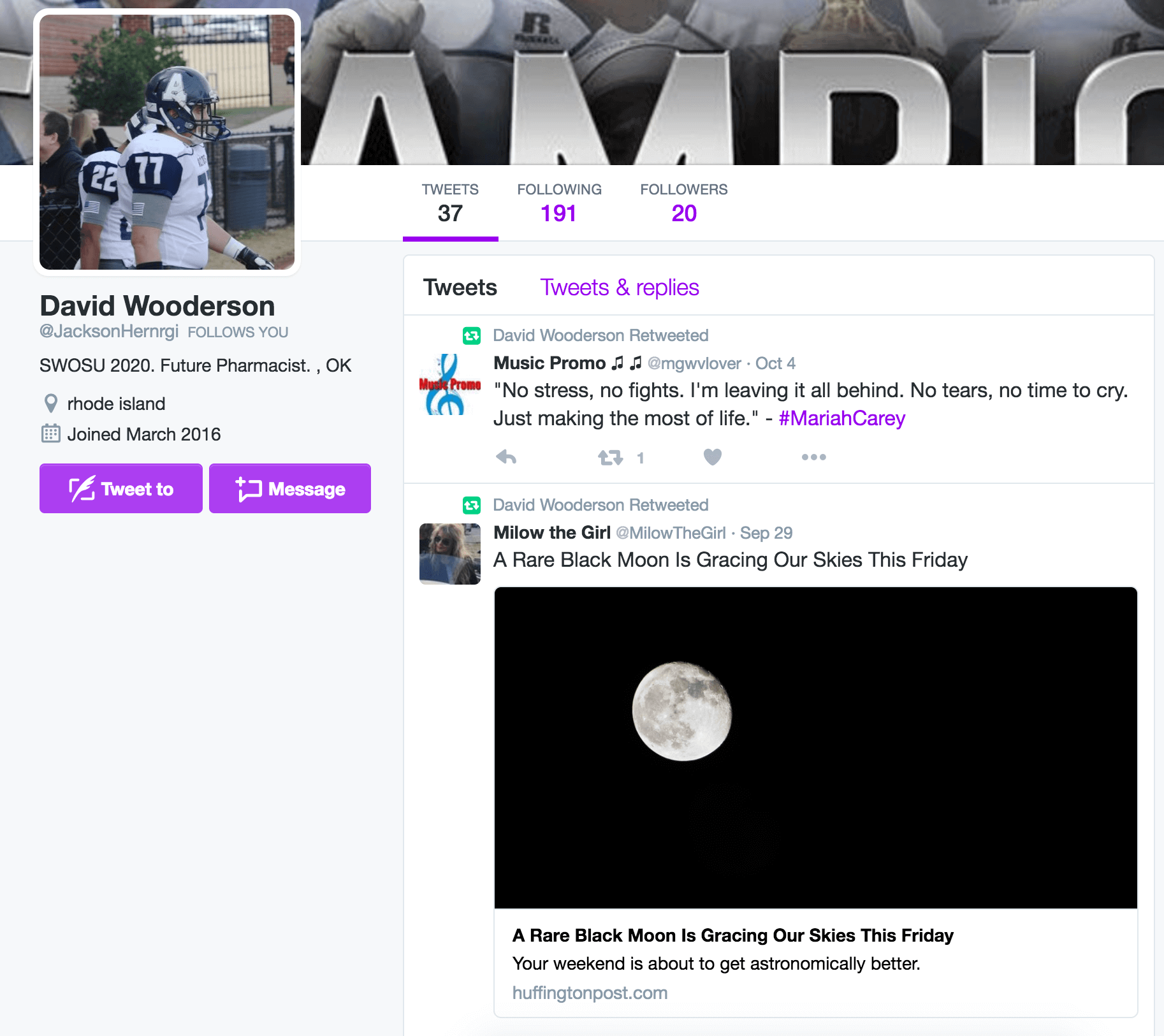 Low-quality providers offer cheap followers, without profile pics or bios, that can hurt your reputation more than they can help. If you want more advice on choosing Twitter followers, check our reviews. We put providers to the test before ranking them, based on the quality of service, pricing, and more.
Conversational Ads
If you have the marketing budget to spare, you might want to consider using Twitter's very own Conversational Ads. Conversational Ads are just like Promoted Tweets – only more interactive as far as CTAs go.
A tweet that is sent out as a conversational ad comes equipped with a CTA button, which opens the tweet composer. It's pre-populated with brand messages Twitter users can customize to their liking.
A conversational Ad also comes with unique hashtag buttons to personalize the post even more. Once users hit send, the original tweet along with the photo will be shown in their feed for all their followers to see.
Due to their interactive nature, Conversational Ads are truly one of the most powerful CTAs available on Twitter. Because it's so powerful, the price tag of these ads can be pretty steep. If you want an accurate quote on the pricing, we suggest you contact Ad Support so they can determine the price of the campaign based on your specifications.
Guide followers through their buyer's journey – one CTA at a time
When experimenting with different types of CTAs, it helps to have a clear goal in mind as well as ways to measure your progress. This can help you focus on what works, and ignore what doesn't.
If you want to send a message that is compelling enough for users to follow up on, you must take the time to think about exactly what value you offer to your followers – in order for them to do their part, you have to hold up your end of the deal and provide a quality product worth learning more about.
Having a good reputation on Twitter will get more followers to trust you, thus making your CTAs even more effective. If you're starting out, don't be afraid to consider buying an initial set of followers from a reputable provider, such as any found on our Top 10.
You should also consider purchasing engagement signals to go with your new set of followers. These include likes, retweets, and comments; and they'll further strengthen the trust signals you're sending.
Create a CTA strategy that works
In the end, it all comes down to creating a CTA strategy that works well for your Twitter profile. This means taking into account many variables that can impact your CTA strategy:
Target audience

: Knowing your demographic is key to your CTA strategy. A well-crafted CTA that targets an older, more serious audience, may not work well with a younger audience, and vice versa.

Establish KPIs

: You need to decide what you're trying to achieve with your CTA. The goals need to be specific and timely in order to be effective. Whether you're trying to gain followers, likes, or retweets; implementing clear key performance indicators will help you create a better strategy.

Personal interactions

: Don't experiment with different CTA strategies just because they worked for someone else. You need to think about your own audience, content type, and personal interactions with your followers. You want your CTAs to blend with your casual content, and smoothly ask your followers to take action.
You need to study your own personal interactions with your audience and don't stray too much from your conventional posts. A CTA works best if it targets the audience in a friendly manner. If you play your cards right and interact with your followers in a genuine manner, CTAs will definitely come in handy and help you turn your social interactions into business assets.