Twitter is an amazing platform for business owners and brands who want to reach and interact with their target audience.
More and more brands are taking notice of the marketing benefits Twitter has to offer and are stepping up their tweet game to gain more attention and engagement. You've worked hard to build a following on Twitter for your business, but now you need to turn them into paying customers.
One of the best ways to do that is with effective calls-to-action, or CTAs. CTAs can help you get the engagement and traffic you need from your followers through the power of persuasion.
According to a study by Salesforce, tweets that specifically ask for a retweet get 12X more retweets! Ask and you shall receive. This stat isn't alone – with data like this, there's no reason not to use CTAs for all their worth.
Are you ready to get the most engagement and traffic of your life? Here are some proven and effective Twitter calls-to-action you can use for maximum results.
Use Action Words
You can put all of your time and energy into crafting engaging tweets, but you'll soon hit a dead end if you don't persuade your followers to take the next step and become paying customers.
The use of action words is probably one of the most basic call-to-action techniques there is – and they're proven to be one of the most effective.
Does your website need more traffic? Ask your followers to pay it a visit. Want more likes on a certain tweet? Ask for it. Do you want to gain maximum exposure through word of mouth? Ask for a retweet! It really is that simple, but becoming a master takes time.
If you want something done, ask for it in an active voice. When used in conjunction with highly engaging, interesting posts, action words will compel people to, well, take action!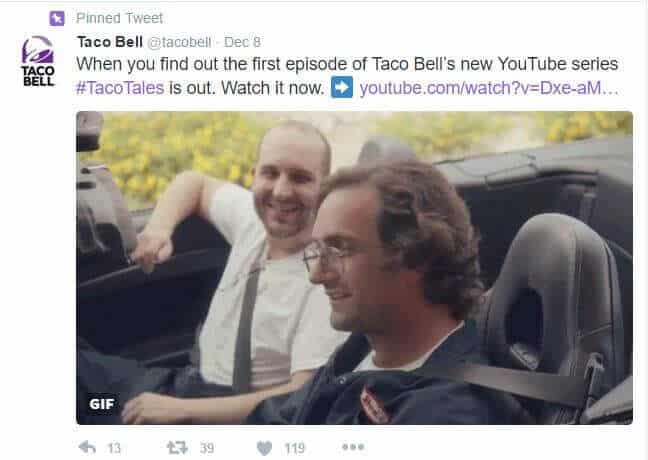 Here you can see fast food giant Taco Bell put action words to good use in advertising their YouTube series. They provided a link to the series, provided a bit of a teaser and instructed their followers to "Watch it Now."
This worked out pretty well for them, bringing in a lot of engagement within hours of posting and contributing to the video garnering nearly 700,000 views – not bad, Taco Bell, not bad.
Some other action words you can consider using in your CTAs:
Try
Join
Get
Learn
Build
Grow
Discover
Start
Stop
Give Them What they Want: Free Stuff
There's nothing people love more than free stuff. Incentives like these make you look friendly and helpful, which gets people hooked.
Offering free and valuable stuff – like chapters from your eBook, exclusive deals, access to member-only content, etc – can be great leverage to get your followers to hit your CTA.
In exchange, you can ask your followers to sign up to your newsletter, create an account on your website, visit your sales page – whatever your goal happens to be.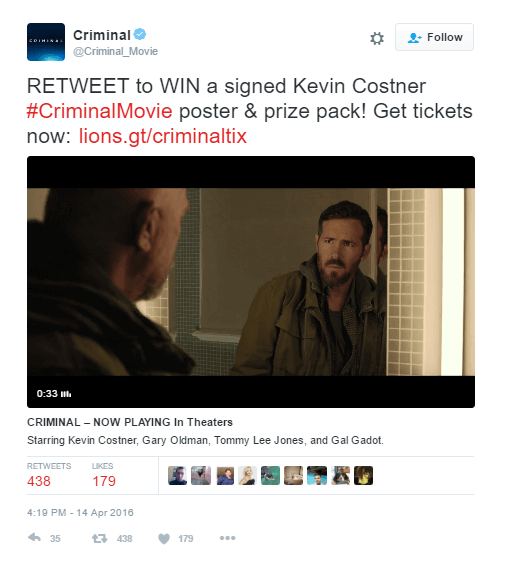 Here you can see a combination of effective CTAs used to great effect: the use of action words while offering free stuff. To help create a buzz around the premier of the movie Criminal, they offered free signed posters in exchange for just a retweet – we doubt any die-hard Kevin Costner fans would pass up this opportunity, do you?
Help them Become Better (Insert Profession Here)
We all want to become better at what we do, right? Professionals are always on the lookout for valuable resources that will help them become more skilled and competent in whatever they do.
A fast way to get everyone engaged and interested is by providing them with real, practical information that can help them achieve their career goals.
Even if you're not creating the content yourself, you can find resources that people will find useful, and tweet them out. You're still providing some value yourself, because you're giving people the info they want, and this will help them appreciate you more – making them more likely to click your CTAs.
The Teaser
Are you launching a new product? Or coming out with exciting deals?
You can definitely take advantage of this by tweeting teasers to your followers, getting them excited about what's coming down the pipeline. Create enticing snippets that will give your followers an idea on what you're offering, and tweet them out regularly.
The goal is to generate enough curiosity to drive them to click on your blog link – let the snippet be your call to action. Tease the information you have to offer, telling people exactly what they'll get if they follow:
Link shorteners like Bitly and Google URL are tools you should use with every link you tweet to save on space.
Send Strong Trust Signals
While highly suggestible in some cases, Twitter users can also be skeptics at times. If the previous tactics weren't enough to get them hooked, you might want to take a good hard look at your account and see if you are sending off credible trust signals.
There are a number of ways you can improve your credibility and authority on Twitter. Including links to your official website and other social media accounts in the bio section is one way to do it. You also have to make sure the overall look and style of your Twitter account is consistent with your brand.
Having a lot of followers is another great way to send all the right trust signals. A large follower count makes you look more credible, and will make people more likely to click your CTAs. Everyone else is doing it, so why shouldn't they?
Purchasing followers is easy, if you know where to look. There are hundreds upon hundreds of providers out there but not many can offer you high quality followers that can boost your social proof.
You want followers like these, who look and act authentic. They won't give off warning signs to real users: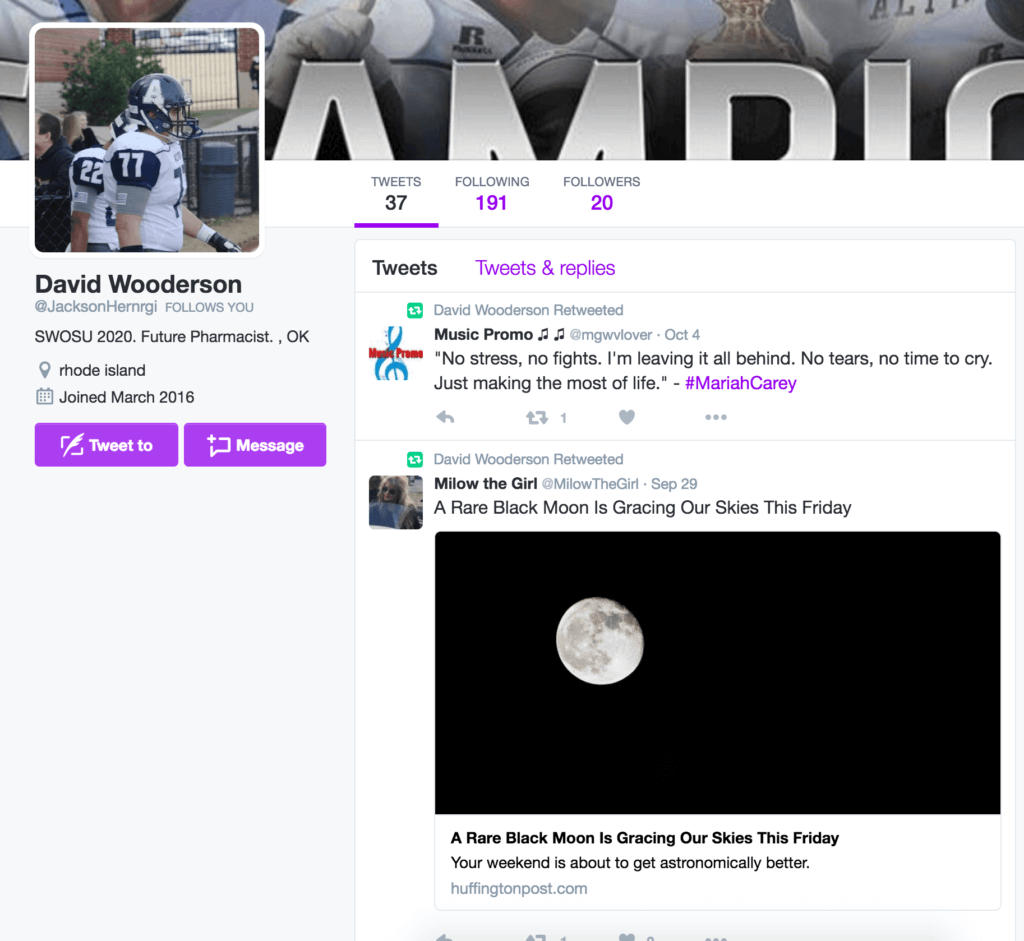 Cheap followers, without profile pics or bios, can hurt your reputation more than they help. If you want some advice about who to pick, check our reviews. We put providers to the test before ranking them based on quality of service, pricing and more.
Conversational Ads
If you have the marketing budget to spare, you might want to consider using Twitter's very own Conversational Ads. Conversational Ads are just like Promoted Tweets – only more interactive as far as CTAs go.
A tweet that is sent out as a conversational ad comes equipped with a CTA button, which opens the tweet composer. It's prepopulated with brand messages Twitter users can customize to their liking. A Conversational Ad also comes with unique hashtag buttons to personalize the post even more.
Once users hit send, the original tweet along with the photo will be shown in their feed for all their followers to see.
Due to their interactive nature, Conversational Ads are truly one of the most powerful CTAs available on Twitter. Because it's so powerful, the price tag on these ads can be pretty steep.
A Conversational Ad campaign can run you anywhere from $.50 to $4.00 per engagement for promoted tweets and $200,000 for promoted trends – and that is pretty steep for newbies and startups alike.
If you want a more accurate quote on the pricing, we suggest you contact Ad Support so they can determine the price of the campaign based on your specifications.
Guide Followers Through Their Buyer's Journey – One CTA at a Time
When experimenting with different types of CTAs, it helps to have a clear goal in mind as well as ways to measure your progress. This can help you focus on what works, and ignore what doesn't.
If you want to send a message that's compelling enough for users to follow up on, you must take the time to think about exactly what value you offer to your followers – in order for them to do their part, you have to hold up your end of the bargain and provide a quality product worth learning more about.
Having a good reputation on Twitter will get more followers to trust you, thus making your CTAs even more effective. If you're just starting out, don't be afraid to consider buying an initial set of followers from a reputable provider.
You should also consider purchasing engagement signals to go with your new set of followers. These include likes, retweets, and comments, and they'll further strengthen the trust signals you're sending.
If you play your cards right and are sincere when interacting with your followers, CTAs are one of the most effective tools you can use to turn social interaction into a real business asset.